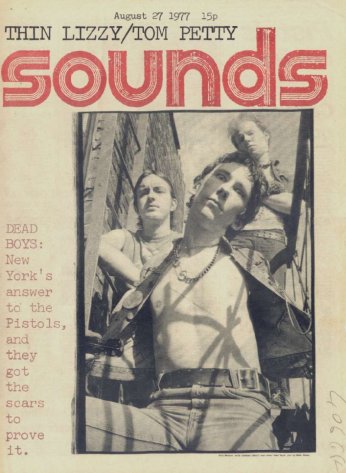 from Cleveland are now based in New York. They have been cristened by the British music press as the US Sex Pistols and featured in todays British music mag Sounds. It's their first exposure in England and a tour is planned for the end of the year.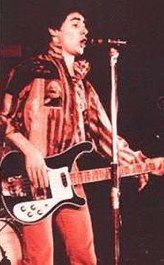 Former Sex Pistol Glen Matlock currently rehearsing with his new combo The Rich Kids celebrates his Birthday today. He was born in 1956.
Todays British Music press went to town on punk featurinfg a host of bands...
New Musical Express features articles on The Rezillos, The Only Ones, Generation X. Plus live reviews of Sex Pistols (S.PO.T.S.), The Slits, The Damned, The Adverts, Boomtown Rats and X.T.C.
Melody Maker features the Boomtown Rats, Johnny Curious & The Strangers, X.T.C. plus live reviews of the Sex Pistols(S.PO.T.S.), Damned and the Adverts.
Sounds features the Dead Boys, Sex Pistols, plus more live reviews of the Pistols(S.PO.T.S.), Damned, Adverts, Slits, London, Neon, Ramones and the UK Subs.
Record Mirror feature the Sex Pistols(S.PO.T.S.) live, Damned , Adverts and Cortinas.
New Wave Chart (Sounds 27/8/77)
1 PRETTY VACANT, Sex Pistols, Virgin (VS 184)
2 GOD SAVE THE QUEEN, Sex Pistols, Virgin (VS 181)
3 SOMETHING BETTER CHANGE, Stranglers, United Artists (UP 36277)
4 PROVE IT, Television, WEA (K12262)
5 ANARCHY IN THE UK, Sex Pistols, French Import, Sex Pistols Barclay Records (640112)
6 ROADRUNNER, Jonathan Richman, Berserklej (BZZ1)
7 RED SHOES, Elvis Costello, Stttf (BUY IS)
8 LOVE AND THE SINGLE GIRL, Roogalator, Virgin (VS 185)
9 DO ANYTHING YOU WANNA DO, The Rods, bland (WIP 6401)
10 GARY GILMORE'S EYES, The Adverts, Anchor (ANC 1043)
11 FIRST TIME, The Boys, NEMS(NES 111)
12NEAT NEAT NEAT, The Damned, Stttf (BUY 10) (Deleted)
13 I CAN'T STAND MY BABY, Rezillos, Sensible Records (FAB 1)
14 SPIRAL SCRATCH (EP),Buzzcocks, New Hormones (ORG1)
15 PACKET OF THREE, Squeeze, Deptford Fun City (DFC 01)
16 THE MEDIUM WAS TEDIUM, Desperate Bicycles, Refll Records (RR2)
17 TEMPTATIONS OF A WHITE COLLAR WORKER, Drones, OHMS (Good Mix 1)
18 YOU REALLY GOT ME, Hammersmith Gorillas, Raw (RAW 2)
19 TELEVISION SCREEN, Radiators from Space, Chlswick (NF10)
20 HOT FOR TEACHER, Thundertrain, Jelly Records (JR 003)
21 I.R.T., Snatch, Bomp Records (BOMP108)
22JOHNNY CAN'T GET TO HEAVEN, Killjoys, Raw (RAW 3)
23 QUESTIONS, Suburban Studs, Pogo (POG 001)
24 STUCK ON YOU (EP), Electric Chairs, Illegal (IL 002)
25 BOWI(EP), Nick Lowe, Stiff (LAST 1)
26 ONE CHORD WONDERS, The Adverts, Stiff (BUY 13)
27 LOVERS OF TODAY, Only Ones, Vengeance (VEN 001)
28 BEND AND FLUSH, Pork Dukes, (WOOD 9)
29 CRANKED UP REALLY HIGH, Slaughter and the Dogs, Rabid (TOSH 001)
30 LESS THAN ZERO, Elvis Costello, Stiff (BUY 11)
Supplied by Virgin Records, 12a Suffolk House, George St., Croydon.
TOM ROBINSON BAND

ADAM & THE ANTS

Jackson Lane Community Centre, Highgate, London




THE DRONES

Wigan, Casino




Erics, Liverpool




CYANIDE

Village Inn, Wembley, London




Wilmot youth Centre, Finchley, London - Special gig for Finchley Boys




GENERATION X

Liverpoo,lErics




THE MODELS

ADAM AND THE ANTS

Crayford Town Hall




GLORIA MUNDI

Reading festivcal




BLUNT INSTRUMENT

The Swan, Hammersmith, London




Axeminster, Guildhall