1977

DATE INDEX
SEPTEMBER
OCTOBER
NOVEMBER
DECEMBER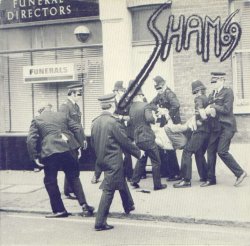 are the latest signings to Mark P's Step Forward Records, home to The Cortinas, The Models and Chelsea. They release their debut single today produced by John Cale (Velvet Underground) can you believe. The tracks include "Ulster," "I Don't Wanna" and "Red London." Sham 69 are Jimmy Sham (aka Jimmy Pursey) on vocals, Albie Slider (aka Albie Maskell) on "Tea Boy" bass, Mark Doidie (Mark Cain) on drums and dustbins and Dave Vicar (aka Dave Parsons) on lead guitar.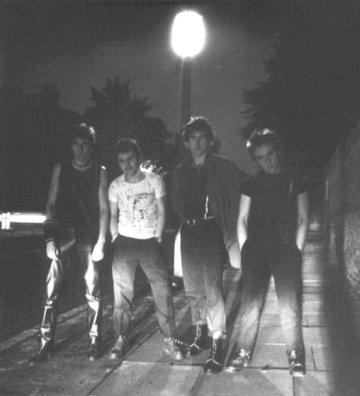 Are another new London band with product out and theyre in a similar style to Sham 69 with their stret anthems like the title track. MENACE have their debut 45 "Insane Society" b/w "Screwed Up." It's to be released today on the small independent label Illegal Records, the company started by Miles Copeland to release his brothers record (The Police - "Fall Out") . Menace are Morgan Webster (Vocals), Steve Tannett (Guitar), Charley Casey (Bass) and Noel Martin (drums).
Slaughter & The Dogs

'Where Have All The Boot Boys Gone?'/ 'Your A Bore' 1977

Debut release on a major for Manchester's most exciting punk outfit and they don't dissapoint. Whereas the punk mainstream would soon put on primary colours and become 'new wave', the Wythenshawe purist fringes kept the faith. 'Bootboys' has become their most productive number even being a hit with skinheads in later years.It's not a pretty thing, this is sonic attack for skinhead glory. It charges across no-man's land of the slums in a hail of bullets before fading into obscurity.

At tonights Vortex gig The Rich Kids make their live debut as a last minute addition to tonights line-up.



THE DRONES

Sheffield, Top Rank




BETHNAL

Who recently signed up with Phonogram Records

.

KILLJOYS

SPIZZ OIL

Barbarellas, Birmingham




Radio Stars

Dingwalls, London




TOM ROBINSON BAND

The Golden Lion, London




West Runton, Pavillion




THE DEPRESSIONS

Windsor Castle, London




Swindon, Affair




GENERATION X

Plymouth, Castaways