1977

DATE INDEX
SEPTEMBER
OCTOBER
NOVEMBER
DECEMBER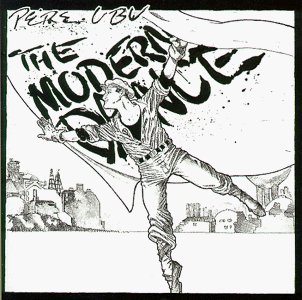 PERE UBU from Cleveland Ohio
has "The Modern Dance" and "Heaven" out in the US on their own Hearthan Records label. They had previously recorded the "A" side for the US compilation LP "Max's Kansas City Vol. Two," but it was rejected because of the organizers inability to understand, much less make out the lyrics. Now the group has re-recorded the song and released it as a limited edition 45 with a pressing of only 1,000 copies. This might be the last indie record for Pere Ubu. Recently, Phonogram-Mercury A&R man Cliff Burnstein signed the band up to his new Blank Records subsidiary. They are already planning their debut album for the label, which is tentatively titled "The Modern Dance" as well. As always, the band has shifted personnel again. This time out the group maintains the Thomas*- Ravenstine - Kraus core, but includes the latest member Tony Maimone, who joined Pere Ubu for "Street Waves" in October of last year. Now playing elsewhere is guitarist Tom Herman.
play another in the series of "secret" gigs. They've appeared as S.P.O.T.S. and the 'Tax Exiles'. Watching carefully for odd names that aren't recognized usually pays off, but tonight in Scarborough the band is simply billed as "Special Guest." One could easily overlook it.
WRECKLESS ERIC
makes his world debut whining on about how he'll search the "Whole Wide World" for his true love. Not exactly social commentary but honest enough to be attractive. The flip is "Semaphore Signals" and is very similar. The single is on Stiff-that inflexible label that shows what it's like to be different.

"I heard it on the radio the other day. It sounded so good I found myself playing air guitar with a paint roller and I thought, Time for a comeback."
Wreckless Eric, 2001
WRECKLESS ERIC
Whole Wide World
STIFF, AUGUST 1977
IF ERIC Goulden hadn't fallen out with his girlfriend in June 1977, this delicious dittv would never have been penned. Stomping off (because his girlfriend hailed from Sheffield, not Tahiti?), Eric found solace on a park bench in Hull where he wrote the lyrics to Whole Wide World. Putting the finishing touches to it on his bass at home, he submitted a demo to Stiffs Dave Robinson who ottered him a deal. First appearing on the compilation A Bunch Of Stiffs in March 1977, Whole Wide World was then released five months later as his debut single. Produced by Nick Lowe, it received glowing reviews, was a moderate underground hit but, sadly, Eric had to rely on his outrageous drunken antics both on- and oil-stage during the Still package tours to retain his cult name. (LW)
Chart Peak: none Writers: Eric Goulden (aka Wreckless Eric) Producer: Nick Lowe Personnel: Wreckless Eric (vcs), Nick Lowe (gtr, bs, dr).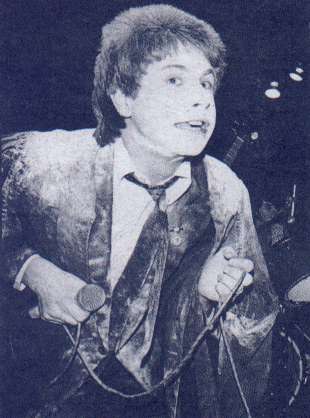 begin their 'Slaughter on the streets' tour At the Roxy tonight, in support of their soon come new 45 'Where Have All The Bootboys Gone' on Decca Records. Support on most of the dates are with rival Manchesters punk outfit The Drones.


Falkirk, Maniqui
SIOUXSIE & THE BANSHEES
Tiverton Motel
TOM ROBINSON BAND

High Wycombe, Nags Head

SQUEEZE

THE DRONES

Nashville, London




ED BANGER & THE NOSEBLEEDS

Rafters, Manchester




Barnstable, Chequers




STAGE FRIGHT

Halesowen, Tiffanys




Leeds, Polytechnic




Lancaster, No 12 Club




BETHNAL

Lodestasr, Blackburn




FRUIT EATING BEARS

Cirty Tavern, Chelmsford