1977

DATE INDEX
SEPTEMBER
OCTOBER
NOVEMBER
DECEMBER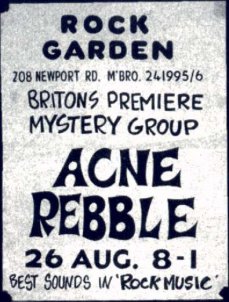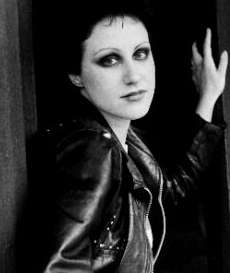 'A long time had passed/ says Pauline Murray, 'you didn't feel so close. We went to see the Sex Pistols at the Middlesbrough Rock Garden, which is a small club renowned there for its violence. It wasn't the same; it had gone back down again. It was lacking in the original fire: it had a different sort of energy, more violent. They weren't making a message, it was more a barrage. It seemed disconnected somehow. It was still great, but odd, like they didn't know where they were going.'
Patchy enough, but powerful

/Johnny Curious & The Strangers
London, Marqueee
ULTRAVOX HAVE come in for their share of criticism since Island Records launched them with a bang eight months ago and amidst the flashing lights and polyvinyl jackets the band looked like they would bow out with a whimper.
However, if their Marquee . appearance was anything to go by Ultravox are finally 'getting it all together'. They were patchy enough and the bad bits were well on the mediocre side - obligatory loud and throbbing guitar and some empty posturing. But the good bits were quite blinding in their excellence and power. In places Ultravox were almost awe-inspiring. Plastic was still central to their image - even though those hideous jackets were re-cycled some months ago. Where the Pistols or the Clash opt for a form of social documentary, Ultravox go for the TV soap opera. Tacky, kitsch inherently unreal and yet .. . strangely closer to the everyday life of yer average Briton than any shot of environmental poverty. All those TV screens on the cover of their album attest to that. Like we all know the TV adverts aren't true, but if you're exposed to them for long enough they mould your expectations of life and you think in TV terms. The Marquee was packed full with a second, if not a third generation who have learned more from the blue screen than they ever picked up in school. Ultravox set out to blow the lid off. Of course, the phantom behind their particular soap opera is the Velvet Underground's Lou Reed. Admittedly, lead singer John Foxx bears more than a passing resemblance to the Thin White Duke, while his voice carries definite tinges of other great British declaimers like Robert Calvert and Hugh Cornwell. But his lyrics and his delivery owe much to the Lou Reed school of tone poetry, sharp, angular and agonised. Insistent almost to the point of arrogance. But, despite a dangerous tendency towards intellectual melodrama in songs like 'My Sex' and 'Artificial Light', John Foxx was by no means purely derivative. In fact he looked and sounded more convinced and convincing than ever before.
And the rest of the band? Very strong indeed. A very full sound, shifting alternatively from screaming Blue Oyster Cult flavoured guitar riffs, courtsey of Stevie Shears, to an almost Hawkwind-like psychotic drone powered by Billy Currie's violin and keyboards. And with a brace of hard melodic, memorable songs like 'Rock Rock Rock', 'Saturday Night', 'Young Savage' and more in their catalogue, Ultravox certainly suggested that they'll still be in business long after many of your street politicians have been washed down the drain. -( Chas de Whalley - Sounds August 27th 1977)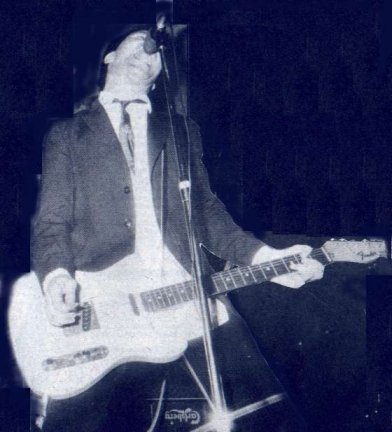 CLUB LAFAYETTE, WOLVERHAMPTON
Picture the scene, late 1977, a young man, clean shaven, hair slightly too
military in appearance to be fashionable, clothes 12 months out of date,
looks a bit awkward and unsettled. He is surrounded by his mates and from the way one or two are coming up to greet him they haven't seen him for a while. The lights from the disco are pulsating around him, he has a lean hungry look about him, his eyes linger just that fraction too long on every passing female, he has entered the Lafayette Zone!
Over the past 12 months of his stay with Her Majesty at one of her more lively Borstals, he has been told by his visitors of the outbreak of Punk in Wolvo! He is amazed at the talk of bondage trousers, safety-pins, bin liners, disaffected youth, and who is this wanker off the tele they call the Fonze? All these things are taking place while he is counting days in a place where survival depends on "walking the walk and talking the talk", a place where a sideways glance or a remark resulted without exception in a bout of bifters and ultra-violence! So it is with these experiences under his belt our hero finds himself front row under the stage at the Lafayette. Having been a regular for some years prior to his incarceration, to gain entry, he has had to make a firm promise with the bouncers (spelt t-w-a-t-s) that he is a changed man!
This is his first experience of the punk phenomenon, 999 are the band,
pretty explosive right from the word go he has been told, this proved to be right. The band swaggered out onto stage, the lead singer leaned into the mike and shouted "Fuck off!" and spit all over the shirt of our hero on the front row! What happened next happened in a split second, he turned to his friends with a look of disbelief, one Stuart McMahon who said in a matter of fact way "They do that now" "NOT TO ME THEY FUCKING DON'T!", and with that launched himself in the general direction of the lead singers throat. The lead guitarist played one note and threw his instrument up in the air before making for the exit at a great rate of knots, hastily followed by the rest of the group. The D.J. shouts "OXO!", the rather sad code word for 'trouble' and in come the door staff team handed and all hell is let loose. After much brawling and breaking of property and heads, our hero finds himself outside
surveying the latter stages of the riot. At his side Stuart McMahon "Well?" says he ...'The dogs bollocks!" says I.
Wolfman Mac. (Older and none the bloody wiser)



Cardiff Town Hall




THE DRONES

Middleton, Civic Hall




STAA MARX

Reding festival




KILLJOYS

THE UNWANTED

Stuart Hall, Norwich




BETHNAL

Ulverston,Penny Farthing




TOM ROBINSON BAND

Hope & Anchor, London




GENERATION X

Swindon, Brunel Rooms