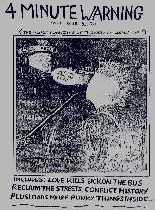 4 MINUTE WARNING Issue 1
Summer 2000. ***
Fucking hell it seems like there's only punkette zinesters in this current batch of reviews which I ain't complaining about in the least, coz they all have something to say. This is a debut UK issue from a punkette from Blackpool who said she'd never do a zine after I pleaded with her to get some- thing out in print for the last 3 years. So times call for some new blood in the UK's current, barren zine scene. And this is a welcome debut. The layout is very basic handwritten text on 26 A4 one-sided photocopied sheets. But lacking in design means nothing as long as the spirit is alive and kicking. Which it certainly is amongst this opinionated verbal. Yeah this is from 'Nihilism On The Prowl' columnist, Mitch. So maybe I'm biased but I've always liked her no-holds barred attacks. However she kicks off proceedings with her somewhat naive 'Reclaim The Streets' article that left me feeling somewhat disolutioned. Yeah the yobs defaced Winston, stormed McDonalds and kicked in mobile phone shops all over the capital. But when I read the list of culprits published in the dailys, it wasn't a cross section of the council tenancy living on giro's who were doing the damage, but mainly middle class public school- boys, snotty little rich kids and worst of all it was organised by a geezer who's old man has gotta title!!! Am I missing something here? These cunts ain't skint, on the poverty line or unemployed! In fact most of em ain't got fuck all to lose apart from Daddy's favour! I just get a feeling these so-called Anarcho rebellions are bored little rich kids working off a few calories till they get fed up and decide to join the board of some hotshot company! On a more positive note there's some good interviews particularly with Dutch punks Love Kills...which are rapidly becoming my favourite Euro punk band, plus the Sick On The Bus interview that is purloined on this site! There's a massive Conflict history that covers every nook and cranny of ex-Eltham's Anarcho hoodlums, who are making a return to the live circuit next month, so maybe it's well timed? Plus some in-depth zine and record reviews. It's early days yet and the name ain't very original and the cover price is high, but Newsagents ain't the cheapest place to get your zines printed up. So give her time coz I can see this only getting better with each issue. For a sniff of what you gonna get, read her soon come column on this site.1.20 plus a4 s.a.e. from 31 Fir Grove, Marton, Blackpool, Lancs, FY1 6PJ, England.
TESTICLE PRESSURE
Winter 2000. ****
Woke up the next morning after the Birmingham punks picnic with this on my bedroom floor lying amongst the used syringes and Barbie dolls. On first impressions it's a one sheet, FREE,. Tabloid styled attack on Radical Records. But if you read between the lines you'll slowly suss out it's a clever advertising ploy by the said label. The actual slagging off all the bands and personality's involved on it's roster is pretty funny. I thought it was a great piece of marketing and when I visited the actual site advertised below , I realised what a big bunch of jokers these geezers are. If you want zany schoolboy humour, tits, dicks and ain't caught out by the P.C. disease, check it out. You'll be amused at least by what's going on at
www.testicle.com
PUKE #5 March 2000 ****
Latest installment from my favourite UK punk zinesters. Puke is a rough dog-eared and funny lambast of hand-written text and crazy cartoon punk attitudes from the Aylesbury Contingent that screams snot in the biggest way!...and all this in the same issue. The 2 punkettes doing it Becca and Jemma Puke who are a force to be reckoned with around the London Satelitte towns, are an entertaining pair of youthful punkettes if ever I laid eyes on one. They give the more established zines of the day a right good run for their money and need encouraging all the more for it. These girls use their heads and bring this photocopied mayhem to us through a scam in the local Office World, which is a feat in itself. The layout is a top notch cut 'n' paste mess that any self- respecting punk rocker should thrive on, and their views are as admirable too. My only gripe is the fact that some of the bands only live up to substandard humour compared with the editors nasal verbal. But this is the biggest issue to date running in at 64 pages so fair cop guvnor! We've got those 'Weird Shit' reports from around the globe detailing some very bizarre events. Joe Strummer gets dragged over the coals in the regular disrespectful 'Before They Were Crap' segment. The reviews are honest and for the most part the other contributors are spot on with debates and opinions galore. Amongst the articles are an old one featuring ranty Brit punks the brilliantly named Thatcher On Acid plus the editors local faves the now deceased Chineapple Punx, alongside the very unfunny Chester with Scotland's Sad Society (who have been very quiet of late), plus another split up band the Thirsky Write-offs. There's articles purloined from other sources on the drug culture and a particular good one by Becca on how the kids today all look the same. Plus a wrestling pullout poster. Yeah this humourous, scruffy punk read is worth anyone's 50p so get it now for a real view of the UK punk scene. Issue #6 should be out any time now! 50p plus A5 s.a.e. from 1 Quakers Mead, Weston Turville, Aylesbury, Bucks, HP22 5RS,England.
BLACKPOOL ROX II
June 2000. **
A freebie here carrying on the name of the early 80's fanzine that was one of the leading lights in UK fanzine terrain. So when I seen the name, I thought hey this will be interesting but I'm afraid Blackpool Rox II is a pale shadow of it's former self, both in layout and character. It's just basically a sterile squeaky clean 'indie' view of the town's local band scene, done surprisingly by Andy Higgins leader of the now defunct
Erase Today
. Having said that what more do you expect for FREE. If you want a real slice of the Blackpool punk scene check out
4 Minute Warning
. You can check out this web site version at
www.jsntgm.com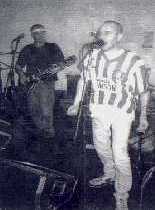 RUNNING DOWN THE BACKSTREETS #9
Spring/Summer 2000 ****
It's always a good read when you pick up a copy of this the UK's best Oi! zine. And some fucking good bands are let loose on an unsuspecting public with a massive in-depth
Menace
autopsy taking the biscuit. The news column sets the scene with up to date sharp news stories concerning the world of Oi!. But
Angela Rippon's Bum
and the dysfunctional and boring
Loyalty
were the only let down being as they ain't got a lot to say that interested me and what they do say was pretty fucking bland. But let's not let that get in the way of an otherwise chocka read. Surprisingly
Raise A Flag
from Japan introduce us to an interesting snapshot of Japan's Oi! scene followed by an in-depth article on Football Hooliganism with some hilarious bovver reports from across the divisions ...aahh it brought back fond memories! Perry from US Skin band
The Templers
gives us a good look at Streetpunk's birth over in the States while back home, London's
Guitar Gangsters
keep the punk links alive. The reviews are worth a look at coz you know they are telling the truth.
Running Down The Backstreets
closes with the portly Tony 'Van' Frater lead guitarist out of Sunderland's
Red Alert
who has a tale or two to tell on his long punk career. Did you know he was once took out for a piss-up by New Romantic pop stars the cringing crooner Tony Hadley and Brummy poseur about town Simon Le Bon after he played guitar on an unreleased Tony Hadley sonet! Yep a solid varied read which we like here in the no bullshit zone!
£1.00 plus 33p s.a.e. from 13 The Croft, Badsworth, Pontefract, W. Yorks , WF9 1AS, England or e-mail
oisweb@hotmail.com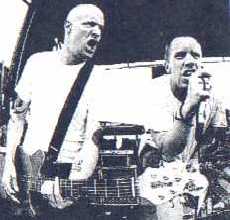 SCANNER #8 September 2000 ****
Just got this in from the depths of Ipswich, England. And in keeping with it's professional text bulging mission, it's still plotted on a quality control course, in presentation at least. Scanner is the most regular UK zine in today's market. I must admit, when I looked at the Woody Allen cover to see who featured in this issue. Out of the eight defendants on show, I only recognized Avail (who I find a bore to listen to). Maybe I'm losing touch, or my idea of punk is a totally different beast? So contemplating another unfamiliar read, I tried my hardest to keep an open mind. And ain't it just great to be shocked into submission! Coz lo and behold the interviews for the most part kept me riveted, with bands like the explosive All, Annalise from the UK and shock horror... my nemesis Avail being particular chunky highlights. The singer from Avail is one of those boxcar masochists (tee hee), he jumps trains like the old hobo's, except he does it for fun and nearly broke his neck doing so! (snigger). There were also a trio of nondescript fucking safe cunts posing as punks like 'ippies Skin Of Tears, Shatterhand and the shady, gloomy intelektualizm of Grey Area, taking the jokers card. However the ace in the pack had to be the punk vet, Don Fury...Don who? Well Don's the New York hardcore record producer who has a massive roster under his belt, including such heavyweight classics like New York's Agnostic Front, Gorilla Biscuits and the wild Lunachicks. And although the appallingly named Nerth Herder were a complete and utter joke. I did learn they were responsible for Buffy the Vampire Slayer theme tune...wow!!! I just couldn't take to the political pages done by pseudo- intellectual, doctorate of political science's and Scanner correspondent, namely Dan McKee. His regular thesis makes me cringe like a young kid would do walking in on his mom getting screwed by the milkman. The columnists are hit or miss, my gawd some of these geezers really lead such interesting lives ...yawn! Best one however had to be MC Dogshit's (singer from Brezhnev fame). An hilarious but poignant true-life tale of a punks demise into heroin and ultimately death. A lesson for anyone! He also penned a brief but useful Amsterdam scene report. I think Steve's gig reviews were particularly uneventful in this issue. Seeing so many bands on a regular basis should conjure up at least 1 memorable outing, but not this time. A massive record and zine review section is always a mountain to climb, not coz of the volume or way they are reviewed but coz 70% of the bands and mags on show are tragically dire!!! Middle of the road punk for the non-punk masses is what seems to get sent in/reviewed nowadays. And the zines this issue are really bland with a capital B. My god it really rams home what a very sorry state printed zinedom is of late...glad I'm well out of it! I'll say it again, this mag could be so much better if Steve didn't lease quite so much space to the borderline bands, theorists and general fucking yes men that pollute our fucking punk scene. Still a good zine though. £1.00 postpaid from 6 Chatsworth Drive, Rushmere Park, Ipswich, Suffolk, IP4 5XA, England you can e-mail at
PULPED July-August 2000 ***
This professional looking publication has shrunk down in size to an 8-page newsletter on this the 'Baby' issue. So if you wanna read the far more impressive bigger edition you gotta check out the site or subscribe to a years issues of that format. Apart from the usual ads and on the ball gig guide in this issue you get the Kerrang! and Fracture exposé's. Which is common sense. I just think Kerrang! ain't worth the space in a 'streetpunk' mag and Fracture are just a sad bunch of fucking tossers who need blanking or ridiculing. But I spose someone's gotta print the blindingly obvious!
FREE from PO Box 12, Lockerbie, DG11 3BW,Scotland or better still visit the site at
www.pulped.com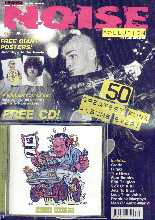 NOISE POLLUTION
Winter 2000 **
Well this ain't a zine at all, but it could be the future of the UK high street, glossy mag arena of the punk scene, if we really believe in miracles! Metal Mag Kerrang! are behind it, and they proclaim Noise Pollution to be the trial issue of what could be a regular mainstream punk rock mag. So naturally when I seen it on the shelves of WH Smith, amongst the Q's, Rolling Stone and Record Collector, I was somewhat curious as to what was exactly in store for us punks. This being the first punk mag on a newsagents shelf aimed at punks, since the heady days of Punk Lives back in the early 80's. Well for a start it looks impressive with Rancid's Tim Armstrong gracing the cover. And if that don't make yer spit, you get a FREE CD (even I can risk listening to 20-odd tracks of pop punk for a dare) mounted on the cover, a FREE poster (although Billy Joe from Green Day is a bit too young for my seasoned tastes) and a quartet of punk postcards. I then clocked the cover price of £3.95, which considering the former freebies was worth the perusal. But what's inside you may well ask? It looks, feels and smells just like Kerrang!, but with less hair and lots of geeky bands on display. There's big colourful pix of your favourite tattooed stars and a neat layout that looks better than it reads. But from there on in it went down hill fast! Bands like Grade, Less Than Jake, The Hives, Jets To Brazil, need I go on?!!! They pout up at us in glib delight and definitely turns an attractive looking mag into a big fucking plastic disaster. It's got a silicon feel with cunts like those littering the pages, and 'Boy bands' springs to mind! They do however feature 3 good articles on New Yoik's
Sick Of It All
, Washington's
Fugazi
and
Bad Religion
, but that was it! No other wings of punk were even considered, which is a shame and a sham. The same goes for the zine article which only covered the safer zines on the arena, no mention of the likes of Jellybrain, Puke or Soap N Spikes who are real thing. Scanner did head the cavalry charge, but that was about it. Noise Pollution at least got the '50 Greatest Punk Albums Ever!' marginally correct, with 'Bollocks' taking the top slot. But you have to question a
Blink 182
inclusion
at number 14 and 'Crossing The Red Sea' by
The Adverts
not even in the Running!!! But what's more confounding is once you've read the editorial you realise this is just a bandwagon looking for a new market. Grebo's and heavy mettallers writing a so-called punk mag! Where's the fucking punks???? This issue is totally aimed at the clean livin, bubble-gum punk rock crowd of jokers and no matter how many pix of the
Pistols
or
Rancid
you throw into the mix to draw in the crowds, the content tastes just the same! They want your opinions so tell em coz I did.
Noise Pollution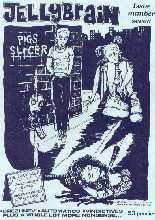 JELLY BRAIN #7 April 2000 ****
Jellybrain 7 is still as vindictive and still as pissed off as it's predecessor, but the way it's put over with those half sneering jibes makes for yet another brilliant read. This ain't so much punk rock but what punk rock has spawned. You don't get jokers like this in the metal scene or the rave scene or any other scene, this is a one-off! And it's still amusing to read the all consuming, shit slinging war of words with his (editor-Paul Jellybrain) old musical cronies still flaring up years after the event. Ain't it great to witness back stabbing cunts going for each other jugular every issue...ha ha. The 3 fast as fuck one page interviews are a must just to see what mad questions he's gonna ask em next. This time around to savor the irony is Netherlands full-on backet-cases Brezhnev, who know all too well what this Scarborough cunt is capable of. The Vindictives and The Automatics from Portland are next in line. The Portlanders get asked "I have a friend from America called Tim, do you know him?" (tee hee). The varied live gig reviews has some great observations, and it puts the actual bands into the shade by the curios coming out the reviewers head. In fact the reviews on a whole are fuckin real without being creepy or down right ignorant. There's a fucking boatload to chew through with some minor classic snidey remarks and side-comments coming out. Take for example the Agnostic Front review ..."they might speak in quiet whispery voices at the garden fete with the vicar, but there's no trace of that here!" (tee hee) This is English humour at it's best, and if you can't suss it out, you don't know what your missing. To top it all off Jellybrain is bought to us via a vivid crisp 'n' clean layout with art, cartoons and those peculiar but amusing facts and jibes on real life that'll make yer laff out loud! Highly recommended! New issue just out so look out for that soon! 50p & s.a.e. from 4 Clarence Street, Nuneton, Warwickshire, CV11 5PT, England.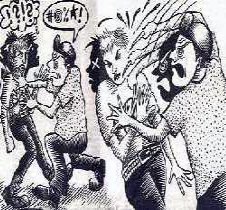 SLUG & LETTUCE #62
December/Feb 2000. ****
This is 6 months old but I think it should be given some airing coz this issue brings home to punk just exactly what some of the bullies and wankers who lurk around it's fringes can do. You may already have heard about the story of Amyl Nitrate, lead singer with New York's Spider Cunts. Well she got cut up really badly in an uncalled for attack at a punk party last year. Well this issue is dominated by the full story done by a friend of hers who was present at the slashing last September. Just get this issue for that column alone and it's impact which hits home even more by the brilliant Zero Content cartoon strip that brings to light the full bloody scenario. Fair play to Chris Boarts-Larson who put this out. On a lighter note there's also 20 pages of punk rock reviews, views and news so get it coz it's free with an S.A.E. (but donations are appreciated). PO Box 26632, Richmond, VA 23261-6632, U.S.A.