REALLY FREE #12 ***
More streetpunk views from South Wales, UK. Complete with it's on the ball news and honest reviews. The tale from Phil's dark and distant past following the Upstarts around the UK, was always good be good for a laff. There's even a Rectify interview plus gig review, and all this in an 8-page A5 format. Fast, quick and simple! 19p s.a.e. from PO Box Pentre, Rhonddha,Mid Glam, CF41 7YG, Wales. or e-mail
SAVAGE AMUSEMENT No. 9
Jan/May 2000 ***
Yet another regular freebie from the pen of Sir Trev Hagl who has been doing this sort of thing since the early 80's and still has an enthusiasm worth anyone's first class stamp. Who said all beer swigging Asda employees were all shelf stacking morons? As always this 12-page A4 newsletter is dominated by some of the latest new releases from the world of Punk and Oi! that are put under Trev's humourous scrutiny. You can always bet it's gonna be as honest as your ever gonna get in this day and age of corrupt punks, drunks and skunks!!! There's also a good article on the state of punk in the 21st century which hits the nail on the head. A good fast amusing read. Oh yeah this publication might be hitting your screens real soon so keep a look out for it. Still only a 27p s.a.e. will get it ya or a dollar if your outside the UK. From Trev, 57 Briardene, Burnopfield, Newcastle Upon Tyne, NEI6 6LJ, UK.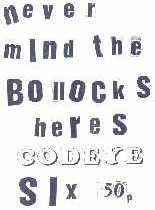 CODEYE #6 2000. ***
This half hearted zine has come on loads since the last time I read a copy about 18 months ago. It's actually now got a layout (slash 'n' epoxy) and a lot more content. The front cover however was a disgrace, talk about minimalism. Don't fanzine editors realise these days that your front cover has the capability of making an impact, so fucking use it!! And Codeye, (like a lot of these UK punk zines that seem to materialise once a year, if your very unlucky) suffers from the 'well out of date' syndrome. Although the argument about reading a printed zine still holds out (more easier on the eye) unlike being stuck to a monitor!!! The 'past it's sell-by date info' really rams home paper zines biggest weakness. News apart, there's a good interview with Essex beer monsters Airbomb, a strange one page article on the way the NME treated the recent live
Clash album. Local '77 punks The Amazing Spacefrogs (who own the most loathsome band name since Raggity Anne) have been given a triple by-pass and bought back to life. Last years Holidays in The Sun '99 gets yet another review (yawn!). We are then treated to straight Vibrators
tour/ interview, written by the bouncing Czech, Vitek Formacek. This punk thrusts his articles on any UK zine who'll print em!!! Closing with an interesting dissection of a local compilation of punk bands from 77-82. There's also a plethora of music/zine reviews which seem to have overtaken the short one-liners from last issue and a good live Dickies review. Getting better but still light-years away from the more regular and motivated zines and it's still haunted by a PC impediment! 50p plus s.a.e. from
Robert Slavery, 31 Kerrick Road, Park End, Middlesboro, Cleveland, TSB 7SB, England.