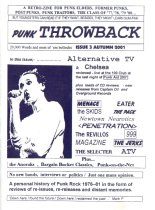 PUNK THROWBACK #3
Autumn 2001 ****
We have hear one mans reminiscings, reviews and views of the 77-80 punk scene. It comes in installments through various issues. Ged Baby (the man in question) sent me this issue as a sample when I read his offer on the Penetration board. Like so many he's come back in from the cold of a non-punk lifestyle and stale mid-life crisis. And guess what?...he's suddenly rediscovered his punk roots all over again!!! Call me a cynic if you like but I thought punk never went away, it's always been here lurking in the shadows of the late 80's, skulking through the depression of the early 90's. There was always some gang of miscreats doing something in a cellar even when all the weekenders crawled off to the next big thing. So I do question what ever happened to the preceding 20 odd years of punk? Were us unfashionable types just playing fantasy role games or wot? Well however you view punk rock it can appear band wagon jumping if we really wanna get petty, but who really gives a fuck? This is like reading an enthusiastic, spotty, middle-age teen diary. Punk Throwback may sound very old and jaded to the early 80's, 90's punks or even today's young whippersnappers out there. But Punk Throwback (especially if you've got more than a passing fancy for bands like Alternatve TV, Chelsea, Menace, Eater, Magazine, Penetration etc) is worth your perusal. This is a labour of love come what may. A lot of work has gone into this, and you can tell Ged the editor has, like so many others in this 25th year of punk rock rediscovery enough suss to tell his tale well. If the writing was bad then this would be drivel, but he's got an interesting style. My only real bone of contention, is it borders on university professorates sometimes, if you know what I mean? And his taste in punk sometimes leaves a lot to be desired, dismissing the Pistols as "dated, leaden and lumpy" while claiming the current lineup of Menace as "fresh, energetic and vital' (snigger) takes some getting used to. Record labels like Captain Oi!, Anagram and Overground must love geezers like Ged, coz he gives em massive favorable in-depth reviews. Best bit of Punk Throwback is Magazine (the band) reviews and rare stuff like the Pack, which is always good to read in this day 'n' age. A neat history lesson in easy to read minimal format, from one very enthusuastic perspective. And no sign whatsoever of full page ads or the big sell. Number #4 is out now and highly recommended for a £1 from 12 York Drive, Bitterne, Southampton, Hants, SO18 5SA, UK.
DEFIANT POSE #5
Winter 2001 ****
Defiant Pose #5 was written or should I say glued together back in 1994, and ain't seen the light of day till now. It's an historical stop gap till the next current issue is out and there's only 50 in existence, so your gonna have to be fast if you wanna copy. As it claims on the cover this is strictly for fans/obsessives and is basically a collection of Subway Sect cuttings, flyers, reviews and info xeroxed into one neat little 28 page zine. If like me you like to get to know a band inside out especially if they got character, then this is for you. Covering the dark distant days of 77/78 at a time when bands like the Subway Sect could fill Fulham Town Hall and were part of the infamous 'White Riot' tour of England. However they weren't the best punk band in the world, and for some they were an acquired taste. But the Sect were there at the beginning, and I always liked their early abrasive style like on the brilliant 'Nobody's Scared' 45. They were as snotty as any 20 year old kid could be at the time...literally dribbling, which lead singer Vic Goddard once claimed he was gonna be. This is the band who were perpetually in the Clash's battle fatigue shadow, as they shared the same manager and bill although essentially on a very distant footing. Defiant Pose editor Mike has really done his homework on this one and I suspect he's practically got every major press interview the band ever took part in. So if like me you were a fan of the early punk sound get this just to see what made bands like Subway Sect tick. You'll be hearing a lot more from Mike in a forthcoming interview within Nihilism on the prowl real soon, so look out for that. £1/$3 postpaid PO Box 2544,London, NW6 3DF, UK.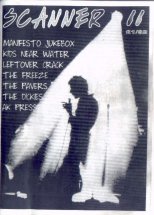 SCANNER #11
December 2001 ****
Steve the globetrotting punker from Ippo in the UK never fails to bring up the booty input wise. And since last issue he's been and returned from New Zealand again, can you believe? With travelling around so much and his computer hassles of recent times he's made his usual mad dash for the deadline to get this out even more breathtaking. Now that is what you call cramming obsessive writing. It makes me feel guilty at how long it's took me to review this, but hey I'm on Carling not whiskey! So fair play to him for compressing a zine with style that features easily the workload of 2 average sized zines into one issue. Like it says on the inside cover, "this is larger than life!" This time round were entertained with 2 fucking scoops, featuring bands who are really up my dimly lit street. First off Californian Caligulas -
the Dickies
, are given a centrespread. Stan Lee supply's us with a good insight into what's now become a punk rock institution on the world punk scene. If that ain't enough to get yer hand in yer pocket (metaphorically speaking ), we get a fuckin epic 10-page life story with that Cape Cod cobra, the irrepressible Cliff Hanger from
The Freeze
. Cliff makes for a fucking riveting read as he tells us tales from his highly entertaining and eventful punk rock lifestyle...drugs, customs, prison, paranoia, hatred of Wattie Buchan...you name it it's in here. I like his no holds barred approach and as Steve reckons, and rightly so, this heart to heart is probably the best interview featured within the Scanner pages so far!!! Dr Dan McKee resident terrorist expert gives us his vews on Sept 11th, again taking the obvious anti-Yank/pro-bin laden stance which I find bollocks. Closer to home
The Gas Drummers/Two Fold
UK tour diary really spells out a neat fly on the wall report from the hovels of the UK. It rams home what my '3rd World Punk In the UK' column hints at in this issue. The shit that bands have to put up with to bring us some honest hardcore is unbelievable. And all you can do is but admire em for doing it against such bad feedback like low turnouts and even lower gig payment policy's. Other less humble bands who get scannered in this issue like
Kids Near Water
from the UK,
Leftover Crack
,
The Pavers
(who turned out be not one of Steve's favourite bands at the moment) and lastly
Manisfesto Jukebox
from Finland, were only here to make up the numbers in my slash 'n' epoxy book. They just ain't got the character as the previous outfits. However Scanner #11 shot straight back up the Richter scale with an interesting one to one with the Anarcho publishers AK Press. Strangest moment of this 84 page issue came via a profile of the Moulin Rouge film and that little bloke called Toulouse Lauttrec! You know the one who always looked like he was kneeling down on his shoes (snigger). As always there's more reviews than is good for our health or sanity in one sitting, in fact I'm still trawling through em. The columns are the usual fare with new boy Boz from the
Steam Pig
taking the originality stakes.There's loads more to see and read in this zine, way too much to feature here, so well worth a quid of your hard earned giro, and I'm glad to say this zine is back on track with the best in the UK scene to date.
Print Run 500
costs
£1.00/$2.00 & s.a.e.
from
6 Chatsworth Drive, Rushmere Park, Ipswich, Suffolk, IP4 5XA, UK.
or
scanzine@aol.com
KICK IN THE BALLS #5 2001 **
Kick In The Balls is another zine that don't get released too often, causing apathy amongst it's readership. And with the previous issue hitting the streets way back in 1999 can yer blame em? But Big Dave the editor has had problems...personnel problems!!! Which are bravely put down in print for all the world to read in his editorial. You can tell he ain't his usual witty self. The real reason for this and the 'go slow' is coz he's moved base twice since 1999 and got into domestic strife. So that's a fair cop I suppose. His ex-bird who hated his love of punk and his zine career give him torrential grief (sounds familiar) over it. So much so, he tried to appease her by trying a new straight life without punk and a zine addiction. As the great phrophet once said you can take the man outta punk, but you can't take the punk outta the man, without a fight! (read St. Peters book on zines, chapter 3, verse 7). Dave's now relocated to Sheffield which ain't exactly the land of milk and honey but it's handy coz there's plenty of blades to slash yer wrists if needed, only kidding mate! (Naughty & insensitive - Don't Care). I think he's wisely realized the errors of his ways and sacked the interference and rejoined his roots hoping to rebuild his punk rock life. Dave promises a new zine overhaul next issue? And owns up to only releasing this half baked read coz he felt it unfair not to print the contributors pieces. Which is admirable on reflection, but it still don't exactly do the zine any favours, especially if it's chucked together like an origami puzzle? Well whatever, good luck to Dave, hope he finds his Punk Valhalla coz the zine fucking needs a new shot in the arm badly. The funny front/back cartoon covers (done by Pilsen) are it's peak but it goes down hill fast in the layout skills once your inside. Which is a pity coz there's still punk potential amongst it's 24 pages and with more crowd control would've put it back in the game. Nihilist collaborator Bobby Smith's input is vital to this issue. He saves Kick In The Balls from being just another sad football/Oi! mag as he gets the lowdown on the reformed Bus Station Loonies, who admit not being football fans (never?). And the hideously named Chester, who don't live up to their (in print at least) disgustingly bland name. Big Dave with tears brushed aside volleys in a good football rant, chips us a Beerzone insight and takes the legs from under Mark Brennan (Captain Oi! Records) as he strolls down memory lane!!! There's a full squad of guest rants, a Spanish scene report and a short interview with the Vibrators in the Czech Republic. But as ever we have to wade through that fucking dog rough layout that makes you squint yer eyes to pick out the faded text on some pages. Hope to fuck for Dave's sake and ours the new revamped issue improves a lot more coz Kick In The Balls #5 is just fucking 3rd division punk print at this stage of the game and is heading for the non-league dole drums fast! Cheers for Mitch for passing it on, I can see why now!!! c/o 75c Harlou, Crookes, Sheffield, S10 IDH, England.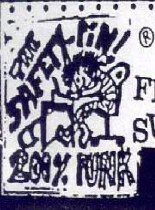 SAFETY-PIN! #12/ #13 August/September 2001 Newsletter ***
Not to be confused with the Safety-Pin record label or the Spanish punk band of the same name, but they may have an influence? This FREE newsletter comes all the way from Switzerland, Europe. It's written by one of Europe's elder statesmen of DIY'ers, Pablo. He's published loads of influential zines including the original 'No Sanctuary'. He's also played in various bands and now runs the Strongly Opposed record label. A label who have put out 7 releases funded by his day job in a Factory, so fair play to him coz he's earned his punk brownie points. Strongly opposed is a good description of what the Safety-Pin is all about. It's 100% opposed to fucking loads of stuff including CDs, computers, meat eating etc. Which can be hard to understand in this technological day 'n' age, but I doubt he'll change. Pablo is basically an Anarcho in the true meaning of the word, but unlike most of the blinkered, political fiends in that genre he freely will admit he also has a passionate love affair with early rare English/US punk rock. He is after all, a self confessed vinyl fetish and covers a fucking vast expanse of worldwide material here. I stupidly thought vinyl was rare?...seems not! I met Pablo 5 years ago (on the 529 bus going to a punk gig in Walsall, UK can you believe?) So he's a well travelled punk and has been all over the fucking place and talks and writes fluent English. This monthly freebie newsletter is packed to jacksy full of record and zine reviews, plus we get a short diary news round up of what he's been up to since the last issue. The reviews are all 100% punk vinyl so if like Pablo punk on vinyl is yer thing especially the protest genre, then you'll be in your plastic ecstasy. I'm still finishing off reading the reviews as there's a fucking million squeezed into both sides of each issues A4 sheet. So be warned the print is tiny, too tiny for my not so bionic eyesight but it's a good informative read and well worth checking out. He runs a distro and is the man to see for that rare punk 45 you've been after since your youth. Available from Flurweg 29, 2504 Biel, Switzerland, Earth...cheers to Mitch again for putting me onto these.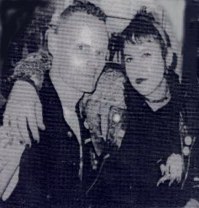 RIOT ON YOUR OWN #8
Summer 2001 ***
Gotta say this is the sloppiest issue of this entertaining Belfast freebie I seen so far. The writing and attitude is still spot on but the cover, layout and print job make it appear just another hastily thrown together freebie. Pity really, coz this is usually the best FREE punk read in or around the UK at the moment attitude wise. Leaving even the established Savage Amusement coming a close second. Highlight this issue has to be the Morecambe special with a load of pix from the 3 day, 100 band run around. As I said the pix what this zine prides itself on are represented well, but most ain't up to the usual photocopied standards. And I've read more than enough dire Morecambe reviews this year to be thinking oh no not another list of bands. But the dry witted Riot version of events still manages to create a new angle. Well enough moaning, coz Bill's got enough of that from the Leeds 'Cargo Cult' untouchables, more of later. Onto the guts,
The Dangerfields
are given more exposure and seem to be after local heroes
Runnin Riot's
spiky crown for top Belfast punk outfit (hopefully be spying their almost legendary live show in a week or two myself). There's an amusing fashion article about the young punks and local gig reviews. There's even book reviews this issue with Sniffin Glue's epic rubbing shoulders with Billy Bragg's socialist dogma. The record and zine reviews are restrained and unbiased, despite being baited from the pious Leeds fraternity. However the crusties don't get off Scott free. Their complaints of heavy handed security measures by old Bill and his mates at another
Runnin Riot
gig, are dismissed as harmless horseplay by the editor (tee hee). Had to snigger at Steve Arrogants football piece...jeeez! I reckon Steve oughta stick to writing about '77 instead of the premiership bollocks. And it seems the Auzzie street punk scene are in contact too. So the words spreading like anthrax and It's still FREE so what do ya expect for an
s.a.e.
these days!? Write to
Bill, 5 Glen Road, Belfast, BT5 7JH, Northern Ireland.
Billy.Mcconnell@sx3.com
4 MINUTE WARNING Issue 3 Autumn 2001 ****
This issue is in keeping with the quality of last issues improved presentation and covers a wide range of punk cults, traits, and sects that make up the loverly world of PUNK today. Mitch the editoress is learning and improving with haste on her layout skills. A good mix of type and handwritten text makes for an attractive mix. She's cramming more chunky scripts into the designated space that a one sided zine provides. If this zine could find an ecconomical way to get rid of that begging to be filled invalidating blank sheet, we'd really have something to warn our kids about! But handicap aside 4 Minute Warning is still the best looking and varied A4 slash 'n' epoxy zine in the UK that I've seen today. And this jam packed warning starts off with young Southend screamy upstarts Affray. Followed closely by probably the last interview the Bus Station Loonies ever did, they've now expired (RIP) and reformed!. There's a more in-depth Barse 77 piece that covers more ground than the recent spate of zine interviews these scrawny Geordies have had the opportunity to belch in. Ending with a one page highlight on unknown Belgium punks (to these ears at least?), Bad Preachers. Considering the interviews are pretty good I reckon it's Mitch's opininated articles and profiles what give this zine it's character. We get a humourous May Day Riots focus and a Xena the punkette warrior spoof. Mitch compares Xena to a 21st century Siouxsie Sioux!!!! There's a two-page Joey Ramone obituary, complete with news cuttings for the ghouls out there. And a massive review section of gigs, zines, records and football match reviews.... Liverpool!?...what about Blackpool?? There's even a bit of poetry sneaked in which isn't as bad as it sounds. Most notable piece was the well researched article on the origins of the Mohican haircut. Never knew World War two US Paratroopers donned the cut for luck! And punks arch rivals the teddy boys even had em back in the 50's!!! You learn something everyday! There were also one page spotlights on Flies On Toast web site and the Really Free distro plus a load of news and innuendo to barf at. Great enthusiastic zine. Check out the back page artwork of Sidernee. Is there no stopping this punkette? £1.20 & A4 S.A.E. from Mitch Elsden 31 Fir Grove, Marton, Blackpool, Lancs, FY16PJ, U.K.