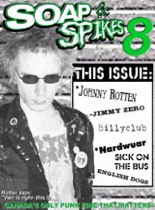 SOAP N SPIKES #8
Summer 2001*****
Over 12 months in the making has Dick Vein, the Stanley Kubrick of the Canadian punk scene kept us waiting for this one. But by golly it was worth it in the end. How many PUNK zines today can actually give you such a diverse array of name punks in their pages? Most hide under the punk banner but feed us inferior characters masquerading as punk. Or we either get the usual fat beer bellied dross that's such a bore to plough through. But Soap N Spikes is always guaranteed punk entertainment in print. Soap N Spikes aims at the big guns and gets em most of the time. Take Johnny Rotten or Jimmy Zero talking straight with no bullshit and no ego's. Plus a strong supporting cast of
English Dogs
,
Billy Club
and
Sick On The Bus
all in one issue!!! Even the more renowned big publications like MRR, Flipside etc. couldn't pull that one off. The Rotten exclusive alone taken from Dick's online radio chat is all the questions you ever wanted answering on the band the books never seem to cover. We get views on
Exploited
,
Crass
and
Siouxsie Sioux.
Plus what it was really like walking the London's streets as public enemy number one....
"I might as well have had a neon sign saying 'kill here' and a brass band advertising my coming down a high street'!"
The concluding part of Jimmy Zero's ultra amusing tales of life within the
Dead Boys
is a truly fascinating read. This insiders view on what made em such a volatile class act punk band should inspire bands to fuck shit up. Moving up a decade, we get the 80's covered with bands I ain't really enamored with, but fair play Pinch's hilarious life on the road with the
English Dogs
won me over. The dubious Karl from
Billy Clubs
infighting stories with Wattie and getting banjoed at
GBH
gigs was funny too. Never heard of Nauzwaar before?...me neither, and I initially thought who is this joker? But keep with it coz it's another funny expose.
Sick On The Bus
are another band who aint in my top ten but yet again the questions and answers are good to read. The columns in this issue are pretty much across the board giving any cunt a license to air their views. Take Lee Havoc (ex-
One Way System
) who has gotta be the most misunderstood individual in punk (snigger). Of course 8 pages of record reviews which actually cover punk rock are actually a blast this issue. And on summary this maybe accused of more reminiscing from some punk circles who like it political or PC or just safe. But Soap N Spikes should be and will be an insight for younger punks and older punks alike. Anyway if your gonna hear tales of punk legends you might as well get it from the horses mouth. Next issue will be a Frisco HITS dominated issue with some crazy backstage subterfuge supplied by
Exploited, Slaughter, GBH, ANL
and
the Dickies
etc. Can't fucking wait.
$4.00 from 561 Brant St., PO Box 85021, Burlington, Ontario, Canada, L7R-443
or
www.soapnspikes.com
RIOT ON YOUR OWN #7 ****
Weeeeh Heeeeyyy more punk insight from Belfast which makes a change. The last time I read a zine from Barbed Wire central was way back in 1997 and the short lived but good 'Give It A Blast' zine. And in keeping with that 'Riot Of Your Own' owns the same impressive dry sensa yuma trademark, which is good to read. This is a real basic looking zine but what it lacks in layout and artistic design it more than makes up for in attitude and humour. And guess what? The editor Bill is a big Clash fan and old warhorse from the summer of hate (tee hee). Seems like not all us old cunts go and fade away or become big fat caricatures of our former selves. Well not yet at least. The main theme all through this fast 24-page read is the pictures! Photocopied yeah, but clear quality. And it's always interesting to see what the local Belfast punks get up to on a Saturday night. A small but lively punk scene is caught here for posterity which is another chapter in the province's lively punk scene. And you know what makes this? You can tell there ain't no pretense. The writing is real and honest. Belfast always seemed to have a really good punk scene, it's good to see things ain't changed. The Paddy's are still capable of making bands feel good and wanted. Which is damn rare in the UK punk scene these days. You get chaotic gig pix, reviews, news and views. With just enough young punks/skins jumping around to save us from those jaded looks that ruin other scenes. A glimpse that makes this feel real. Cheers to Mick Rant for throwing this in. And guess what it's FREE! with a s.a.e. from Bill, 5 Glen Road, Belfast, BT5 7JH.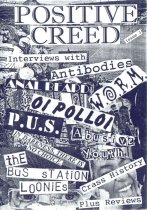 POSITIVE CREED
Issue #1 2001 ***
Good to see yet another new zine on the streets of Britain. And this debut issue is a particularly smart looking one. With 32 crisp 'n' clear photocopied pages of clinical punk print. And it's all done in a good, well thought out slash 'n' epoxy layout. Which I like a lot! I did have my reservations at first. Especially when I read in the editorial that this zines influences come from nearly all the zines I despise. But Rob Stone the anarcho editor and lead singer in Exeter punk band Abusive Youth, proved me wrong. It seems like he took this up for the similar reasons I did, but with an early 80's protest perspective. There's a massive 7 bands interviewed!!! They're just long enough to give you the right info and don't ramble on. And unlike the usual clinical Anarchist terrain, they pretty much cover the whole punk spectrum. Which is encouraging. We get current UK zinedom whores
P.U.S., the highly underrated Antibodies, the hideously unfunny Anal Beard, Anarcho vets Oi Polloi, Chesterfield bores W.O.R.M., the cringe worthy Bus Station Loonies who sickeningly love everyone. And lastly Rob's own band Abusive Youth get the once over, being interviewed by another zine. There's a profile of fellow anarcho bin man (and grasser) Ian from the sanctimonious 'In Darkness There Is No Choice' zine ha! Good to see he's still busy blowing his own trumpet. And a bloody good Crass retrospective and discography by Mitch (Nihilism collaborator). Another healthy sign was the music reviews. They were small but covered a good selection. But what's this?....no zine reviews boo hoo!!!! Seems like a lot UK zinewriters these days shun away from zine reviews. Coz they feel scared to call em shit or risk being ostracized. I'll give you a tip mate....the more honest you are the better the read, believe me! Positive Creed could also do with a bit more character or humour, but that can only come with time! For an 80p debut this shows signs of becoming a well worthy read. Thanx to Mitch for sharing this with me. It's could be yours for 80p from 17A Charnley Avenue, St. Thomas, Exeter, England.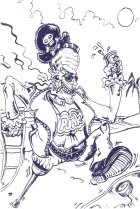 SMALL SAILOR 8.5/JELLYBRAIN #9 Split Issue May 2001 ****
Now here's a couple of current UK zines who show zeal, panache and try and cover other ground than is the usual regulated punk fair. This is what real zines are all about. They give us a good, clean presentation with lots of energy and bite.
Small Sailor
reappears after a 16 month hiatus and is one of the few Yorkshire zines left to have an open view on the punk world with an attractive sharp 'slash n epoxy' layout. However the duel editorial seems to have a split in the ranks, with Paul Sailor jumping ship to the subtropical delights of the Nottingham slums. While Thirsk HQ is held by the Rich T. empire, who has now expanded into fanzine distroland....there maybe trouble ahead? The interviews are always short 'n' sweet, covering
Jam
fanatics
Odd Numbers
, from San Jose, US and the UK is represented by
The Restarts
from North Laaainnduunn. See what I mean...diversity is strength! There's a blatantly censored Portland, US scene report. Which is made hilarious by the obvious absence or even a mention of Portland's premier punk bad boys...
Statch And The Rapes
. But what do you expect as it was written by the goff guru and PC president from Ryleh Rising zine!!! Some well observed columns on irritating Mobile Phones and the luxury of Filthy Lucre get shipwrecked, plus a backpacking article makes for extra depth. We end our small voyage with another cultish, surreal Dark Figure scribble! Small Sailors a good, fast read!
Jellybrain
(boo hisssss) is probably the best zine 'read' around in today's miniscule UK punk typewriter circles. With only the mammoth Scanner neck 'n' neck for pure volume of material. The layout skills in this zine oughta be taught as blueprints to kinda garden zinesters taking up their first pen. And even old Mr Cactus (if we could drag him out his incontinent squat) could learn a thing or two here. Paul's writing has that by now classic sarcastic style, that only a real bitter 'n' twisted, but fat black humoured individual can possess and put in print. A talent that makes it entertaining instead of very sad. Coventry interlektualz
Academy Morticians
give a massive interview (for Jellybrain standards) and it was good to see they ain't po-faced morons who can't take a joke.
Red Flag 77
get asked questions like what position they use for taking a shit? (snigger). And the cuddly Italians
Kim's Teddy Bears
are here for our editors entertainment alone. Quite a few rants are aimed at the apathy in supporting the local punk scene. And the style and geographics always makes yer think he is aiming this at 'you' or 'me'?....(paranoia or wot). There's a great
Pee Wee's
UK tour diary, which are always good fun to read without the music getting in the way too much. It's a guaranteed laff reading how the UK toilets get a visitation by (on this occasion Italian) strangers. There's a fucking skip load of reviews. Shame about the obvious greasy addiction for safe, tame, brylcreamed dego pop, but they're made compulsive reading by splendid references like....
"This is excellent stuff to tap your foot to, and hum along to as you do the dusting in your dead Grandma's negligé"
(guffaw!) It's all rounded off by wacky trivia and cartoons. Funniest zine around! I got my copy from
Small Sailor
for
50p & S.A.E.
from
39 Station Road, Thirsk,North Yorkshire, YO7 1QH, England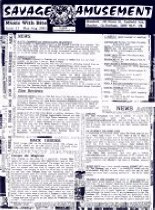 SAVAGE AMUSEMENT Issue #13 May-August 2001 ***
More punk and Oi! for the masses from Sir Trev Hagl's humourous and considerably more tolerant pen these days. Must be all that collaborating with cunts like 'Broken' publications. He still finds time to push down our throats his pet protégés Barse 77. They've had more hype in the UK zine scene than a gang of Fat Wreck bands at a bowling weekend. Despite this, Savage Amusement is still definitely the best 12-page newsletter on what's happening down on the hard 'n' heavy street. However and this ain't Trev's fault there is a heavy barrage of reissued product by bands who are either very dead or need to be shot and put out their 2nd or 3rd time around misery. I'm all for a classic reissues of past glories handily packaged on CD format but some of these are demos of demos and can get quite infuriating. This is still free with an S.A.E. so give it a go from Rosehill, 20 Front St, Tanfield Lea, Stanley, Co. Durham, DH9 9LY, UK.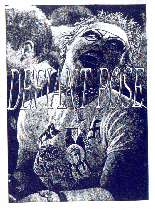 DEFIANT POSE #4 2001 ****
Be Jyyyzusss this is a blast from the past. The last issue of London's Defiant Pose to hit Britain's streets was back in 1981!!!!! So you'd be right in thinking Mike the editor was pretty laid back in his approach. But hold your horses for just one second. Printed word might be scarce on the ground round W11, but Mike ain't been idle. For a start his high quality distro Inflammable Material has been active for years and years. And besides that, he's been in a few bands since '78 with Decadent Few springing to mind. So he's got the drill and sure ain't been dragging his Defiant heels totally. The Defiant Pose philosophy on life is if bands can reform then fuck it, why not zines? And It's good to have another zinewriter back in the UK ink cells who has an opinion of his own. Instead of the sheep that cover the same old bands and heap on us the same old rules...snooze!!! Defiant Pose won't inflict that on us for sure, although we could fall asleep waiting for the next issue to arrive. Yeah poseurs, more defiance is planned depending how this one hits the fan? It's 64 pages are packed solid full of views, insights and general opinions on what life throws at a punk. Maybe a bit too nostalgic for some, but this is after all the reentry edition. And it ain't an easy read coz it comes at you from different angles. Defiant Pose won't give up it's goods easily. And some of them are worth pursuing. But you gotta prowl it's pages for the booty. Which is a good move in one way, but it can be frustrating. Especially when articles overlap each other like hands outstretched trying to catch a barmaids attention in a busy pub on a Friday night (snigger). So lazy readers who want it all on a plate in neatly indexed sections beware, coz you won't like it too much. There's no defining this issue either, which has gotta be good. What stands out most about this zine is Mike's bitter, cynical, and extremely entertaining observations on London life and the punk scene in general. I like his style coz he don't bullshit. He admitted, "if it was 100% down to me, the obnoxious quotient would've been on every page, but there's a limit to just slagging off everything". Well that maybe true, but id rather read a witty putdown than banal praise any day of the week, wouldn't you? Defiant Pose comes in an original cut 'n' paste style, with well picked stark images and text peering out from beneath the page. Some of the duplications were a strain on the eyes but the purloined interviews were diverse. There's part one of a quirky Keith Levine (ex-Clash/PIL) heart to heart. Alongside a gritty Gulf War veteran perspective. Lots of guest articles on teenagers, death row, Dublin punks, a Seattle scene report , 77 photo gallery, a Brazilian scene report and people I've never even heard of? Plus a great insight into the original wave of fanzines reprinted from Sounds back in 1977. That alone should have the fellow zinesters out there blowing chunks. Best of all was an hysterical Sir George Robey (old London punk venue) spotlight, I can still smell the urine. No reviews this issue, which is a pity, coz id really like to hear what Mike thinks of today's punk. The knives are definitely still sharp in W11!!!!! £1.50/$3.00 postpaid From Inflammable Material, PO Box 2544, London NW6 3DF, England or
BALD CACTUS #18
Early 2001 ***
This is the first issue of Bald Cactus zine I've read since last century!!! Yeah I know what a fucking inactivated cunt I am. I was curious to see how it's progressed in the preceding 2 years, but gotta admit I only really bought this for the
Rudimentary Peni
interview. And what do ya know?.....the said exclusive interview is only nicked off the 'despised and hated' internet so I needn't have bothered ha!. But despite Andy's obvious misgivings about the 'sycophant' questions (reading between the lines he's dead jealous) the interview is pretty fucking good if your a
Peni
fan. The other notable thing about this issue is the Mark Barnsley interview. Mark is a geezer currently serving 12 years for violence in which a gang of drunken students attacked him, his wife and their child. Which resulted in one of em getting cut by one of their own knives. Remarkably Mark (the only one to get arrested) got fitted up by the cops, legal system and any other cunt in authority it seems. He was an active anarchist so maybe that's why it's a fit up job? But who cares what he's into, coz no-one deserves prison for self defence. He's been fighting his wrongful conviction for over 6 years now and more info can be obtained from
barnsleycampaign@ hotmail.com
. Also under the Cactus spotlight are
Eastfield, Brezhnev
(who don't bow to PC views) and
Chokehold
from the US. Plus lots of right on views with the vegans fighting amongst themselves over who's a real vegan and who ain't (snigger). The 3 year old reviews are out of date and blinkered in the extreme. The reviewing technique is pretty fucking dismal too, but he likes the right stuff thank gawd!!! What really gets me about this zine is it's so jaded and out of date it's like being stuck back in the late 80's when no-one cared and we accepted everything coz it was a punk rarity. However it's 2001 now so no excuses. A crappy layout and even worse print job make this a real fucking chore to read. It's great producing a zine that's got its own niche and doesn't bow to outside trends no matter what. But Bald Cactus is just really stale compared with other zines today. There's no real humour, no new ground gets broken, just the same old tired opinions get covered with a depressing veneer. He's done this for fucking 18 years and it did have it's great moments, but time really has caught up with the karate kid!!! I'm just glad I never got involved with this rapidly decreasing 'right on' UK zine ghetto coz its a pretty fucking jaded bunch who need something 'new' to moan about in their tight knit crew.
50p PO Box hp171, Leeds, W. Yorks, LS6 1XX, England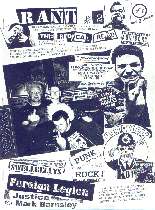 RANT#2 **
Well Mick the editor seems eager to get this out, but sending me a free copy won't hide the fact that this is a rushed job. I was pretty impressed with the debut issue (reviewed on the next page) and was looking forward to see how Rant could progress, but Rant #2 ain't quite so diverse as it's predecessor. The handwriting has disappeared only to be replaced with down syndrome capitol typewriter text. It reminds me of that 90's zine Shadow from Fred West central. But Rant's obvious main priority at the moment is speed and I don't mean the dodgy substances sold on the streets of the Low Hill estate either. Coz this hastily put together zine nose dives heavily into middle-aged, testosteroned Oi! territory, know what I mean? Bands like the god awful Swellbellys (what a hideous name) adorning the front cover give's us exactly what the public think punk is today...a joke. Hey Mick what's happened? Have you just discovered skinheads in the supermarket or wot? Cos this read is heavily Oi! orientated and it stifles any punk progression. Don't get me wrong I love a good skin read but Running Through The Backstreets this ain't. And a couple of Micky Fitz vest shots darrrrrn the Leicester Lamplighter don't exactly turn me on. There are some good observations like 'The Comdemned 84 Are Nazis' denial. Which had me laughing, especially when it wasn't the local A.N.L. who were doing the accusing but their own record label and fellow skins GMM Records (snigger). What really needs banning is Comdemned 84's music...coz it's just predictable basic Oi! While all that was kicking off, local drama queen Lazza Ogden gives us a humourous tale from Notts punx picnic, god ain't he a bullshitter!!! Plus an honest view of the Derby punx picnic too. Didn't really need to know about Skegness though??? There seems more to read this issue considering the page count is reduced to 32 but Rant is still lacking something novel that's gonna draw in new readers. Mick complains he ain't getting much interest and you can see why! The big roundup of Morecambe 2001 didn't really tell us what we don't already know. But highlight of this issue had to be the Mercyless Kop interview. Now here's a band I'm really looking forward to catching live some day. Even if it means watching the singer dropping the nut on some wall tee hee. Alan the singer in question sounds like a punk who knows the score..."to me its far better watching a fucking wild stage show full of energy and aggression than some boring old fart on stage telling the world what a wonderful day he's having." Spot on!!! A great attitude sadly lacking in today's front men. The crawling mid 80's resurrected Foreign Legion in America was a laff, just to hear em lick arse as much as anyone since Chris Wheelchair. The cut 'n' paste layout although is my favourite choice in zines just looks sloppy if you don't spend a bit more time on it. On the whole Rant needs a load more text and diversity if it wants to draw a bigger audience than the gang of pygmies from Papua new Guinea who read it at the moment. So c'mon Mick give us some real rants instead of space fillers.50p plus 2 stamps from 9 Sutton Court, 47 Leicster Road, Broughton Astley, Leicestershire, LE9 6QE, England