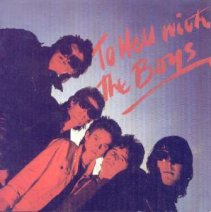 THE BOYS
'To Hell With The Boys' CD
(AHOY CD113) 1999
Originally released in the Winter of '79, 'To Hell With the Boys' was their 3rd album. And it made a welcome return after an enforced 18 month layoff due to record company wrangles. Despite the first wave of punk seeping away under the new Mod resurgence in the UK, this album was a much needed beacon at the time of release. But like a lotta punk outfits, was pretty much ignored and destined for obscurity and the bargain bins! However Captain Oi! spotted this gem in the shit pile and gave it a much needed respray. This album stands the test of time, and shows
the Boys
were still more than capable of pumping out some quality bubble gum punk. Recorded in the Norwegian town of
Hell
, hence the title, this 15 tracker starts off in fine fettle with a manic instrumental rendition of the trad. tune
'Sabre Dance',
you'll recognize it when you hear it! Before taking us through a wide variety of pop-punk styled numbers, that
the Boys
were so good at. If you wanna hear real 'pop-punk' on your stereo, use this as a reference point coz this is a true definition. They slow things down for another anthem of dead heroes on the chugging and terminally brilliant... '
Terminal Love'.
A song
that pays homage to the long gone 'needle' fraternity
.
What I like best about
the Boys
is they just had a natural ability to create sussed punk without any obvious gimmicks or bones of contention. Casino Steele's keyboards are a lot more prominent on this recording, and they add more depth to the tunes and the Dangerfield/Reid vocals. Take the mammoth 7 minutes of
'You Cant Hurt A Memory'
for the incriminating evidence. Before we ride off on a Norton into chord change heaven via the cleverly arranged
'Kamikaze'
!
'Waiting For A Lady'
has a neat cheeky riff to go with it's bird pullin lyrics. But things in
the Boys
life wasn't all easy as the catchy '
Bad Day'
with some real life situations is cleverly adopted to that punk rock beat.
The Boys
had humour, a great flair for tunes and were basically a good time punk rock 'n' roll band, nothing more nothing less. Some of the slower tunes don't have as much bite as the more upbeat numbers, but check out the closing track
'Independent Girl'
and it's witty after thought...
"I am the skid mark on your social world"
for proof you don't speed to create a goody. We are then treated to 5 bonus tracks of B-sides, covers and 2 of their Yuletide pseudonyms as
the Yobs.
These last couple are definitely worth adding to your collection. Comes with a good clean production and a great package of liner notes and lyrics, presented with the original artwork too.
WORTH A LISTEN
Captain Oi! Records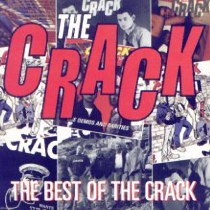 THE CRACK
'The Best Of The Crack' CD
(AHOY CD109) 1999
Now here's a band who I ain't at all familiar with sound wise. It's strange considering they were signed up by RCA giants in the early 80's, after winning a Battle Of The Bands competition. But from the opening track 'Don't You Ever Let Me Down' you can see why. The Crack had all the makings of a potentially fine pop punk outfit alongside The Stiffs, Starjets etc. And like those doomed combos mentioned, fate had other ideas. For starters The Crack are definitely the missing link between Cock Sparrer and Slade, if you wanna rough analysis. Lead singer/guitarist Steve Jones (no relation) has a distinct Noddy Holder holler, within his range. And like Sparrer he's backed up with some capable guitar noise. They're a band who seem way too musical for the Oi! crowd, they are so often pigeon holed with. There's a certain sheen to their sound which gave labels like RCA reason to come a sniffin. Maybe this slickness was too much for most to handle? My gut reaction was missing a certain edge, or a bit of danger lurking within the cracks. I detected a 'too good to be true feel' but that could be my suspicious mind on overtime? What we do get is a full blown selection of 19 tracks, covering the bands 15+ career. And even when Dean Gifford the bassist, took over vocals on 'That's The Way' they maintained their standards showing diversity. Production wise it's full on and only faltered as they plough into a muddy 'Hard Road'. Were are then treated to probably the Cracks biggest claim to fame and the song that stamped em with that 'Slade of the punk' scene label - 'My World'. This tune is a sure fire crowd pleaser in the studio and even better live. The only major drawback for the Crack I could see, is they don't have much else to tempt us with. They lack a definite character or a sense of danger needed to give em extra edge. Maybe that's why lesser talented bands with stronger personality's in their lineup got more press? It's a shame good rocking outfits like this couldn't make more of a dent especially with songs like 'I'll Be There'. I guess the record buying public need more. With the dream over (major label wise) it didn't stop em carrying on well into the 90's. It certainly didn't stop em knocking out good solid tunes like the addictive 'Don't Stop Me'. They even turned out a rousing '98 World Cup anthem 'Bring It Back Home', which may not be the official release, but it's sung with way more conviction. We end on live note and the Cracks finest moment 'My World', which unleashed in front of a baying German crowd and captures the band in a highly charged mode! WORTH A LISTEN!
UK SUBS 'Huntington Beach' CD (AHOY CD114) 1999
First issued in 1986 'Huntington Beach' named after the highly populated LA area of beach punks, who were probably a lot more in your face than this studio
Subs
album could ever be. To be fair, I got some video footage of this line-up in action and James Moncur the Nick Garratt sound alike on guitar, is more than a capable replacement for the absent tune smith. Sadly he can't turn that talent to some new
Subs
standards on this album. Charlie's joined on this collaboration by drummer Rab Fae Beith, who was also running their then Record label RFB Records. I seriously doubt other record labels would've touched this. Completing the lineup is young Scottish bass player Ricky Maguire, who previously played in
Chaotic Youth
. This album was supposed to be the
UK Subs
going back to their punk roots after the abysmal experimentation phase. Well the new songs on here ain't nowhere near as memorable, in fact they're very ordinary in comparison, and in 3 cases bordering on the dire. Opening track
'Rock N Roll Savage'
is the albums only standout track with it's sinister but familiar
subsy
guitar runs, powerful beat and Charlie in fine form. Meanwhile the rest of the 15 tracks that followed were on the whole pretty average. But midway through we had to endure the fucking hideous, strummy
'Miss Teenage USA'
with Charlie's horrible excuse for crooning. It's followed by a really corny hillbilly pisstaker called
'Huntington'
which wasn't even that funny. Stick to straight punk Charlie, it's what you do best. They continue this shitty rural theme with a skiffling C&W lump of shit called '
Dirt Boy'
which really put this album in the joke category. 'Huntington Beach' is a classic example of a more than capable gigging
Subs
unit going into the studio with no real new ideas.
The Subs
going through the motions ain't much fun, and no matter how well Jim Moncur can ape that classic
Subs
sound, if you ain't got the tunes to follow the licks, this becomes just another letter in their alphabet of albums. The 5 bonus tracks at the end provide us with the superior
'This Gun Says'
with that great choppy riff and Charlie's continuing love affair with guns. Plus live versions of '
New Barbarians', 'Stranglehold'
and
'Tomorrows Girls'
from their 1986 'Live In Holland' EP, saved this album from being a total washout!
PLASTIC!
Captain Oi! Records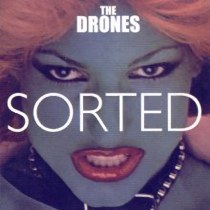 THE DRONES 'Sorted' CD 1999
The Drones reemerge in '99 from a 15 year hiatus. They greet us with some brand new material and a few very dodgy covers. The title track 'Sorted' is one of only 2 really strong tracks of the 12 on show! It's got a great grinding distorted guitar, pounding drumbeat and real life lyrics about scoring on the street. Great opener for any prospective drug dealer. If you've seen em live since their reformation in '96, you'll know they play mostly the old stuff, but this track is cocky and confident enough to stand out alongside 'Lookalikes' etc. The Drones back in the days of lore, were always a hit and miss outfit, which was stunningly displayed on their debut album back in '77. They always seemed a lot more capable of producing catchy singles than on the vast expanse of an album. Sadly that assumption applies to 75% of this follow up album. Reason being, they just don't have the energy, the bite or the hunger no more.This album seems more like a cash in while the interests still there, than a genuine comeback. The Drones can't seem to avoid the potholes of the 'second time around' syndrome. 'Sorted' is full of holes! We are only given respite by the occasional nugget jumping out from the dross. The Drones ain't aged well, and sound very laboured and past it on suspect numbers like 'Nightman' or 'Psychotic Woman', sung by bass player Gus Gangerene. MJ Drone still sounds good though, and was the bands greatest asset back then and now. But even he can't save em from shoddy workmanship. The only other standout track was 'Johnny Go Home', a remix from the accompanying single, and it reinstates their potential for more superior stuff with it's strong fuzzy guitars and seedy reflection of life on the dark streets of London. But for fucks sake, it all pales into insignificance when they roll out Don McLeans 'American Pie'.... aarrrrrrrghhhhhh!!!! A poly filler track if ever I heard one! They quickly redeem themselves with 'I'll Get Back To You'.A track with a neat but subtle Hammond organ just high enough in the mix to give it suspense. At a push the only other track of note was the pisstake, 'Jon The Postman' . All about the illusive Manchester ligger. Just as the smiles fade away we are totally side tracked once more by yet another damning cover of 'Heard It Through The Grapevine' thus sealing this albums fate forever. Why do bands choose to cover stale old songs when all they're gonna do to them, is give em another stale old coating? Answers on a postcard to Jon the Postman! PLASTIC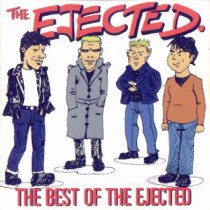 THE EJECTED
The Best Of The Ejected' CD (AHOYCD112) 1999
Fuckin great snotty 3-piece here, from way back in early 80's England where the dole MEANT THE DOLE! And unless you had a shitty job or rich parents nothing existed apart from music, birds and football. The Ejected epitomize the era on this release. Think of low-fi Ramones in their early basic song department but with a Cockney accent! Their use of short, sharp, shock treatment, strapped to buzzsaw chords, with the lanky Dagenham tones of Big Jim Brooks up front....is fackin poetry in motion mate! That moronic deadpan delivery belies a smart knack for a tune. Seems Essex bred youthful indulgence had a lot more snot than chords in those days. And thank fuck for that, coz this collection really does work! Just check out their debut rant of 'East End Kids' or the brilliant 'Have You Got 10p'..."naaaaah not me!". Which is a light hearted spoof on scrounging, but still punks most sussed begging song ever put to tape! The Ejected also coined the phrase 'Fast N Loud'...."Punk N Proud!" which I totally adhere to if this is the end result! However I was never comfortable with the 'proud' bit. That was something akin to soldiers, and I could never understand that train of thought? However The Ejected should be proud of the fact that they are emulated far and wide these days, in the form of a million and one copycat outfits. Trendsetters rarely get acknowledged, but we all know deep down who set the scene. They also had a certain naive roguish charm about em that put em way above the majority of chancers. These geezers put football chants to music without sounding territorial. And unlike the Rejects,they made it fun without it ever getting heavy! Considering this is low budget punk rock on a shoestring scale, it sounds very real and fresh 20 years later. They've created natural atmosphere in their songs that money can't buy. Talking of which, songs like 'Man Of War' show signs of em progressing ever so slightly from the early moronic stompers to a more thought out approach. They were a Riot City band, but these broke the mold, cozy there's nothing transistorized about the sound at all. They're there right inside the speaker kicking up a fuss. So fair play to Nicky Garrett of the Subs for an intuitive production job on their 2nd album 'The Spirit Of Rebellion'. Theyve now become a 4-piece and songs like 'Army Life' reflect a big jump in song structures and ideas. It's still composed very simply but with a subtle arrangement on those duel guitars giving em way more depth. They also attempt a bit of skanking and dub and make it sound OK, but lose the plot somewhat on 'Greenham Woman'. They maintain a more leisurely pace on the raunchy 'Dirty Schoolgirls', that's got a sleazy riff Hugh Cornwell would've been proud off. Continuing the Stranglers fixation, they send up 'Go Buddy Go' which ain't as bad as it sounds. See, there are covers out there apart from the routine to poke fun at!!! 3 years on in the life of The Ejected and they can still pump out the odd snotty tune when they need to stretch their fingers, and 'Russians' comes out with full guns ablazin. The topics may sound dated in today's terrorist climate, but you can always pencil in the target of your choice if you so wish. 'Public Animal No1' was never released in '83 due to Riot City Records folding amidst the punk fallout. So it's great to hear it here with that great Cossack howling, more chants and shock horror... a lengthy guitar solo!!!! 1984 arrives just as the Ejected gets the push from the punk scene for good!...or so we thought! Forward to 1997 and the first Ejected compilation release on Captain Oi! reaches Jim Brooks warehouse. Jim inspired, puts together the Ejected once more to record the last 4 tracks on this 22 track comp. And you know what, 13 years down the road they still ain't lost that knack for a snotty attack, all be it with a few extra guitar solos! The Ejected have no plans to reunite on a regular basis, just for a piss-up! Which is just one more reason to hear this, it's fast n loud....and it's fuckin sound!
UK CONTENDER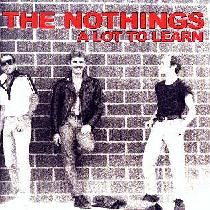 THE NOTHINGS
'A Lot To Learn' CD 1999.
This is a strange release, as it was originally re- corded in the early 80's but has somehow gained
two extra tracks and reissued here! Well it's under the guise of lead singer/guitarist and founder
member Phil Holmes (the geezer who looks like he's auditioning for a Village People slot). But don't all laugh at once coz he's had this played on the Johnny Rotten radio show and escaped Mr Rottens inquisition which ain't no small fate. It's also got a lot of good reviews under it's suburban belt. Well I must admit like quite a few others I was expecting some mundane pop-punk sort of stuff that inhabited America back in days of lore! But I should've learned well enough by now to never judge a CD by it's cover as this is a little gem. There's only 7-tracks on here but they all have that overall gutsy sound and it's a sound I like. From the off the thing that hits you straight away is the guitar riffs. Yep they're straight from dare I say it the Steve Jones reform school of street. The 23-minutes worth of trax has got a great clean sound and when I read in the sleeve notes it was produced by Steve Jones himself the connection clicked! The other sound that runs with the guitar is Nick's unusual whine! I say whine coz Becca Puke remarked to me when she heard the CD that it "sounded like a bad REM clone covering a Greedies song!" (snigger), but I have to disagree with her on that one. I think it's got a good addictive mid-pace feel about it. And with those power chords and neat chunky choruses it's a winner for me. This has been playing on my stereo on and for months! And it's just a pity there ain't more of it to explore coz seven tracks is pretty much just a taster. The songs have no deep meaning and don't say a lot which could be their one weak point coz it's got no stance or obvious angst, but they still keep creeping back in your head. I would say though it'll only appeal to those with a certain guitar sound as their punk rock preference (if your a junkie for that 'Bollocks' chord crashing, you'll fucking love this!). Especially on songs like 'Reality' and it's "hey hey". Phil's guitaring sound was so addictive that Mr Jones had to be kept an eye on during this recording session coz he was tempted to grab his gibson and walk off with it to the nearest Heroin dealer! (snigger). Last track 'Secret Society' has me chuckling continuously when the nose pinching "your debris" vocal is employed, but you'll have to hear this to experience that moment of punk comedy! So chuck a few quid over to Nick now before he tops himself!!! WORTH A LISTEN $10.00 postpaid The Nothings, 22287 Mulholland HWY #304, CA. 91302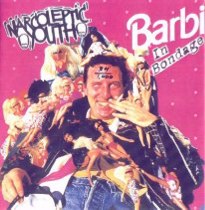 NARCOLEPTIC YOUTH
'Barbi In Bondage' (?) 45 1999
'Barbi in Bondage' gets a 1999 remix on this bright pink lurex 4 tracker, and rightly so. It's delivered with some great over the top artwork, that features guitarist, Binky the elf in a uncompromising pose, and shows exactly what you can do with your little sisters Barbi's, especially if you ain't careful and own an overactive imagination. Narcoleptic Youth are rapidly becoming my fave US band of these times. They're a band young enough to have teenage peers without actually being out of touch with them, and they're old enough to recognize a tune when they create one. They've snatched the best influences from the last 25 years of CA punk and come up with their own version on this slab of marble vinyl. This is the kinda band that seasoned punks like me get excited about all over again and the kids lap em up too. How many bands do that these days? They are easily one of the few newer crop of Californian punk bands who seem to single handedly perpetuate the dying spectre of the infamous Dead Kennedy's. And luckily for us it ain't done in a note for note tribute parody. No, these boys do it with integrity and zest just like the original. And you can forget about the 'new' Dead Kennedy's cabaret act doing the rounds this summer, coz Narcoleptic Youth have all the original panache of that band and more to offer today's punk generation. 'Barbi In Bondage' is the song to get under the skin of every decent, anxious parent waiting for their young punk rock kid outside the latest all ages showcase theatre. Yeah this one will go down well in suburbia, I can see the shrinks phones getting hot this very minute. Followed by the breakneck chaser of 'Mini Van Soccer Mom' which is an hilarious shot of snot from road hog valley. Are women drivers really this bad in Corona? Flip it over and we're confronted by the familiar 'California Uber Alles' bass, drum intro?....no wait a sec, it's a newbie called 'My Neighbour Hates me'. This track tears along with some sinister rifferama that's sneered to with much gusto on the snotty line of "your old, your bitter you hate the world, your jealous coz you know your about to die!!!!" , dedicated to neighbourly love no doubt? Punk Rock conformity and those secret trench coat mentality issues are raised on the angry '86 Crap'. Which gets a studio sheen but it ain't quite as effective in a sterile situation of a recording booth compared to the rough, but atmospheric live version on the 'Split In Your Eye'. It's missing the kids from the pit singing on the chorus, but still has those funny "baaah baaah" sheep impersonations from J. Bondage. Whatever the case the more you play this EP the better it gets so do yourself a favour and check it out before the limited edition 1,000 print run dissolves. West Coast punk is looking very good indeed.
US CONTENDER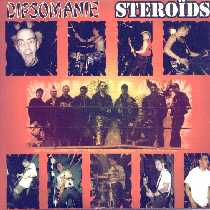 DIPSOMANIE/STEROIDS
'Split EP' (Mass 19) 45 1999.
I know fuck all about these two punk bands from France. And don't have a clue what they are singing about, but who needs words or meanings if the music is doing the talking. And as soon as Dipsomanie kick off with that Oxymoron type of guitar sound you could tell they knew a tune or two. They produce some good kicking street punk anthems with the guitars guiding this along quite nicely on 'Riene Faire' . The other track has a good punchy anthemic chorus that chants along amidst the energetic verses. They've got added power
with the duel guitars and are adorned with the usual studs 'n' leather attire any self respecting street- punker wears these days.
The Steroids
come from the hardcore side of the street and kick in with a good thick crunchy guitar riff that was their best quality. They are a lot more melodic than
Dipsomanie
and wasn't quite as interesting. Especially when those oh so thick garlic sounding vocals start up. Their last track
'Kanivo Chaos'
was good though, with it's dark atmospheric laughter in the intro. On the whole a good 4 track sampler of what's crawling through the streets of France today so
WORTH A LISTEN
. Available from
Mass Prod BP287, 35005 RENNES Cedex, France.
massprod@hotmail.com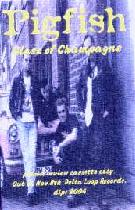 PIGFISH
'Glass Of Champagne'
Promo Tape 1999.
3 tracks here from Pigfish who are pumping em out thick 'n' fast. But they ain't picked the most notable song to cover from the mid 70's. In fact it's such a pretty straight down the line take on the original that I had to ask myself why? This song never had panache then and it certainly don't carry in today's music scene. We could hear this crap anywhere on a 70's pop compilation if we were really that way inclined but my name ain't Keith Chegwin! So why cover it? This is one poor choice and makes the bands musical taste very suspect indeed!!! On the other hand the two originals on display are more like it, beginning with 'Shut Up' which is a more mellower version than their new album take. And with a song title like 'Shut Up' it was always gonna makes me hark back to the Stranglers classic, which is nothing like this apart from a similar chorus but JJ Burnel certainly had a lot more angst than Russ Frame. Finally the last track 'Turkish Delight' was the best of the bunch with a Arabic flavour running through in the back- ground guitars and a going out on a Saturday night and picking up something more than you bargained for in the cryptic lyrics. It's all cleverly slowed down and dropped out for the build up with some beefed riffs kicking in just at the right time, which is how
Pigfish will win over new fans, especially with that addictive dog dancing finale. So fuck the covers off lads, your own stuff is by far the best! AVERAGE
SPECIAL DUTIES
'Live At CBGB's' (SD1977) CD 1999.
Special Duties playing that New York bastion of punk rock CBGB's in the summer of 1998!!! It's something only 5 years ago would've been laughed at with some amusement by even the band themselves, but in this day and age of renewed interest in anything from the UK 80's punk boom anything can happen and does. So you can't blame em for getting it down on tape, which I spose beats playing Oliver Twists!!! I only wish this was recorded back in 1982 when Mr Arrogant and the boys had a lot more arrogance and spite in his vocals and attitude. Obvious reason for this being the late 90's version of the Duties are a very tame bunch of old cunts compared with their former selves! And even worse than that they did nothing but lick New York's arse, especially the now very conservative Steve Arrogant who declared his undying love of every- thing American on more than one occasion, with his groveling between song banter. The crowd of young punks however lapped up all that 'cap in hand' type of stuff, including the Violent Society mob, who were mistakenly rolled in on the act coz Steve Arrogant foolishly thought they named their band after one of his better moments (snigger). It's a good production though with a warts 'n' all set, just like those old Roxy WC2 albums and it certainly catches the atmosphere. On a downer it shows the band ain't half as aggressive as their snottier recorded output led us to believe. But they do try and relight that spark in patches on this 40 minute set, but the playing is somewhat jet lagged and out of focus especially Steve Duties bass parts. They do a couple of covers in the 18-song set most notable being 'Gary Gilmores Eyes' by the Adverts and The Dils classic, 'Class War' which were highlights. And amongst their own stuff raw gems like 'Punk Rocker' (where there is an old Arrogant vocal lurking about the chorus), ' They Don't Care About Me' and 'Colchester Council' refired their old form. They encored with 'Bullshit Crass' which got em a lot of publicity at the time but which is actually a fucking awfully bland song in today's climate. The New York crowd went home happy though when their favourite 'Police State' was bought out as a grand finale. A pretty tame performance, but a piece of history no less. Some good crowd snaps adorn the cover and in fact made the band seem pretty jaded by comparison. There's apparently only a 1,000 of these in existence so grab em while stocks last. WORTH A LISTEN. $12.00 from Church Cottage, High Street, Thorpe-le-Spoken, Essex CO16 OEB, UK or check out their site