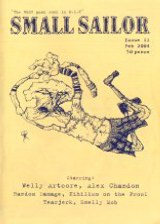 SMALL SAILOR #11
Feb. 2004 ****
It's always good to get an issue of Thirsk's Small Sailor, as they never deliver the expected production line ratio of pop punk/street punk bands like so many other zines out there do today. They go for a bit of diversity in the lunatics they feature which is always a strong pulling point. This issue sees our dingy editors jettison the regulation cut 'n' paste or die delivery which they had become seasoned masters at, for a more formal looking desktop layout. However it still works, and is easy on the eye with careful attention to detail. There's a good interview with UK Horror film director Alex Chandon, whose biggest claim to fame is a Cradle Of Filth video. He sounds like he's just signed himself out the local ghore house without taking his medication, but it's a good insight into how low budget filming is achieved. Alex also gives us an intriguing 5 page rundown on the best horror flix that inspired him. Strangely no Exorcist makes the grade, but I spose were talking strictly gore hounds here. Next up is Welly from Artcore zine/
4 Letter Word
fame. This Welsh motor mouth could talk for England if he was English, thankfully he ain't. He's always got something interesting to say and gives us an insight into his bands fallout with BYO Records, who sound like they dropped their bottle over some pop band who apparently have the same name as our Welsh boyo's. Also in a supporting cast of interviewees are short pieces with the Smelly Mob UK punk promoters and young Scotch punksters
TearJerk
. Lastly a couple of E-ziners Random Damage & Nihilism On The Prowl! (
booo hissss!!!
) make up the numbers by telling us what makes E-zines tick. There's a hold full of reviews from the current punk world and print scene, which thankfully don't pander to freebies. Plus some interesting columns on Comics, drinking Water and a scary one on Cancer. You can check out more on the Small Sailors voyages in print via this link
http://www.runningriotrecords.co.uk/smal
lsa
ilor/
or go the tried 'n' tested route at
39 Station Road, Thirsk,North Yorkshire, YO7 1QH, England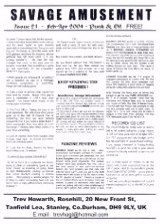 SAVAGE AMUSEMENT #21 ****
Feb-April 2004
Sad to say this is the last issue of an era. Savage Amusement was one of the few decent PUNK/OI! newsletters doing the rounds in the UK today. Mr Hagl's personnel reasons to quit are spot on, specifically his families illness which must be fucking traumatic. So that alone would be enough to kill off less enthusiastic zines. But in Trev's case there's a multitude of other reasons to take into consideration also. The drastic state of punk today for one! Good bands are extremely rare in a sea of clones and drones, and the apathy from labels and readers is festering more each year. In fact Sir Trev deserves a load more respect for carrying the ink stained torch this far along the line. How longs it been?...gotta be over 20 years (including 7 years with Savage Amusement). So he's certainly paid his punk dues. Doing a zine or newsletter these days is a REAL fucking labour of love, with little or no incentive to carry on. The lust of having your say and promoting bands that gives you a buzz is a zinewriters drug. However Trev's plateful (Pardon the pun) is also increased in other areas, particularly keeping his new young bird happy! Which must be a full time job in itself, eh mate ha! I'm sure the labels who put good punk out will miss his endorsements immensely and his loyal readership will miss his critical snipes for sure, coz you knew who to avoid and he didn't bullshit. Wish the same could be said for the sea of arselicking yes men writers who are either liars, freebies junkies or just plain dumb.So really the only winner in this situation is the labels/bands who thrive and continue to put crap out in the name of punk. Trev on the other hand ain't put the cap back on his black biro just yet, he's found time to do a review column for Anorchoi zine which I'm gonna get me mitts on next!
S.A.E. from Rosehill, 20 Front St, Tanfield Lea, Stanley, Co. Durham, DH9 9LY, UK.
INITONIT #16 Jan 04 ***
The last time I read a copy of this barrel of laughs was back in 1997 and it didn't impress me much. So when I recently got a tiny flyer through the post advertising this issue I thought I'd be a responsible chap and check it out, just to see if 7 years had improved it's minimalism. Well it's still beavering away from the wilds of Lincolnshire, UK which deserves recognition for stubbornness alone. The Times New Roman type face has been reduced significantly, giving us a more chunkier read for our money and blow me down he's actually discovered staples too!!! But I'm afraid that was it as far improvements go. Initonit ain't gonna win the Turner prize for presentation or alluring merit, that's for sure, not that Paul would care he's too busy punching holes in walls or sharpening his cleaver! The varied bands in this issue are it's main selling point...we get Birmingham's Drongos, Scotland's Swellbellys, Derby's Poundaflesh and lastly Send More Paramedics from Leeds. So if any of them are your thing you'll be sufficiently satisfied. This 24 page read still suffers dramatically from a very lazy layout, but what grates even more is Paul's hysterical PC attitude. This geezer typifies the crusty PC punk ethic in all it's acned ways and right on dogma. Everyone's a nazi who don't smoke weed, ain't vegan or don't particularly care for Osama Bin Laden. However if you like a dose of hardcore Porn like our editor, he'll show leniency. Fer fucks sake! We've all got axes to grind, but I seriously think our Lincolnshire saboteur has one for each day of the week depending on his dope intake. And he could be highly lethal with a gun in his hand in the local village street one of these days. He does however make some valid points if you can look past the glint of his blade and malnutrition in his eyes. His rants on Factory Farming, Working overtime and Geeko bollocks were on the ball. Plus there's an interesting Gathering of The Thousands gig review, amongst a load of like minded zine and record reviews.This zine will definitely put a smile on your boatrace for all the wrong reasons or bury a hatchet deep in yer head with it's anger management...it just ain't delivered with the same energy. 50p plus A5 SAE from
Paul, The Flat, 56a Upgate, Louth, Lincs, LN11 9JN, UK
WATERINTOBEER #7 **1/2
January 2004
Highlight of this 64 page zine has to be the front cover. It's one of those crudely drawn beastiality=Monarchy toons, that's screaming to be left in public view on a train or in a bar. It's odds on to cause offense to pensioners, people in authority or middle class University Principals! This rag is an improvement on the last issue, but only just. The bands were just as disappointing and tame as the last lot...
Hero Dishonest, The New Lev Lashin
and
Human Fly.
However we did get a
Jello Biafra
spoken word review, which was an intriguing read. I was curious as to what these pompous spoken word events really consisted of? Especially after hearing his Blackpool appearance was a financial disaster. Begging the question...are Mr Biafra's rants only suited to University types and the artisans amongst us? I don't really blame the man in the street for not turning up, coz I wouldn't pay up to £20 notes to see him mouth off without a band behind him...no matter how clever the ranty was. Like I said he's still without a doubt an interesting comentator on life and knows his stuff politically but lets give it a punk rock back beat please. I'd personally rather watch Johnny Rotten talking about DIY plumbing in the jungle (which was a right giggle) than stand for 3 hours while Jello takes his revenge on his canniving ex-band mates, Terrorism and the Global Dollar etc. Funnily enough it's the dollar that's the real reason for these talks...he want's ya money for his new Alternative Tentacles legal defense fund!...Anarchy for sale! From there on in WIB went downhill fast! With loads to read and see in this zine it's a letdown most of what's printed has no relevance to my world, so it's not gonna register. Again it's the quirky little pieces dotted around this zine that save it from a fullblown stupor. For instance the cartoons on the centrespread and Luke B's rants on Americanization, Black Tories and Farmers (
ooohharrr!!!!
) Along with informative biopsies on the 'Neighbours' TV soap and 'more reasons to hate Leeds'. I enjoy the gig and zine reviews best, the music is another lucky dip. This zine needs way more diversity in the bands it selects and covers, but I spose that's asking a lot of 3 young piss heads at Uni?
www.waterintobeer.tk
MORE ZINE REVIEWS COMING SOON!