4 MINUTE WARNING #5
Winter 2002 ****
Welcome to the UK'S most regular hardcore punk fanzine. 4 Minute Warning is big, it's juicy and it's out a lot more regular than my current gig going routine! It's also got a diverse legion of punk print to trawl through this time out. For starters London's premier Anarcho outfit Active Slaughter get this issue off to a bright red & black start. They give us the lowdown on some of their more pressing engagements in their busy direct action calender. They are followed like a bad smell by an impressive cartoon of Mr Colin Conflict in action (circa early 80's), done by Mitch's sidekick Hog. I never knew a dread locked St Annes punk could be so talented! However it's just a pity 4 Minute Warning and all the contributors just won't admit the current Conflict bubble is well 'n' truly burst. We are treated to two very biased reviews from their recent London Astoria appearance. Brainwashed springs to mind. Why these Anarcho fans can't suss out Conflict are a front just as much as the Pistols these days, is beyond me? They say love is blind! More cash-ins follow as Vitek Formacek (4MW'S Euro contributor) gives us a clued up review of the recent Dead Kennedy's gig in the Czech Republic, and follows it with a good backstage interview with new lead man Brandon Cruz. Vitek also supplies a smaller interview with some local band who are way out my league to pronounce. We then get a massive HITS 2002 rundown from Mitch herself. And when I say rundown I mean hatchet job! She really goes to town on the organisation, the shoddy treatment she got at the hands of violent European punks, and to top off her bad day experience...a taxi ride of terror! Real life is sometimes not very nice, and the image of happy punks sitting on sun swept beaches having their pictures taken by Granny's from Barnsley is a myth that gets blown right out the water in this expose! We also get a look back at the late 70's Plymouth punk outfit Sabotage? Before the massive 5 page record/zines review section gets started. The record reviews cover all bases, while the handwritten fanzine reviews paint a far healthier picture than is actually the case. A lot of these zines are bog standard, but I'll try and check out a few of the better ones to see if the climates improved. The Sex Pistols cop for some 'past it' comments from the editoress, I love it when she gets mad! And I gotta agree with her on most points, but c'mon Conflict are playing that game too y'know. Another newish UK band gets an expose and it's the hilariously named Fist Fuck from the slums of Swansea. The name conjures up one of those dodgy extreme metal outfits, but they are in actual fact South Wales street punks with a Disorder fixation. They definitely sound up for it in the interview, but I've yet to hear em? The gig reviews feature a new outfit from Morecambe (home to HITS) called Filthy Lookers, who look an interesting bunch! And we also get a review of that recent Crass collective get together, which I was very interested to read, sadly no big shocks just poetry and film. Lastly Scotland's best punk outfit Sad Society make their 4MW debut, and although their interviews are never mind blowing, just get hold of their demo and you'll be blown away completely. Gimme zines like 4MW every time over those faceless freebies, because they're REAL despite being misguided sometimes. £1.20 & A4 S.A.E. from Mitch Elsden 31 Fir Grove, Marton, Blackpool, Lancs, FY16PJ, U.K.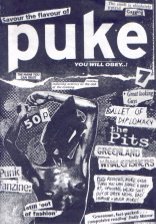 PUKE #7 August 2002 ****
Welcome to the sick bed of Pineapple Rd and Birmingham's snottiest (and only) punk zine Puke. This is where it gets real! Despite it's lower page count, Puke makes up for quantity in quality. I told Becca this was her most professional edition to date, which sent her reaching for the vodka bottle and screwing up her panda eyes by proclaiming "It still has a scruffy edge!" Well have no fear Becca, coz your scruffy, handwritten projectiles are still humming like a beggar in Birmingham New Street. Puke's compact, well soiled, chaotic bloody mess only shows it's captured the art of cut 'n' paste to a fine art, a bit like Becca's Vodka sessions maybe? The print job on this one makes all the difference too, maybe the copiers have got more ink in em around Brum than in Aylesbury? Coz Puke is dark 'n' strong all the way through, like a dose of the pox. Seems like the West Midlands is having a positive effect on the Aylesbury kid, in more ways than one. You wanna check out the gig reviews for proof. I think every lowlife punker outfit within it's 2nd city confines has been witnessed and documented in this issh. There's no hiding now boys!!! The 'Weird Shit' worldwide news clippings and scribbles that litter it's pages still makes for an entertaining and hilarious read. Take the Chink on the bus who got attacked by an eel he was taking home to eat! Good to see someone giving us the lowdown on bands like the Strokes, who seem to infiltrate the more gullible amongst us as being PUNK! (Adopt maniacal laugh!). The interview prey in this bowel of sick are The Pits from Sunderland, who don't say an awful lot, Norwegian Paddy's - The Greenland Whale Fishers, whose lively penchant for volume has the ability to make lamps come crashing down upon unsuspecting beer drinkers in the downstairs bar, and lastly Bullet Of Diplomacy from Coventry who smell of PC...where's the fucking stew? There's a few guest columnists who sound like they've been frog marched at gun point to add their swill, Dave from locals D.T.M. nearly shot himself in the creeper (snigger). As we close the latrine door behind us Pukes multitude of zine and record reviews from the dung pile we call the UK punk scene, still covers a wide selection of misfits, liars, cheats and downright life savers. Epitaph: Not quite as provocative and abusive as last issue but still essential if you wanna lick the real rim of the current UK punk toilet bowel. 50p & S.A.E. from c/o Becca, 126 Pineapple Road, Stirchley, Birmingham, B30 2TX, England.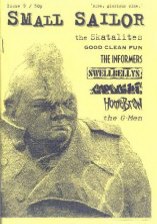 SMALL SAILOR #9 ***
First full issue of this popular N. York's fanzine I've set eyes on, in a few years I bet? Small Sailor is still keeping the Thirsk Jolly Roger flying high as the local scene hits troubled waters. Shipmates jumping ship or getting marooned on distant shores still ain't dampened their punk spirit. Small Sailor with it's cut 'n' paste or die ethic is going the full distance. And thank fuck for that I say... hip hip hip hoorayyy! My major hankering for Small Sailor is it's by now very pro cut 'n' paste format. This zine looks good, it looks very good indeed and for the most part reads OK too. Rich T's editorial covers the growing concern amongst the UK fanzine fraternity of dwindling sales due to (not the bad boy internet as I was expecting) the big professional Freebie zines like Fracture and new kids on the block Reason To Believe! Seems they're nicking the zine reading public from the smaller zines thus putting a lot of em out of action. But like I told Rich T., they'll never take away the character of zines like Jellybrain, Small Sailor or Puke, coz the big boys just don't have the character that real punks need. Character is one thing they'll never steall! Well lets hope the kids suss em and go for more variety in their punk print before more zinesters quit writing. Quite a lotta Ska bands frequent this issue, much to my disgust. We are saved from a chequred read only by decent punk outfits like local hommies Homebrew who make up for the editors suspect choice. Even those name droppers extraordinare from bonny Scotland Swellbellys who have Charlie Bronson (Hardest man in the UK Prison system) on their guest lists, are better than that Ska rubbish. Paul Jellybrain gives us a surreal trip to the Kwik Save, but I always think his writing for other zines don't work as well as his own kinky Jellybrained view. There's an intriguing Toe Wrestling piece that puts this zine in that classic schoolboy yuma category. You can also count on the reviews being honest, if it's shit they'll tell ya. However I can't understand Rich T's deep seated hatred of CD's?, considering he practically defends em in his editorial! Jess Spice from loverly Weston gives us two lines, a skeletal drawing then bids us farewell. The Dark Figures centrespread is still in progress and they get uglier by the issue. The Notts 'vegan guide' was good only for when the reviewers went in pubs. It's always handy to know where the local punk pub is situated if ever I'm stranded in Nottingham. I dunno about the Small Sailors, but the guest piss take of the little hobo by that local nonce case Anthony Monkey sounded very suSSpect indeed! I reckon he'd roger the holes in your jumper given half a chance! Small Sailor is still a fast, clean (in some cases) zine with an A1 layout. Pity the bands in this issue weren't from a more punkier descendency.
Small Sailor
for
50p & S.A.E.
from
39 Station Road, Thirsk,North Yorkshire, YO7 1QH, England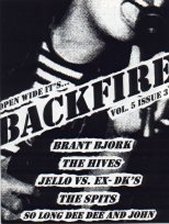 BACKFIRE Vol 5. #3
Summer 2002 ****
Just had a batch of this impressive Seattle based Quarterly publication, sent over from Christeen Aebi (the Portland punkette responsible for the
Dead Kennedy's
interview elsewhere on this site). This mag comes at us in a pro-glossy cover with clean inked tabloid pages of text. The independent music underground (don't all run away yet!) is it's prey, but covers a large chunk of punk from in or around the surrounding Washington/Oregon areas and elsewhere. Dunno how much Backfire cost, but I suspect you can pick this up dirt cheap on subscription or at local gigs. Backfire is heavily subsidized by adverts that are here with you all the way, but for FREEBIE mags of this quality to survive they are a necessary evil. I like the personal touch bought to us in a pro manner. Backfires spiky attitude is crossed frequently by a decidedly wicked sensa yuma, check out the editorial for confirmation. This mag is a lot more fun to read than the current music mags in my locale, coz It's like a 21st century Zig Zag (for you older UK readers out there). As always I'll concentrate on the punk coverage, as that's what your reading this for. Firstly there's a well informed Dee Dee Ramone tribute. Local outfit
The Spits
from Seattle (no not the phoney Swedish combo) tell us the difference between punk and Oi! Backfire licks it's flames further in the direction of Europe as the con-artists called
the Hives
get more unwarranted exposure. How come these jokers seem to be infiltrating everyone's misconception of punk rock?, we ain't fooled!!! Plus we get Christeen's note worthy streamlined
DK
article. I like the quirky 'pin-up' page that exhibits colossal American cars!!!! This issue features a scantily clad, sexy Cadillac hearse, called affectionately 'the Big Sleep'. And finally the UK is represented by Manchester punk vets
Slaughter and the Dogs,
who get pounded as they pass through the region on their first US tour. All this along with a massive 14 pages of descriptive reviews and demos featuring a lotta punk (but sadly no gigs), brings this 36 page blunderbust to a halt. From a glance through the back issues I have here it looks like this periodical has kept it's passion and original energy throughout the 50 odd editions, which is no mean feat. Next issue is due out in November 2002. So for more info contact
Backfire PO Box 77311, Seattle, WA, 98177-0311, USA
or E-mail Dawn the editor/Publisher at
dawnfell@nwlink.com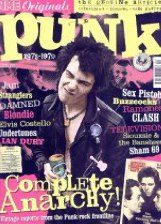 NME Originals - 'Complete Anarchy 1975-79' April 2002 *****
Now this is the real deal!!! All be it centred around the New Musical Express (UK music mag), featuring archive interviews, reviews and rare pictures. What the similar formatted Q Special lacks in factual detail this publication released the same month and boasting the same page count positively vomits forth some great insights. We get long lost ultra-classic interview features with all the punk bands and major players who darkened this mags portals from 75-79. It was good to see a few of the minor outfits getting coverage too, like
Nipple Erectors, Angelic Upstarts, Ruts
etc.
MC5 's
Rob Tyner paints a vivid picture of his very first UK punk gig, whilst Rolling Stones contributor, Lester Bands spends a few weeks on tour with
the Clash
.There's a CBGB's Club scene report from '75 and a hilarious Sid Vicious gives Nick Kent a real insight from late 77. Comes in a well ordered ripped 'n' torn layout littered with front covers, rare sleeves and posters from the day. You'll be digesting this one for quite some time, I still ain't read it all. As they say the originals are still the best and this is the genuine article £4.99/$9.99
www.mags-uk.com/ipc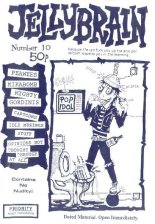 JELLYBRAIN #10 2002 ****
After I came face to face with my latest zine nemesis - a Mr Paul Jellybrain, at last years Brezhnev gig. What was gonna happen? Were we gonna blank each other, have a scrap on the sticky carpet during the sound check or play conkers? Well none of the above occurred and l didn't detect a glass or dirty look being aimed in my direction from our exceedingly sly editor either. We just sorta pretended nothing was said and let dead dogs lie tee hee. But what I did detect was his latest swag of putdowns, kinky hang-ups and dead iffy taste in greasy dago pop jumping out from the zine box. So I had to bite me tongue and buy a copy off the cunt (between me and you, Jellybrain just gets better and is without a doubt the best all round entertaining British fanzine your likely to fit in a Tesco shopping bag theses days...but don't tell him OK). This issues been a year in the making but well worth the wait. From the brilliant front-page byline of "...because life can fuck you up the arse and seldom respects you in the morning" to the honest 'right on' rant on the last page, it's a fucking corker! If like me, you get off on humour from the darker side of life with lots of twists 'n' turns, you'll fuckin love this twisted 'n' bitter 36 page side splitter. Tracy Emin that scruffy rubber lipped UK artist who unveiled her unmade bed as a piece of art and got critical acclaim from the art boffs, gets a severe come upance. While she's being coshed Jellybrains other pet hate the US of A 's act of independence, gets some serious amendments. And while were laughing at the absurd that loony on a tram in Amsterdam story was a fitting introduction to weirdo world of Jellybrain. And all this occurs before we even reach page 5! The few slightly pedestrian moments we do get in Jellybrain these days, comes with the editors dubious fascination with European underground bands. The spotlight this issue falls on Euro minstrels, the Peewees and The Mighty Gordinis, who sound really exciting (adopt sarcy tone). Plus that Jap girly outfit Mikabomb, who are here for their looks not their hooks! The bands all come as a one page brief respite of normality in between the crackin sarcy observations and wicked cartoon sketches. Paul's a great artist if you didn't know already, and his cartoon adaptations really work well with his dry one liners. Jellybrain's current '39 observations on life' needs some serious investigation. Take the "you can't respect a man who carries a dog" for example, or the fucking hilarious "prodding a fire with a stick makes you feel manly" tee hee. See what I mean? It's cracks like this that makes for a barrel of laffs. Those real life situations he encounters on his travels can only mean snidey comments are about to enter your air space, and the more the merrier I say. The tale of the American couple he met in an Amsterdam bar or his early career as a transient squatter are a laff a minute. The 8 pages of reviews are always a must to read, both on record and zines. It ain't so much for the product you read em, but for the way he sum's em up! Take the doomed Mouthwash CD for example..."The member of the Star Trek landing party with the red jumper has more chance of seeing the end of the episode than this has of seeing the inside of my CD player again!" guffaw!!! Listen... just buy the fucker and see for yerself coz you won't regret it! 50p from 4 Clarence St., Nuneaton, Warks, CV11 5PT, UK.
4 MINUTE WARNING #4
Spring 2002 ****
Biggest issue yet no doubt, of this Blackpool, UK A4 read. Mitch is really getting into the swing of things fanzine wise, which is good to see and attractive for us. The layout is positively sardined together with loads of little snippets to check out, while the main articles purrrrr along. If like me you like a lot to read then this is textually arousing, coz you got a vast amount to consummate. You'll be very lucky to devour this in one sitting, unless you've just been sentenced for non payment of fines. Mitch has put some time into this issue and like all worthy punk zines, 4 Minute Warning is a labour of love. She allocates an eager team of contributors to their various tasks with sharp planning. However they don't all capture the spark of our imagination, so it's a mixed bag of the good, the bad and in my case very ugly. It was good to see Vitel Formanek from the Czech Republic finally getting some feedback from the UK zines. He's still on his 'never say die' mission to contribute Euro reviews, interviews to us ungrateful UK zinesters. The gig reviews on show are here, there and everywhere, dotted around the typewritten landscape. Pity most of the bands were predictable. One downer was picture quality, no clarity on a lot of em and I had a job reading the miniscule zine reviews. But that's due to the print reduction which I was more than guilty of in my own zine career. The record reviews however are vast and very readable, covering all walks of punk lowlife from the hideously ugly Rotunda to the snotty heights of Sad Society. Interviews in this issue is yet another MDM piece, and while were in Merseyside we get Spike from Retch Records who's been beavering away on his underground punk label since Blitzkrieg topped themselves. Foreign Legion (who have since gone way down in 4 Minute Warning's respect bracket) get their last look in, while Glasgow pop punkers the Red Eyes tell us straight why they're unfashionable. The snidey by the minute, but funny Apocalypse Babies make their resurrection speech and lastly we get one with the geezer who shoots all the UK DIY punk videos, Psycho Fish. There's a good piece where Mitch opens up her heart on her first dabble into punk rock, way back when she was ten!!!!, thus beginning a lifelong fascination with Siouxsie Sioux. Finally the 4 Minute Warning siren sounds as Squat thruster, Steve (Flies On Toast) infamy gives us a neat Dutch scene report. I just hope Mitch, who has suffered a few disappointments at this summers HITS festival don't lose the hunger or the inspiration to do more issues...she needs your feedback!!!! £1.20 & A4 S.A.E. from Mitch Elsden 31 Fir Grove, Marton, Blackpool, Lancs, FY16PJ, U.K.
MORE ZINE REVIEWS COMING SOON!