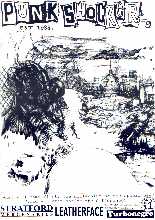 PUNK SHOCKER 9/PRODUCT 8
Split ***
Another oldie but I only just read a copy of this via Mich (cheers). It's a split zine and one that has been widely anticipated amongst the UK punk scene. So for anyone outside the UK it's between Scots zine Product who have been putting out issues since the early 80's, though still on Issue #8!!! You can guess by now that this is a very casual publication! And on the other side you get the brilliant Punk Shocker. One of the best punk reads from the 90's UK zine scene. So here's the beef. This is the last Punk Shocker (boo hoo!) so Speccy Twat (the editor) informs us, and it looks great in the big A4 format. It kicks off with a Stratford Mercenaries interview, but no Steve Ignorant! (bahhh). So no real chance of a confrontational point of view to entertain us, which was a downer. But Phil the drummer gives us a good insight. The reviews in this issue are fucking huge and come at ya in short and sweet bursts of gunfire, so unlike mine you get a rapid, sharp view on things. However there's also the 'read it all before' pieces on Movement Against the Monarchy (yawn!), but an interesting piece on what really happened at the Carnival Against Capitalism demo. Andy Shocker (Speccy Twats real name) is now a University graduate and seems to have been brainwashed like the rest of em by more right on politics. Which is a big shame, coz that crafty Geordie street witticism that littered the pages of past issues seems to be making a sharp exit. There is a funny Tubo Negro review done by some Jock. But the run of the mill and very bland sounding
Leatherface (who are hailed as gods in the North East..could never understand that?) piece was pedestrian. A funny column by Mr Price on Darlington was followed by some heard it all before cracks about the 'Toon' . The controversial 'PC' article, would only be controversial to cunts who know no better. A bit of a anti-climax to end a career of great punk print. Product on the other hand took the gold. I'd read issues before and it always left me feeling cheated and dissapointed. I particularly hated the ghostwriter mailbag that just wasn't funny at all. But this issue although still having those mailbags came up with the goods elsewhere. The Casualties interview was a good 'un, even though they ain't my idea of punk (too much hairspray!!!). But they put their aerosol cans down for a few seconds and gave us some honest answers. The Sic Boy Federation inquisition was a hoot. But the ex-mental patient and caravan dwelling Wakey from punk super-group... The Wernt and English Dogs infamy, took the biscuit! This confession has gotta be read coz this geezer is real!!!, one of the few in today's scene. Again another massive review section that tells it like it is, plus an interesting article on the closing of Edinboros punk pub the Tap! The funny gig review on confrontations by the bar was something I can relate to. Unlike Punk Shocker, Product seems to let their side down by the phony page fillers aiming at a laugh, which end up reading like shit. But on the whole this 40-page punk split is well worth a quid! £1.00 from Punk Shocker, PO Box I.T.A., Newcastle Upon Tyne, NE99 ITA, England.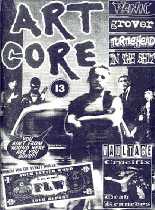 ARTCORE #13. ****
Another first for Nihilism On The Prowl and another well packed read. This is done by the lead singer of Cardiff's Four Letter Word punk combo. And Welly the man in question certainly knows his stuff as far as layout and design goes. Artcore is like browsing through some IPC music mag, it's that slick. The only pointers that this is a fanzine and not a mag from off the shelf of some newsagents is the black and white imagery and it's size. This is one big leap from the photocopied, badly spelt zeroxes of times gone (and also on show on this website -tee hee). But Artcore still retains that back bedroom feel which is good. I've never heard his band before but have come across some of Welly's graphics, and I must say they're impressive. This slick printed zine is packed to the gills with text that is easy on the eyes. Four Letter Word's mammoth 2 month US tour from 1998 takes up 60% of this ournal, with some harsh realitys of road- life for the green UK punks. They do seem to cope wel with only the occasional slap and band fallout. No deaths, no hospitalization!... well no battle scars at least! The other well over-shadowed bands on show are Notts geezers Panic, Manchester dopes Grover and bizzsaw Scots Turtlehead, plus local Tafgffy hooligans jn The Shit. There's an interesting peer through the punk vaults via the Dead Kennedys and Cricifix profiles, plus 7 compact pages of reviews. For a real good looking zine, it's a pity some of the writing style is a but bland but you can't have it all can ya? £1.00 & a5 sae c/o Welly, 1 Aberdululais Road, Gabalfa, Cardiff, CF4 2PH, Wales, UK.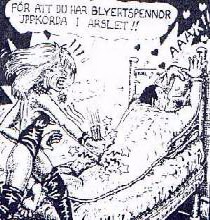 CARRY NO BANNERS #1
1999 ***
Karl lead singer/guitarist from Swedish snotbuckets
The Vectors
threw this one together and for a start the name of the mag is already in use in the UK and was out previously in the US so original sounding it ain't but like all first issues deserves a bit of space for improvement. It comes at at ya in a large type printed frenzy of slash 'n' epoxy and has more enthusiasm than style. Karl tells us in his editorial that he's after music, propaganda and sex 'n' violence... practically almost anything will get reviewed apart from Ska and softcore which is promising. I like his attitude as he covers the demise of porn mags in Sweden (never! - shocked Don't Care) and censorship. there's also rants on coppers, cuba and pop stars. No band interviews or reviews this time but they are promised next issue, and it's all done in English! An eager start which can only get better but I'd drop the name and look for something a little more original...how about 'Stay Wild,Stay Punk!' which Karl signs his correspondence with?
$2.00 (worldwide) Karl Backman, Perjansvagen 1, 903 55 Umei, Sweden.
or
karlbackman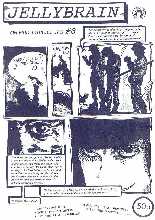 JELLYBRAIN #6 ****
The hilarious, pissed off edtorial sets the scene for yet another issue of Jellybrain curiosities, bizarrre facts and neat artwork topped off with a penchant for punk rock sarc!!! Paul hates the net (coz he can't suss it out) with nearly as much conviction as his long running war of words with Pigfish, who cop for regular well aimed blows along the way. Well Paul certainly won't be reading this...so shall I slag the cunt off for being a Man U. fan?...well I'm sorely tempted but you gotta give credit where credits due coz this 28 page read of text, cartoons and assorted imagery has some great moments. Moments where you catch yourself sniggering away at his often witty observations. Amongst the Pee Wee Herman Indecent exposure chargesheet (tee hee) and the potted history of the Werewolf...howwwwwwllll!!!! Those undisputed kings of low-fi punk pathetique the Rabid Grannies get the once over, plus some very funny detailed live gig reviews. The gig ambience is stripped bare by Paul's knack of making the blindingly obvious a tale of amusement. There are gallons of record reviews, well 3 pages! He also likes his pop-punk more than is good for his health, but his taste is more from the rock 'n' roll Ramonesy side of the fence, than the bubblegum pop-side mafia. There's a good article on Death follwed by some great tales on snubbing people and getting a dirty look from a Buzzcock! Yeah Jellybrain is one of the few quality UK zines that are circling the pit like vipers at the momen. This mag shows enough originality and flair to keep zines from becoming a dieing breed. So fucking get a copy now!!! 50p & s.a.e. from 4 Clarence Street, Nuneaton, Warwickshire, CV11 5PT, UK.
BALD CACTUS #16 ****
Well speak of the devil, here's Mr Cacti himself with his latest dose of healthy (???) anarchy for the masses. Yet another issue here from my favourite ex-distro (snigger). Yep punks my old mag The Suffragette parted company in late 1999 with Bald Cactus over a storm in a tea-cup. But let's not see a difference of opinion spoil a good hatchet job shall we!!! Y'see I like to tell it like it is, but could quite easily proscribe this zine to the 'too good to be true, preaching, pious anarchist squat bracket' they sometimes call PC, if I really wanted to. But nooo that ain't how I operate. I just thought I'd let you in on that behind the scenes set two! So onto the zine itself. Right from the off with those blitzkrieging bastards from South London, Throw Bricks At Coppers it captured my interest. Yeah T.B.A.C.'s very own Rob Filth spews out some hilarious tele-scopic baton charges on the British constabulary, aided and abetted by our totally unbiased editor. There's a massive Submission Hold interview, who eminate all the way from Vancouver. But along with The Tone (yawn!) and the 'Forum' piece it was all paled into insignificence by those Cop haters and Baltimores A-Political. Oh yeah and of course The Subhumans interview. The rants are up there as well, especially the shockingly dubious Vegan admission (by the hardline editor himself!), which I must say put a few home truths to rest on this eating disorder (tee hee). Other rants included 'trust' in the hardcore scene...Trust!?? I wouldn't trust half the cunts as far as I could throw em! And Christians... yeeeurrrghh do me a favour! UK Anarcho label BBP gets spotlighted and the curtains are drawn with 7-pages of staple reviews. Bald Cactus is still a chunky read, even though it's 10-year old layouts could do with a massive overhaul! 50p from PO Box HPI71, Leeds, W.Yorks, UK.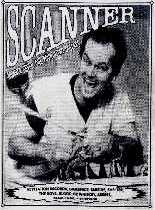 SCANNER #7 ****
This zine just gets bigger and bigger every issue and for a change there are a pretty interesting array of punk bands and individuals to tempt us out the boozer on a hot summers night instead of those other fucking geezers who claim to be punk and end up sending us to sleep. I must admit the Dan McKee article on terrorism was a bit longwinded for a barfly like meself but it was a brief chink in this issues 76 page Scanner armour. American label Revelation Records head honcho gives us the rundown on his label,
The Boys
Matt Dangerfield makes a rare zine appearance with some interesting anecdotes from their punk roots alongside
Blood And Whiskey
who are Eire's new
Pogues
but a lot more rowdier. Telfords's hardcore gangsters
Assert
, dish out some honest opinions, plus a funny, snotty
Randumbs
piece. With only the slightly duller
Gameface, Shelter, Farside
and
Fishsticks
bringing up the rear. Also brief snippets on UFO's, the Net and of course films. There are gangs of records, zines and gig reviews that tell you exactly how it is, plus some fresher columnists. The columns have had a major refurb, but one tosser from Wolverhampton lets the side down badly! For a quid Scanner's gotta be the best ll round punk read in the UK today. It's a positively packed script will keep ya outta trouble for fucking hours. Just heard it's being distroed in Sweden now, so world domination beckons!
£1.00
from
6 Chatsworth Drive, Rushmere Park, Ipswich, Suffolk, 1P4 5XA, UK.
Scanzine@aol.com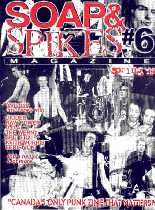 SOAP &* SPIKES #6
Spring '99 *****
My old Canadian sparring partner Dick Vein is really getting hs shit together on this zine. And he's actually fucking hit the nail on the head. Soap & Spikes is definitely the only punk that matters in the vast wastes of Canada, world dominatyion is imminent. You want groundbreaking interviews? You've got em! You want an outspoken humourous attitude? Well that's here too! So what more do we want? Well first off is the Keith Morris autopsy. Keith, the original lead singer in the wacky
Circle Jerks
and pioneering
Black Flag
outfits gives us some great insights into the early Californian punk scene. This is the full trip and you won't be disappointed. Then Joey Shithead, fellow Canadian and
D.O.A.
ringleader lurches into the interrogation boothe for more grassroot tales of debauchery and line-ups or was it punch-ups? These were definitely the highlights of this particular packed 60-page issue. Although Dick produces smaller but interesting one to ones with Spit Stix (from
Fear
), pioneering Canadians, the
Diodes
vocalist, Eeri Von (
Misfits
bassplayer) and the UK's
Wernt
and (
GBH
guitarist) Jock. The Brummy spills a few home truths about getting the
Wernt
up and running. There's no two ways about it Dick is the master of interviewing technique. He gets so much historical info out the bands in question that there ain't a lot left for any potential biographys!!! Of course amongst all this is a great snotty attitude, which earns my respect straight away. And of course the throwaway reviews. But easily the meat and heart of this zine is the interviews and great layout.
Essential!
$3.00 Worldwide or check out the website at
http://www.soapnspikes.com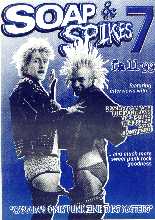 SOAP & SPIKES #7 Fall 99.*****
At long last I finally get round to giving this splendid Canadian zine a review. Yeah I know it's been out a while but I've been harping on about this issue since it came out and only just got it back in my possession. The punks who've borrowed it liked it so much they must've passed it around the block to read. Well enough of the bullshit and excuses onto the deal. This worldwide issue comes in a nice shade of blue card with those extortionate Brummies Jock and Colin from G.B.H. modelling early 80's under- wear. As always with this zine, the superior interviews take the glory in this...possibly the best issue yet! First punk legend to kick off was the irrepressable Randy Rampage. Yeah he of the high energy, death defying bassplaying jumpin jack flash from D.O.A. He gives us the lowdown on his 20 year plus career right up till his current band of shocking....dare I say it... heavy metal exponents,
Annihiliator. We then cross over the Atlantic to Europe for a pre-reformed world exclusive (snigger) interview with The Partisans axeman Andy Leyland. "World Exclusive!", are you kidding??? Now if you had the delectable Louise's side of the story, that would've been news! Especially as she's a Nanny to the stars err... Posh & Becks. But they must've put the kybosh on that one with their nanny surveillance! We then cross the Severn bridge to Bristol and get a Vice Squad retro from original drummer and now Record Collector reviewer Shane Baldwin. Did you know he used to steal bottles of milk from doorsteps with Beki in the early days, a crime in the UK tantamount to capitol punishment! We then head back to North America and the legendary Cliff Hanger, lead singer out The Freeze from Boston. Now here's a punk who with his band must count as the only scruffs to get a life ban from Canada for smelly feet!!! Then it's over to Long Beach, CA and the painted faced T.S.O.L.'s Jack Grisham. They got the name True Sounds Of Liberty from some Religeous TV showband can you believe? Well if all that subterfuge ain't enough to keep the most hyperactive punk amongst us quiet for a few hours. We get treated to a cosy bed-side chat with Jimmy Zero from the Dead boys telling us scams, bans and thankyou mams. Phhhhheeeeww!! that's some issue. The reviews, columns, Ads and mailbag are mere slight distractions amongst this historical artifact. Comes in a great format too, so get it now before it becomes a collectors item! $4.00 from 561 Brant St., PO Box 85021, Burlington, Ontario, Canada, L7R-443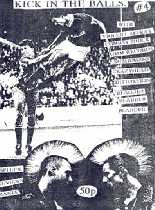 A KICK IN THE BALLS #4 ***
First time I'd laid eyes on this Notts punk/football zine. I like my football as well as the next fan, but I've gone past all that reading about it, coz it bores me silly unless it involves my beloved WOLVES! So from the cover alone I was expecting a so so read, but was quietly surprised! What makes this is the attitude. I was was contemplating some dull, technical football fact orientated kinda read, that would only touch on punk when it neded to fill some column space. But this was the exact reverse... totally! Kick In The Balls comes in a strictly fierce looking 'slashy 'n' epoxy' format, with a broad spectrum of UK punk bands on show. Sheffield's Oi! boys Violent Affray get the ball rolling (pardon the pun) followed by Cumbria's heavy drinking die-hards Distortion. Next up are Wisbech's ultra gigging road experience Combat Shock plus a very short Subhumans interview (which has gotta be a first for Lord Lucas). We then get those slimey limey LA punks Bladder Bladder Bladdder. There's also an expose on the highly respected GMM record label from Atlanta plus a handy label discography. There's a few refreshing columnists including Derby's mohican ligger, Flipper, and Enfield Wolves fan (yeehaaa!) Bobby Smith. I can't understand what mid 80's grebo's Crazyhead were doing amongst all this streetpunk? But thankfully they're restricted to just a paragraph or two. This scruffy zine has a got a good honest review section that shows the editor Big Dave has got some taste, even though he supports Grimsby Town (snigger). Yeah Kick In The Balls makes a healthy change from the lecturings of the oh so serious punk fraternity. And the football that is covered is done purely from the point of view of a set of lads sitting around a pub table..ie. a real fans perspective! 50p from Big Dave, Livvo Towers, 40 Grafton Court, Canning Circus, Nottingham, NG7 3H, England.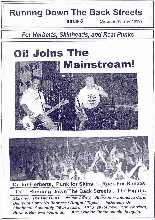 RUNNING DOWN THE BACKSTREETS#8
Autumn/Winter 99. ****
'For Herberts, Skinheads and real punks!' Well fuck the herberts off, I never really believed such things existed, only in the mind of Garry Bushell. And if they did, they'd be the ones hiding at the back of a mob goading on the aggro, and as soon as it looked risky or the old bill arrived they'd be first out the exit! But fuck this name tagging, this zine don't cover that ground at all. What we do get is a comprehensive 36 page A4 guide through the music of bootboys. This is well put together with a neat, easy to read text and clear pictures. I get the feeling Tim the editor has been in the Skinhead scene for years, and his background knowledge is pretty intense. Running Down The Backstreets is definitely the best UK skinhead fanzine on Britain's streets today! It covers a wide range territory, but sorting the wheat from the chaff is pretty hard in todays Oi! scene. Coz for every good band there's a fucking pub full of non-entities apeing the myth. The interviews kick off with
Violent Affray
from Sheffield and Crawley's
Beerzone
. The ex-punks who have the distinction of looking like a middle- aged local pub pool team! Benny from Dragnet tape label and
Carry No banners
website fills a bit of spare space in, by informing us the earth shattering news that there's no scene in Presteigne!!! Along with a retrospective look back at the career and a recent interview with that all-girl band from the 80's,
the Gymslips
. There's a big Holidays in Morecambe '99 festival review, plus some skinhead activity from far flung places like Indonesia and Japan. And everybody knows Japan is a dishpan!? Well the middle East is dishing out Micky Geggus method actors by the dozen now! (snigger). Running Down The Backstreets ends with opinionated reviews and an up to date news roundup. All of which makes this zine essential for any skinhead with a nice shiny pair of cherry red Dr Martens, and of some interest to any punks with a black pair of pointed brothel creepers...and those Herberts who wear Caterpillar boots can go and fuck-off!!!
£1.00
from
13 The Croft, Badsworth, Pontrefact, West Yorks, WF9 1AS, UK
or check out the site
www.run.to/oi