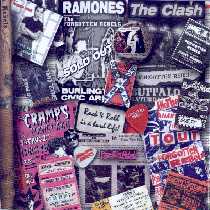 THE FORGOTTEN REBELS
'Nobody's Hero's' (opm2122) CD 2000
Canada's best punk exports (in my humble opinion) make a welcome return! And 'Nobody's Hero's' is seething with all the snidey leers and sneers that you'd associate with The Forgotten Rebels 20 years ago. This ain't quite 'I'm In Love With The System' calibre but it's pretty fucking close! The Forgotten Rebels in case you didn't know are the one of the few original punk bands who still understand what punk is capable of. They take the piss like true professionals of the art, but can back it up with some serious punk rock damage. They never embarrass like most others from their class. And they ain't become a fucking pastiche of themselves either. You do get the customary abuse tracks spotlighting dirty hockey coaches - 'Hockeynite', 'High School Hookers' and 'Dick Wart', with the hilarious line of..."I know what it's like to play, I'm the beer bottle violator that's my way, girls are easy girls are good, girls like jumping on my throbbing hood' (tee hee) which will get em hung, drawn and quartered in some punk circles ha! But hey ain't that just how it should be? The sound on this album is really heavy and powerful without reaching rock terrain. Those great chunky guitar chords supplied by Jeff Cambell are up their with Steve Jones. The production follows suit, and is spot on care of Drummer Dave McGhire and Eric Ratz. You can feel it blasting out your speakers as soon as the first track kicks in, which I like a lot. The Rebels have learned from years of experience how to create that perfectly flawed punk sound for their 21st century anthems. Mick De Sadists gravel coated vocals are still in evidence...more so in fact. And the course his vocal putdowns still have enough sauce to scare off even the most hip parent out there. Would you let your daughter take this man home? This band really hit their peak midway through with the simple but brilliantly addictive 'Hey Little Girl' and it's pumping chorus that's gotta become a big crowd favourite any time now. And following straight on behind is another Neo-classic 'Fool Me Once' which exposes the hypocritical rock 'n' roll business for what it's worth. Songs like these could still make an impact on the national charts with the right push...are you listening EMI? Pity really coz it probably won't see past the punk rock ghetto's. On a downer they do a pretty straight take on the Vibrators 'Baby Baby' which wasn't really needed. Maybe next time a cover of 'Nice 'N' Sleazy' would've been better. The other cover of 'American In Me' by the Avengers was a nice touch though. They end with another hilarious track 'Shrink Dink', all about what those mind twisting shrinks can do to unfortunate dumb white suburban studs. Another thing about the Forgotten Rebels that is always evident on their releases, is they never lose their humourous observations which is fucking great. Comes in a great cover with all those funny lyrics to sing along to and get kicked out the pub. Cheers Dick for passing this on. WORTH A LISTEN Other Peoples Music Records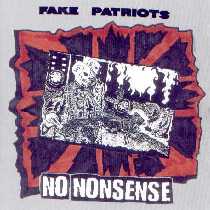 FAKE PATRIOTS
'No Nonsense' (fake01) CD 2000
Another new band here from Dundee in Scotland on a brand new British label Tenderloin Records. And this ain't a bad debut. I was expecting a much more Oi! style in sound from what I'd read about this band but these have some good powerful guitars kicking off amongst the early 80's style of songs, that remind me of an Exploited circa 'Dead Cities' , but far less manic. Especially on the first track Redundant'. Fake Patriots come across as a no messing bunch of street punk toughs who do actually know what's going on around em. Take songs like 'Force Fed' about the education system and 'This Is Now' cussing how things have took a turn for the worse. Having said that they also own a dry sensa yuma, although it's hard to spot without a
read through their lyrics. Take the
'Tug, Tug, Tug'
track which is a true story about a women's underwear kleptomaniac and of course
'Pervert'
with the hilarious line of
"I'm right behind you!"
Other interesting topics covered were class struggle, trendies in the punk scene and GM food crops. Scotts gruff vocals can be a bit one dimensional at times and the MacGregor brothers musical outbursts can get pretty wooden here and there, but maybe they'll pick up a few more fluid tricks of the trade as they get more experience on the live front and on record? Their best songs are when they fire in the protest like on
Diktators'
with its
"Jackboot law...Diktators, Broken Jaw...Diktators"
chorus. Having said that I couldn't really pick out one outstanding track from this textbook 13-track set, so they could definitely do with some experimenting in the rehearsal room before their next full length, especially in their style and sound. If you like your punk as the title says...'No Nonsense' and are happy with 32 minutes of no thrills punk, then this is for you!
AVERAGE
Tenderloin Records LTD, 3 Chapelfields, Ardingly Road, Cuckfield, West Sussex, RH17 5JR, UK or E-mail em at
tenderloin@tinyonline.co.uk
and if you wanna visit the bands site do so at
http://move.to/fake_patriots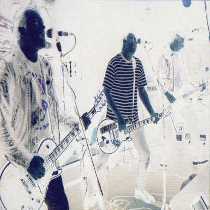 PIGFISH
'The Reverend James'
(dlpr2006) CD 2000
Happy go lucky melodic Brum punk here and it's a pretty small dose of action for an album nowadays, with only a measly 8-tracks to scrape em up from the indie pit that they seem destined for. Pigfish sure know how to arrange a song and are accomplished musicians, although Paul Jellybrain would dispute this fact! But like a lot of their other stuff it's lacking that bite, that all out yell of defiance that could make em a contender in the punk scene
today. The vocals are either too low in the mix or Rod Frame (the singer) just ain't got the power to project em over our spikey heads. Apart from that hiccup the production on here is top notch with the guitars crisp 'n' clear. I much prefer em though when they go for a more sinister approach like on the addictive 'Get Out', that boasts a great riff chugging away. This is easily their best number. And this sort of style is what Pigfish should strive for, not that fucking weak-willed, diluted, bit of a twang nonsense that they seem so very happy and content with! Punk bands should never be happy. And show me a punk who's content and I'll show you a liar! It's followed by the only other highlight 'Shut Up', that has a much more abrasive sound than the rest of the album, which was pretty fucking dull by comparison. I fucking hate the horrible cover picture, it reminded me of some Bangra compilation and depicts the said Reverend who apparently done a bit of serial killing in his time! So I'll give you a snap of the lads in action instead.
NARCOLEPTIC YOUTH/THE VOIDS
'Split 45' (ppr00) 2000
Just got this in via Federal Express from the Voids StraitJacket label, and it was good to hear a couple of the hungrier sounding punk bands from the Californian scene. Narcoleptic Youth who have one of those strange but ultimately punk rock names, are by no means sleeping beauties. They lurch out with a Dead Kennedyesque style to their 3 fast, blasts of pissed off mayhem. Bondage the singer has a distinctive sneering, snotty vocal which gives em an edge on their contemporaries. The razor wire guitars remind me of the East Bay Ray frenzied method on 'In God We trust' era. Especially 'Class Of 99' with it's transistorized production and the "Computer bits, little shits/ babies having babies and disco hits" lyrical observation. Sharp, witty lyrics about being pissed off in suburbia are always a must. 'We Don't Belong' carries forward the individuality clause in their contracts and general fuck ups are bought to light in the sickening 'Vicious Killers'. A good introduction to war painted punk singers and a band who have started to pack out venues. The Voids have been around a fair bit now, having ditched the duel female singers for a more compact lineup. Adri the surviving siren is well capable of committing to the songs, coz she's got one helluva powerful, angry vocal to spray the adrenaline soaked guitar licks. You can almost see the venom dripping off her pierced tongue as she rolls her "R's" on 'Signal' with the duel vocal combat between her and guitarist (Chris). 'Brain' had a great power-chording riff, best one on the EP. But on the whole the machine gun vocals and rapid backing were sometimes lost amongst the packed lyrical content. A trait that made a couple of their 5-song spurts hard to get into. But who said punk was meant to be easy? The Voids are certainly one band that don't stand around. You won't find flies around this mob, they go straight for the jugular every time and even with the lyric sheet in front of ya, you can't keep up with their blitzkrieg pace. I'd like to see em try to put a few less words in the lyrics so they can actually get the message across clearer, coz they do have a message but it was hard to decipher amongst the cryptic lyrics. Best track for me was the brooding 'Frightening Ways'
coz it had a slightly less than frantic twisted intro, which added a new string to their fast as fuck bow! Yep this split release shows two newer punk bands with differing styles but full of venom, which I like a lot. Comes in a good fold out sleeve with a particularly gruesome looking Matador getting his 'come upance' from a pissed off bull...OLE!
WORTH A LISTEN
Check out both band web sites at
www.narcolepticyouth.com
or Straitjacket Records at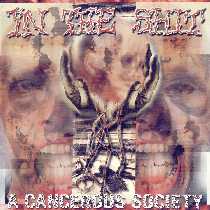 IN THE SHIT
'A Cancerous Society'
(mass24) LP 2000
This was a big surprise. I'd only heard their previous single on this label which I didn't find that good at all, so when this came in I thought "oh no, not another load of growls from the Valleys!". But ain't it great to be proved wrong! This is a fucking ripping improvement on the previous
In The Shit
. Biggest highlight had to be the big sinister power- chord riffs and the suitably nasty anguished vocals. Power is a thing that has some obvious definitions but it comes crashing out the grooves of this LP, without a shadow of doubt. Maybe it's coz of vinyl? Whatever, this record definitely has an atmospheric which was originated by the blinding intro of
'Minds At War' .
Which really set the aggro raging. Great production as well, which was notably missing from their earlier releases, but not on here! Crisp and clear makes all the difference.
In The Shit
are for want of a very big word
PISSED OFF!
And this album is one big wrath-filled statement of discontent and hate, that rages in the underbelly of Britain today. And ain't it always a pleasure to hear when it's captured and done with conviction! These punks ain't playing at it, they are it! And with that monstrous guitar in command, that drags you round the room like a rag doll you at their mercy. The guitar riffs alone on this make for great punk. The strangled singing completes the rage, although some of the depressing lyrics can be hard o take for 12 tracks, but who needs em when the momentum keeps this monster on the rampage. They sustain this state till track 5 rolls in with a
Subhumans
type of skank that turns into the big ugly monster they call
'Disease'
. Side two keeps this up with an untamed
'The Meek (Shall Inherit Nothing)'
, only letting slip once or twice with a screechy
'U Make Me Sick'
. The paranoid
'CCTV'
slows things right down with a another great intro but quickly heads into a stop/start mode that was fucking frustrating and probably ruined the makings of a really good track. They end things with the throwaway
Screaming Beer'
which was pretty average till the final chorus chant kicks in and come to a finale with a strange choice of cover...
Conflict's
'Exploitation'
, which although created a few new twists of their own didn't really do the original any favours. But not a bad record at all and comes with some good computer graphics on the sleeve.
WORTH A LISTEN
Check out Mass Products Records at
massprod@hotmail.com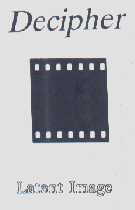 DECIPHER
'Latent Image' Tape 2000
Decipher are a new London combo straight out the bedroom. From the stark cover and the officially minimal sleeve layout, you get a distinct impression that this is gonna be pseudo-intellectualism on a grand scale. Well maybe not grand but they quote Rimbaud, Fromm and some other geezer called Pablo Perelman (who?) on the photocopied sleeve. Mr Perelman, whose film 'Latent Image', is apparently this 3-track demo's inspiration. So still none the wiser and armed with my thuggish council house outlook on life, lets see what tunes or should I say statements are on offer? First impressions are 3 abrasive, cold, low-fi dirges stripped back to basics with guitar, bass and drums, reminiscent of early Wire. But unlike Wire (who were great innovators in the first wave of punk) Decipher just ain't mastered the edge to create an effective noise. They're just too highbrow for their own good, and never keep your attention span for very long. The lyrics are like minor manifestos written by ex-public schoolboys and are delivered with the standard tortured vocal. Their only major saving grace was the slashing guitar that made a welcomed entrance now and again. Less lyrics would've helped the songs no end, and some rhythm wouldn't go a miss. Can't really see these making a big impact on a punk audience let alone an experimental one! PLASTIC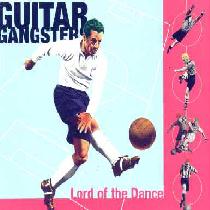 THE GUITAR GANGSTERS
(pp058) CD/45 2000
Just in time for the Euro 2000 Football Champion- ships next week...and I can't fucking wait! And neither can Southgate's
Guitar Gangsters
who cash in with 4 tracks of gangsterdom. They kick off with a powerful version of that old school hymn
'Lords Of The Dance'
Although the thought of that sounds pretty preposterous, they pull it off with their great beefy guitar sound. As always the Pete Ley vocals give it that distinctive but sometimes pompous sounding flair. The title track was over- shadowed by it's (Euro 2000 Mix), which for me was the standout track of the EP, with the piss- taking lyrics. Followed closely by yet another cover this time
'The Great Escape'
complete with that distinctive whistle which is terrace terrain no doubt about it. Their only self-penned track was
'Match Of The Day'
, which recalled the after match activities and all of it's reminiscing...
"scoring for England"
with the local girls in the park, was a more melodic tune. A lot of punks seem to write this band off coz they don't fit any pigeonholes. But I think this is alright and makes a nice change to hear a punk band with tunes and anthemic choruses instead of some Top Twenty rubbish that will no doubt rear it's ugly head in the coming month. Comes with a crystal clear speaker vibrating production. WORTH
A LISTEN
£3-75 postpaid from Rampant Music, PO Box 3806, Southgate, London, NI4 6NB
or e-mail
gangsters@dial.pipex.com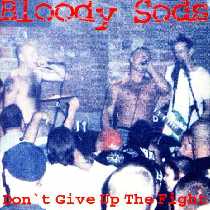 BLOODY SODS
'Don't Give Up The Fight'
(mad20005cd) CD' 2000.
Now here's a totally different approach to punk with it's testosteroned twin buddy vocals and ultra- hardcore sweaty reveal! I'm afraid this album don't really move me one way or another. Yeah sure the duel vocals have differing styles like the higher snarly growl and lower guttural growl. But the noise they emit comes across as a couple of drunk ex- commando barks to me! They appear to be very poor Wattie Buchan imitators, and without the Scottish brogue and broken English, it just don't cut! The whole vocal approach to this record drags it down and totally fucks it right up! The lyrics ain't too bad on closer inspection, which is a shame, coz they don't get past the sleeve with two pit bulls as interpreters! Geezers like Roger from
Agnostic Front
can make it a threat, these make it a chore. The inclusion of the by now 'compulsory' comic sketches in between tracks are good and made light relief to the clumsy band stampede. In fact they steal the whole show from the very bland pedestrian music on offer. The guitar riffs just ain't inventive enough to carry this off. And for fucks sake they've got duel guitars as well!!! So why the fuck don't they take advantage of em, is anyone's guess? Where's the fucking power then lads? And what happened to the far better sound they conjured up on their previous 'Hate Of Mind' EP? Some bands just ain't ready yet for the big leap to album status and the
Bloody Sods
on this recording are one of em! There just ain't enough quality tracks to justify it! Having said that
'No Safety'
was a one of the better tunes on display with a pretty good chorus, along with older favourites like
'Stoic Enemy'
and
Win Or Lose'
retaining some dignity but that was little recompence. They also do a fair cover of
Suicidal Tendencies
'
War Inside My Head'
which does make good use of the those duplicate grunts for a short while, but if you've got an albums worth of songs and the covers are one of the main highlights, I think you need to seriously consider where the hell do you go next from here? They are doing a Euro tour any minute now so I'll be able to see what the live situation brings up!!! But on this showing don't give up the fight yet and definitely don't give up the day job!
PLASTIC
Check out Mad Skull Records at
Mad Skull Records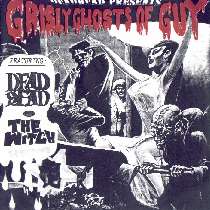 GRISLY GHOSTS OF GUY
'Deadhead'/'The Witch'
(sns003) 45 2000
Fast, frantic, fiendish horror punk here from the wilds of bonny Scotland with a heavy cryptic gothic feel, especially amongst the song matter and B-Movie horror sleeve artwork. 'Deadhead' is over before you can say Boris Karloff and was a chanting blur. Flipped with a cover of The Sonics 'The Witch' and this for me just steals the credits with it's ineffective riff. The vocals on both songs are good but the screaming over excitable yelps dotted amidst the fog ain't really my chalice of blood. This band has a big garagey feel in the way the songs come over, but after a few listens you can see why Derek stuck em on his minor but enthusiastic punk roster. Definitely one for the ghouls out there!
AVERAGE $5.00 from Soap And Spikes Records 561 Brant St., P.O. Box 85021, Burlington, Ontario, Canada, L7R-4K3. Or contact the band at
OPAQUE
'Temporary Lifestyle'
(opa006) CD/EP 2000
Anybody wanna good laff???? Well this won't be for you!!! This is basically a CD with two tracks (8 minutes and 9 minutes respectively) of some spaced out guru who's obviously smoked too much weed strumming away on his guitar. Takes me back to the good of old days of those experimental outfits that used to haunt the classified tape columns of Sounds, pleading with someone to buy their 'off the wall' racket produced on cheapo tape decks the length and breath of the land. Literally hundreds of em with weird arty names and titles like Opaque. In fact this could well be one of the last breed to strum the face of the earth. Fuck knows how they afford to duplicate em? (what's even more alarming is that these musician cooperatives have the nerve to let loose this stuff on society!!!) Maybe they get it on the National Health, but hey this is number 6 you'd think they'd have got the message by now!!! How the cottage industry of collectives has moved on these days is astonishing. Well this is a good space filler if nothing else. But £3.00 for this is fucking taking a liberty. I can listen to my baby nephew playing his plastic guitar for nothing!!! NO FUTURE £3.00 (snigger) Dental Records C/O Lancaster Music CO-Op 1 Lodge Street, Lancaster, Lancashire, LA1 1QW, England.