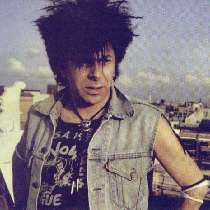 Charlie Harper 'The Best Of Charlie Harper & The Urban Dogs (ahoycd108) 1999
For 25 years Charlie Harper has led the UK Subs through numerous lineups, global tours and literally an alphabet of albums are safety pinned to his studded belt, as well as getting 7 top 75 British hit singles. He's punks elder statesman and still touring today. You'd think with a career like that it would be enough for any punk to handle? But no Mr Harper ain't any old punk and the speed must've been very good in Tooting back in the early 80's coz Chaz made time. In-between busy subversive activity he managed to get his solo songs out under the Urban Dogs banner. He was accompanied along the way by Knox of the Vibrators on guitar (another punk veteran), Alvin Gibbs UK Subs bass player and Mathew Best Psychic TV on drums for most of the tracks. This CD sums up the best songs released under the Urban Dogs 3 year existence between 1980-83. And some of these tracks proved to be UK Subs live anthems. Take for example the never used opening track 'New Barbarians' that comes marauding out your speakers from the bands debut 45. It's followed by the rumbling torture of 'Limo Life' that is a study of fame and it's claustrophobic pitfalls. Charlie also concentrates more on world issues with a distinct antiwar message in a lot of these tracks. And some of these more political views are aired like on the pounding 'Wanna World'... "wanna world where - we can swim without pollution, wanna world where - the bomb is not the final solution, wanna world where - the seas and trees are special to people, wanna world where - life is sacred and not a church steeple". And the acoustic 'War Babies' that builds up into a great antiwar track. Plus of course a Dogs version of the Subs classic 'Warhead' is always great to hear. There's also light relief in songs like 'Barmy London Army' giving a nod to the faces OF the time, and Charlie's favourite substance 'Speed Kills'. More nocturnal habits are covered on 'Sex Kick' which is the old Vibrators song 'Into The Future' and they also do a version of 'I need A Slave' from the Vibrators 'Pure Mania' LP and 'Dragnet' from a 1982 45. There a few more predictable covers towards the end like 'Pills' by the Dolls and 'I wanna be your dog' by Eggy but they all get the South London Charlie Harper drawl which gives em an individual feel. 18 tracks of Charlie's best Urban hits here is a good insight into one of punks mainstay's so check it out coz it's well WORTH A LISTEN.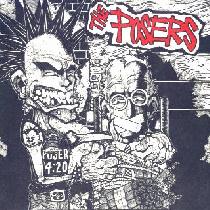 THE POSERS
'The Posers' (oinkO!10) 1999 CD.
I was really looking forward to this record after the brilliant 'Kill The Ravers' EP back in '98 but The Posers from Ontario, Canada seem to have gotten a bit slack and laid-back on this one. Their early snot and anger has taken a back seat to a more drunk punk kinda style which ain't half as rabid as their previous. Even the songs are pretty tame in comparison with only 'Town Drunks' being one particular highlight of the set, with it's antisocial attitude and those great slowed down vocals of "I said gimme the goddamn beer!" at the very end. You also get that raw, dirty riffing here and there, but it's broken up by that irritating stop-start hardcore style that spoils the meaty riffs no end. Particularly on the other standout track 'Better Off Dead'. Maybe it's coz there were a few lineup changes during the recording of this debut album? Coz they go through two guitarists! But even Rayney Forsters vocals get lazier as the album
progresses and have totally lost that Keith Morris circa Black Flag snarl he had earlier! The Posers actually sound like fucking poseurs on this album and they even attempt a bit of back to basics Oi! on 'Threat'. Which no doubt pleases the boots 'n' braces brigade but it leaves us punks bored shit- less. They also slaughter Blitz's 'Someone's Gonna Die Tonight' which pales into insignificance alongside the original. Especially those vocals supplied by guitarist Luthor Heron (stick to the guitar mate!) They even attempt some thrash on 'Slumlord'. Talk about differing styles, sometimes a band is better sticking to what it does best! They do add a bit of comedy on the end with an acoustic 'Dragons', that was funny in a Monty Python kinda way. Also the fabulous long-running cover artwork was still intact, with more great cartoon mayhem. But little details like that couldn't save this album from being a major disappointment ...how the mighty have fallen! AVERAGE Available for $15.00 (worldwide) from
www.streetpunk.net
or write to
Oink! Records, PO. Box 27813, Washington D.C., 20038-78, USA.
or
http://theposers.tsx.org
Latest update
the Poseurs
have split and Rainy now drums for a new band called
the Clusterfux.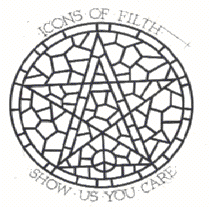 ICONS OF FILTH
'Show Us You Care' 45 1999
I was pretty disappointed with this 6 tracker, taken from a live gig back in their heyday in the dark distant realm of 1984! Icons Of Filth (great name) were one of those Anarcho bands who made a name for themselves by nearly always being one of the opening bands for Conflict or some other bigger profiled protest band. But this EP was a real let down with it's typically trashy production and painfully tinny sound! A sound that was pretty rough! For a release back in '84 this would never have seen the light of day. But now it seems record labels will put out anything by a band who were always 3rd rate down on the bill. And we kid ourselves that some 16 years later, it's all gonna sound better than it ever really was! Gumby vocals are supplied by yet another Steve Ignorant clone. And are attached to yet more songs about nuclear destruction, religion, decay and the usual hell and damnation quotas we suffered all those years ago. It does come in a great package with fold out lyrics and artwork, which BBP Records should be proud of, but bending over backwards to get this really 3rd rate sound out is a disgrace to the fans and bands around today who could really knock out something good. I think their judgement and taste has seriously gone out the window on this release NO FUTURE BBP Records Box 81, 82 Coulston Street, Bristol, BS1 5BB.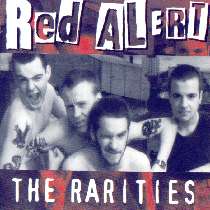 RED ALERT
The Rarities' (ahoycd107) CD 1999
Finally getting back round to my big 2 year old CD review pile. I had to leave off from these when I moved sites 3 months ago. It's took me that long to review the Captain Oi! releases alone. So the label deemed me lazy enough to cut me off their list ha! Well first out the trap is this 'Rarities' album which is the only Red Alert album I own. They come from Sunny Sunderland in the UK and are one helluva hard band to understand lyrically? Lead vocalist Cast Iron Smith ain't exactly elocution in vogue but they produced a really lively early noise. So I was looking forward to this 22 track demo set. A demo might be a rough vision of any band, but demos are real. There ain't no studio trickery so it's Red Alert laid bare. Gotta admit Red Alert demos 1981-1982 are the songs that stand out for me. 'We Got The Power' and the rowdy 'Its The Boys' are great slabs of youthful Rejects/Clash sounding punk. But this was short-lived I'm afraid and the band went downhill pretty fast after track 5. It's surprising what 2 years in a bands shelf life can produce. From that rough 'n' ready spirited honest style they turn into a cheapskate, third rate version of Give Em Enough Rope era Clash. Although they still created some good songs like 'One Mans Resistance', 'Dreams From The Ghetto'. And their structures were a lot more creative like on the skanking '24 Hours In London' it just didn't do it for me. Their main culprit seemed to be guitar hero Tony Van Frater. When he started introducing acoustic guitar it went plastic. Their version of 'White Man In Hammersmith Palais' was a good cover though. By 1990 the band had split for two years but reformed and come out with 3 demos which were even more jangly and as far away from their Sunderland bunker punk roots as you could get. Red Alert admit in the sleeve notes that 'The Light Has Gone' has never been heard before and I can see why... more jangling boredom. There's something about Geordies that when they get all serious and sentimental they sound like cunts ha! Upstarts et all went through it so it looks like it's Red Alerts period. Jump to 1992 and Red Alert finally shake off their pretentious bender and knock out 'Across The Lake' which shows guts and don't sound like they're acting or entering MOR rock territory only just. The next demos come from their 'Blood, Sweat & Beer' album which weren't thankfully used and they admit they were the worst experiences in a studio ha! Although 'Still Burning' was rough as fuck it was a great song. And more like what you'd expect from em at this stage in their career. Mr Van Frater actually produces some long sought after power chords. Fair play to em for including 'The Face Of My Shadow' which has gotta be Red Alerts most out of depth track on the album. It had to be rescued by some female session singer who was paid to take Mr Smith to the cleaners, and you can see why. They do end on a high with a blinding cover of Shams 'If the Kids Are United' and 'England' by the Upstarts which must've been pretty embarrassing even for Cast Iron Smith. AVERAGE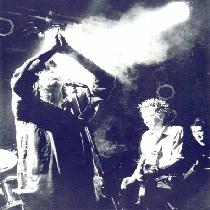 P.A.I.N. featuring Howard Marks
'Let Me Grow More Weed'
(imb6002) CD/45 '99.
This is a funny release as it's aimed at a mass popular market and Top Of The Pops!!!!, but who are they really kidding? This just ain't catchy enough for a crossover audience let alone a punk one. Using some hippy writer from Loaded mag sure ain't the best way to put over the delights of Cannabis. If anything this will make the kids think... "fucking hell is that what we'll end up like after years of draw!" No thanks! Everyone knows dope blurs yours energy and this kinda dub folky track blurred mine. I dunno about P.A.I.N. getting involved with this joker Howard Marks, I thought they had more suss! It sure don't help their more angry sounding niche. They are eventually let loose from the ''ippy trail on the final two better tracks coz it's what they do best...protest!!! In fact they'd have more chance of radio play with their own songs, at least they ain't contrived. 'P.A.I.N' is the bands anthem and 'Road
Rage' paints a vivid picture of going for a nice Sunday drive tooled up to the eyeballs!!! One thing that did let the 2 punk tracks down, was the predictable use of a saxophone!!! Why do punk bands only let the sax blurt out at specified moments in the song? They could sure take a leaf from X-Ray Spex or Neon Hearts to realise the full use a sax in a punk sound can ignite. Comes with a lyric sleeve and a pontificating picture of the Hippy in question! Title track NO FUTURE the rest
AVERAGE Available from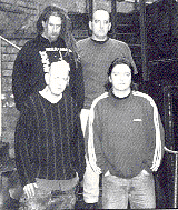 CONCRETE SOX 99
'The New EP' (Data008) 1999 45.
Derby's other name band from the 80's is resurrected here with 4 tracks of speedy, doom laden basic hardcore. Sean C's vocals are average growls and accompanied by some raging guitar at times. But does verge onto heavy metal territory in parts. I seen these in a Derby pub one Sunday
afternoon. And I wondered why most of the local crowd all went outside? Now I know why!!! This EP is a lot better than that stale live performance but only just. It's far too one dimensional and has been done a thousand times before by more original and better bands. Some of the sinister guitar rifts are good but the overall appeal was dated. They look a right sorry bunch on the cover and perhaps Concrete Sox Anita the right description for these gloomy fakers! Maybe a concrete overcoat would do the trick. AVERAGE Available from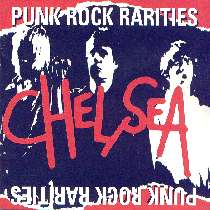 CHELSEA
'Punk Rock Rarities'
(ahoycd106) CD 1999
Fucking hell yet more Chelsea. The Captain Oi! label sure know how to top a group in cold blood. If the whole band were just a bunch cunts, instead of Gene October. Then this would be laughed out the punk arena as sad old punks going through the motions. But you gotta admit they're still a good live prospect even today, despite Genes chip on his shoulder. And Chelsea for all their faults had the ability to write some great anthems for a while. However I can't say this gets much play in the Wolf's Lair. And as I'm a '77 despot and a big fan of the singles this band put out. It's only good for the taste of the sweaty vibes that summer of hate bought out in punk band on a shoestring budget. This is pure rough cut '77 punk rock for all you record hunters. Sort of sluggish in today's scene. But at the time was an enormous kick in the bollocks to anything musical that preceded it!!!! Everyone of the bands anthems are on here... some twice! Which is pretty much pollyfilla territory, coz there ain't a lot between each version. So will only benefit Chelsea completeists no doubt. These demos and remixes sure don't beat the final mix versions that hit the street. And by the way you can find all those on the 'Punk Singles Collection' released on this same label. But even so, along with 'Right To Work' and gutter anthems like 'No Admission' and 'High-rise Living' it's gotta be worth one listen. Biggest suprise was getting to hear the ultra rare 'Blind Date' which is a great full on song. And not too dissimilar to the Damned's 'Sick Of Being Sick' riff. Hence the "eat your heart out Rat Scabies" yell before it kicks in. We do get quite a few of the bands more average tracks along the way. So beware new listeners. Maybe this is a good blueprint for a young punk band who don't wanna scream or preach politics. Or maybe it's just a cash in? Who knows and who cares? If original punk rocks your thaaang look here or better still try the
Pistols for the real snot. And lastly the sleeve notes give you the definitive Chelsea discography.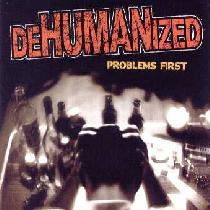 DEHUMANIZED
'Problems First' (nra76) CD 1999.
Dehumanized are a promising new signing to the reliable NRA label. They hail from the streets of New Jersey. And have an interesting debut release in 'Problems First'. This full length has over 14 tracks of angst ridden, energetic guitar punk. A sound that has an East coast feel to it. Songs like 'Mommy's Killin' has an infectious chorus with a memorable reprise of what's coming down on the streets today. With that infectious guitar riffing ringing out towards the end. Their well thought out song structures has an almost suffocating feel to em. There's that much to take in! These are traded in with a more basic sound on 'Fuck You Where's My Brew'. Which seems totally out of character and has gotta be more of a piss-take than an actual ode to the demon drink! I like the hum drum 'Coo- Coos' track with it's 'cuckoo' sound bite and 'Better Later Days' with a skanking atmospheric. The one thing I couldn't really get my head around was some of the cryptic lyrics, which were hard to fathom? And with so many chord changes in some of the songs made em jagged! Best track however for me had to be the final catchy speed of light 'Gimme The Scoop' and it's "social anaconda" lyric that
bastardized the lying, cheating critics and general bandophiles who love a name and drop em when the next big thing hits town!...a bit like me (ha ha) Good stuff though!! Oh before I forget right at the end I discovered after only about 25 plays plays that there's a secret hidden track which is probably great in recording and record company post production ideas department. But is a right bastard for us impatient punks! Still this is
WORTH A LISTEN.
www.newredarchives.com
THE EXPELLED
'A Punk Rock Collection'
(ahoy105) CD 1999
Police sirens drag this 17 song compilation into the 21st century as the early 80's get revisited once more by Captain Oi! records.
The Expelled
a four-piece from Leeds, UK who existed between 1981-84 were one of many UK punk outfits who made a small dent on the scene in the second wave of punk. They had numerous lead singers, but their main weapon on this session being the original and cuddly big Jo ball. She gave
the Expelled
that
Vice Squad
touch but without quite as much power and attitude of Miss Bondage.
The Expelled
were a band truly walking in
Vice Squads
stiletto heels. And using the
Vice Squad
drummer as producer/guru made it all the more obvious. The song structures and style are so close on these recordings it's eery. But they did manage to create their own sound on songs like '
Government Policy'
,
'No Life No Future'
and
'Blown Away
'. Basic rifferama guitars backed by adequate bass 'n' drums powered em along in the early 80's but 20 years on they don't half sound tame. By 1982 big Jo the Bodacea of the Leeds punk scene made her exit from
the Expelled
punk rock arena and opted for married bliss to a British Squaddy. We are then given the next best thing which turned out to be Bristolian punkette Penny, who does a pretty good job in the studio at short notice on
'Cider'
(the humourous amber nectar song) and
'Violent minds'
. But for some dubious reason the compilers fail to include any tracks featuring the other girl vocalist who actually gigged with the band, the raven haired Jewelie. She was apparently inadequate for our ears but done a Peel session with the band which of course makes you wanna hear her all the more if she was really that bad! But hey what do you expect from biased producers wielding their control. And the inclusion of some obvious filler tracks was a bit of a let down as far as us completists are concerned. Near the end of the bands career, the bass player Macca takes over vocal duties which works really well on the epic
'Waiting For Tomorrow'
probably their most intricate piece. Although the other numbers he sung on were pretty dull in comparison. We then retreated back to some Jo fronted demos with the 45
'Army Life'
adding to their better numbers. Apparently bands like
the Expelled
are now big influences on newer all-female punk outfits like
the Devotchkas
from New Yoik???, which only leads us into one conclusion.....hope they sound more powerful.
AVERAGE
www.captainoi.com