DAMNATION
'The Unholy Sounds Of Damnation'
(071-2) CD August 2003
Los Angeles sporns some crazy
muvvafukkers
and
Damnation
seem to fit the bill or at least that's what they want us to think. They leer under the banner of Horror Punk shockers. But I'm afraid I'm still waiting for that killer shock? They do create an intense kinda Horrorful racket though with plenty of energy, but it sounds a wee bit contrived. The lyrics sound hilarious. I doubt they'll be changing anyone's views on world power or the state of the nation, this is purely gore for hounds of the night. For subject matter they sing songs about getting drunk and driving fast (wow wee), taking drugs (smart boys), death (again!). And lets not forget 'mayhem' which is always a clever phrase to use in press releases. Last but by no means least lets hear a drum roll for...S-A-T-A-N-I-C...'
Fuel Injected Priests'
ha! ha! ha! Which is a full on ecclesiastical romp that gets this 13 song set rolling. These headbangers have elements of
the Dwarves
(who's lead singer produced this album) plus some
Misfits
to make up that darkly cocktail of black humoured punk rock 'n' roll.
Damnation
are more pantomime baddie than seriously evil and to tell you the truth I suspect that's what they'll settle for all along. I did enjoy some of their heads down no messin crunchy riffs supplied by axe wielding Tod Surridge. He's joined in his ill gotten gains by a hyperactive singer in Robert Shawn. His credibility ratings soared when I heard he was sacked from his first band
Hello Disaster
(I wonder why?) He does give the songs a lot of character, which leaves an impression, particularly on their neat cover of the Mama's And Papas hippie anthem 'Californian Dreams'. It gets defiled by the band and given a new lease of life as
'Californian Demons'
. 'They even submit a neat but macabre leather 'n' whips love song in the poppy
'Spell On Me'
. But this band is all about bloodlust and cults as
'66613'
enters the fray and becomes this albums cryptic anthem. It greets us with has an
Adam And The Ants
circa 'Kings of The Wild Frontier' vibe, especially on that chant filled intro which sounds great, before degenerating into just another speed metal thrash. Their best song
'Blood junkies'
which may or may not get em noticed as it roams the speakers of their never world, sounds very good on record. Great vocal with chugging guitars. Followed closely by
'Shut The Hell Up'
with it's pissed off
"get Fucked, Shut the hell up!"
chorus was also one to look out for. They finish off with two bonus live tracks which shows the band can produce the goods on stage. This album is definitely a speedy release, clocking in at only 20 minutes for 13 tracks, so some of you may feel cheated or raped at the alter!!!
AVERAGE
I Used To Fuck People Like You In Prison Records
available from
Century Media Mail-order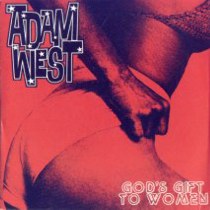 ADAM WEST 'Gods Gift To Women'
(067-2) CD August 2003
Adam West first donned their greasy overalls in early 90's Washington DC and are "garage" INC. What makes garage even worse is a shitty singer! Sadly Adam West give us the hideous semi-crooning rock outs of Jake Starr. Mr Starr by name and by nature most likely, sounds like he wants to front a Led Zepp tribute instead of these DC mechanics. Adam West seem to steal all their ideas and riffs from under everyone else's bonnet. Leaving us with a third rate history lesson. The ill informed out there may call it speed rock but its not that fast and reminds me of the dreaded UK 'pub rock' circa '76. This may send some of you vets into an oily kinda overdrive, but not me. I've never been a big fan of anything garage or pub rock or any of those other hateful wings of safe steady music. It' just too fucking rock 'n' roll, too predictable and too fucking bland for guttersnipes who use public transport. This could've been recorded before punk ever happened, it's that retro in feel and sound. Adam West (named after the 60's camp caped crusader who was lot more entertaining than these jokers) has more to do with mainstream rock than punk. Lead guitarist Dan-o Deckelman seems to be the only wasted and talented entity in this bag of grease monkeys. But to be fair they've picked up awards left right and centre from their local Washington Music scene and toured the States and Europe 3 times! They've also put out a phenomenal amount of records, something like 20 singles and 5 CD's!!! So maybe they're very good at what they do, but I'm afraid what they DO or their blinding credentials don't impress me. When Joe Strummer sang "were a garage band and we come from garage land" he certainly didn't mean this CRUD!!! 'God Gift To Women' is parked safely back in the garage revving it's motors but with nowhere left to go. I much prefer my punk rock going down the basement if you know what I mean? PLASTIC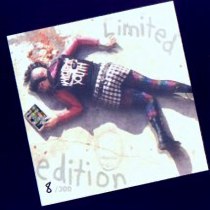 NARCOLEPTIC YOUTH
'How To Fake Your Death'
(LMR13813) CD Summer 2003
At long last the latest set of putdowns from these Carona, CA punks. A band who supply us with a sniff of the Dead Kennedy's, alongside the demented yuma of the Dickies in this their full on, energetic 2003 sound. Narcoleptic Youth have awoken from their 5 year sleep to bring us a well primed, wide awake new album. Lead singer Joey Bondage has slid into Biafra's vacant vocal slot with ease as they project 13 (unlucky for some) sonnets on killing yerself. Lawsuits look set to follow this album around like ambulance crews after a suicide bomb in Tel Aviv. 'Raw Nerve' gets us off to a ripping start on this anger management track before squeezing the brakes so Mr Bondage can inform us in his most snidey way..."She says I scare her when I act this way!" The geezer who supplies the inflammatory riffs is Binky and he knows how to create a song you'll remember. But this is a band effort, which songs like 'Visions Of Gun' proves, as it slyly borrows the riff from the Dickies 'Give It Back'. They slow it down a gear before turning it into a "crooked necktie" of a killer track that'll leave you squirming in the middle of the road at closing time. A lot of older punk vets reckon the new breed of punks today ain't got it! And I've been known to say it myself on more than one occasion, but with younger loose cannons like Narcoleptic Youth making a mess in the scene, that statement gets thrown off the nearest tower block!. Along with bags of energy NY have got an unhealthy supply of tunes to boost their use of props on stage!!! Props I hear you say?...brings to mind an element of show biz! Show biz being a cardinal sin in some devout hardcore punk circles, hmmmm they could be suspect? But ain't that what made punk fun and entertaining in the first place? So have no fear, coz NY adopt a slightly sinister vaudeville approach to their punk, leaving us with a deep-seated twisted kinda vibe. And for me that just adds to their appeal. They certainly don't bore ya to death with repetetive drones! 'Class Of 99' gets a reprise from their 2000 split 45 with another good outfit the Voids. This still sounds good, but comes with a bigger beefier feel and is way more streamline, as they sneer at the "blind leading the blind". You have to give Vet lead guitarist Binky another mention here, coz I can tell on this outing he's given the band a sound all of their own (despite some clever lifting here 'n' there). As 'Snot Nosed Brat' squirms into the playpen, a song aimed at the peers of the bands growing teenage punk audience. It could also be aimed at certain local club owners who have 'banned' em for attracting over enthusiastic audiences! Now c'mon, If a band brings in a crowd they're doin something good! Another snot nosed dose of punk is paraded on the bass driven 'Personnel Experience', that mirrors school shootings in subject matter. A song their younger audience can appreciate, but lets hope it ain't literally. 'Don't Belong' is the only filler track on this album, so much so even the band hate it and won't play it live ha! But although it lacks the presence of the other tracks some bands in the scene would be more than happy to have written it. However put alongside the superior 'Headcase' which is the killer track on this CD, there's a vast chasm. 'Headcase' features all the best elements of Narcoleptic Youth. It's got snotty vocals, sussed lyrics and some splendid arrangements..as we sit with Suzy in the back of the Malibu as she's rolling "back 'n' forth and back 'n' forth" guided by a riff that'll get ya sea sick if you ain't careful. Don'tcha just "love" songs about mad birds? Followed closely by the atmospheric 'Practicing For Suicide' showing the band can handle dynamics a lot better than depression. This stylish mid-paced anthem for the dejected is another reason to hear this set. They finally flip out and merge into the instrumental last track 'Leather Rinse Repeat', a track which has definite touches of the Subhumans (UK) when they go off on one of their epic guitar tangents...but wait there's one hidden 17 min. bonus track that sounds like they left the tape running in the studio as the band go into a major fuck around mode that has echoes of the Pistols/death metal/christian rock and rap. I won't spoil it for ya with the gritty details just get hold of a copy for yerself, only 300 in existence.Don't panic I hear more are coming soon. Come's complete with a side splitting cover and lyric sheet too.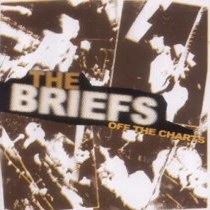 THE BRIEFS 'Off The Charts'
(zzz31) CD 2003
I was well impressed with these chirpy Seattle punks. I'd heard rumours about their explosive live shows via LA punks, and Joey Bondage gimme a wink in their direction recently. So here I am via Roy (Pogo Till I Drop). 'Off The Charts' is their second album and latest 11 track blast on the Dirtnap label. It's a very brief (23 minutes in all) devil may care but ultra addictive first encounter, and well worth your attention if you aint already been debriefed (couldn't help that one!-DC). From the quirky opening track of 'Outer Space Don't Care About You' to the black humoured 'Soozy' this hyperactive bunch of American fuck ups don't let up and entertain us with glee. Either 'whizz' in Seattle is seeping into into the main water supply or these hyperactive pogo merchants have more pent up energy than is good for em? Imagine a Yank Toy Dolls crossed with the Derita Sisters and your close. The slick addictive arrangements come with enough snot to keep em well outta the far safer and inferior Blink 182 scene. So please don't think for one minute these snot buckets are anyway similar. The Briefs are real, they mix the raw 70's with some sly environmental issues alongside just plain zany outbursts. Loads of tongue in cheek delivery's litter this album. Take the anthem like 'Aint It The Truth' with a cheesy guitar and gang core backing vocals. Some of the dumb vocals belie very witty lyrics bringing us crazy takes on the world today. The Briefs maybe seen in some pious hardcore circles as a joke band! But gimme some well played escapist punk any day of the week, coz this is just as essential in our audio diet as any bitter, true grit reality punk!!! These geezers are literally pissing themselves with superior tuneage and even throw in some rare Hammond organ spurts where required. Like on the unlucky in love 'Tear In Two' which sits nicely amongst that laid-back guitar and..."I met you on a Tuesday, you'd only just been released/ You told me bout your ex-boyfriend who was recently deceased!" The clever sarcy lyrics are dotted with yuma but beneath the giggles there's a real view on life which I think has more impact deployed in this way sometimes. I like a band who can take the piss outta of everyone, including themselves and their homeland. Their finest moment came in the form of 'We Americans' which should get em MTV circulation for all eternity, or failing that if George Bush hard it a cell in the same block as Al Qaeda suspects. This song is that good! I bet it's got the kids in the malls singing and their parents screaming. It's gotta be their anthem and one to be remembered for a very long time. The slow paced but moody 'Ludlow St.' shows another string to their multi-dimensional bow. It's sorta psychedelic in a Beach Boys meets 999 (circa 'Homicide') kinda way and stays in your brain. The Briefs maybe treading a well routed style made famous by the more pop punkers of lore, but these boys have still got the snot dripping off their sleeves and have enough amp ammo in their underwear to blow the chunks out the mainstream scene for a long time to come. Check em out NOW! US CONTENDER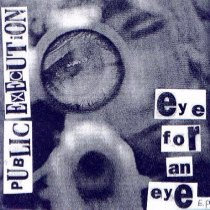 PUBLIC EXECUTION
'Eye For An Eye' CDEP 2003
Word had been spreading through the UK Anarcho ghettos about this new London protest punk band. And It just so happens I got this CDEP in from the Smoke, asking for a review in my old 'Spunk' newsletter. Well considering 'Spunk' bit the dust back in 1999 I hope a slot on Nihilism On The Prowl ain't too much of a disappointment? I love the name of this band, it conjures up that old punk spirit and shows a bit of imagination. However the bones of centention on this 5 track EP are aimed at predictable targets like Tony Blair, Religion, Holocaust et all. I don't think Public Execution are gonna make a massive dent on the scene with this their debut release. Compared with Active Slaughter who I suspect are close allies and the impressive Incitors...Public Execution have indeed quite a long way to go. But I suspect these will gain momentum as they play more gigs and tighten up the spiel. The sound they produce is basic heads down riffing guitars that slow down in places hinting at ideas in progress. The lead female vocals are by The Executioner, who will gladly take you by the hand to the scaffold, but needs a load more angst and attack to make us think she really means it maaan! A way more potent delivery is required to really propel the lyrics along. Best track for me was 'Funeral March', which breaks down between rifferama guitars and a bit of skanking, to give it more interest as state funerals get their come uppance. Also the energetic 'Why Does It' charges in at a close second. Comes with a striking fold out cover, which would've been splendid in colour, plus lyrics and graphic artwork depicting the song titles and the bands current train of thought. AVERAGE! For further information contact Spike, 15 Hale Rd, Tottenham, London, N17-9LB, UK.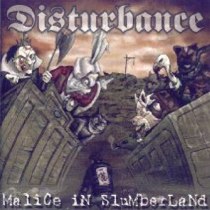 DISTURBANCE
'Malice In Slumberland' CD
(street0025) April 2003
By a strange coincidence I happened to meet up with members of Disturbance at Morecambe HITS recently. Rob Disturbance, the Mohican lead singer's attitude is fuckin spot on...a fucking good laff too. Disturbance deliver on 'Malice In Slumberland' 12 Rotterdam street punk standards. It's an enthusiastic debut album by a band who sound like they took the Anti from local heroes Antidote and mixed it up with some early GBH/Exploited workouts. They do give us loads of formularised hardcore duel vocal rants, sung with a strange West Country (UK) twang! But you can see in this formative stage that these Dutch fuckers are capable of so much more. The overall production on this record is clean and chunky, so full marks for that. However sometimes their well trodden hardcore attack leaves you feeling slightly cheated, but you have to stay the full 12 tracks to fully appreciate their sound. They do suffer from 'production line' pogo beats in their delivery, but like a lotta good basic stuff, Disturbance have a disturbing knack for creeping into your brain. Dim's guitar work looks set to expand with each release, so look out for more involved salvoes next time out. Songs like 'Generation X'' and it's applaudable statement of...."coz we live our life the way we want" is an in your face buzz saw fuck-off to authority. Another good un is the Ramones riffing opus called 'God Pulled The Chain'. This song drops a brick on all who stand in it's way. Disturbance who formed back in the mid-90's do have some good ideas to offer their rifferama guitar approach. They even slow things down incorporating some clever dropouts on songs like 'Live On To Decline' which shows suss. This is a band who ain't scared to be adventurous on their gravel coated snot, so they won't bore ya to death. Other songs of note are 'Constable Cockney', 'No Enemy' and 'Fuck Politics'. By all accounts they're sending the pulse ratings high for the new breed of studded Dutch punk hordes out there, so well worthy of your attention. I gotta say this ain't the early 80's no more and this album ain't offering a new direction for the 21st century punks, but if bands like the GBH/Exploited can still keep the crowds excited, then why not add some fresh blood to the scene? The packaging on this release is very well done. It comes in a neat cartoon colour package plus lyrics and pix of the band in action. WORTH A LISTEN!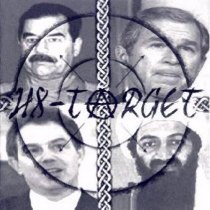 H8-TARGET Demo CD 2003
Latest hardcore noise merchants to emerge from the sunny glade of Kings Heath, Birmingham, UK. H8-Target have got that duel guitar and a heavy pounding sound down to a tee, complete with gruff tuff vocals and mid-paced workouts. First track and best of the bunch is called 'To The Brink', which has a neat duel guitar solo in the middle. I wanted to hear more of this but the band never quite captured that moment again. H8- Target produce predictable hardcore bordering on metal, which must be fashionable these days, coz there's fuckin loads of outfits out there all sounding the same. This genre seems to be BIG in the Midlands these days, but I'm afraid it always fails to ignite me. This debut 4-track demo comes complete with some neat samples to introduce each song. And the best one being the Charlie Bronson (Britain's longest serving prison inmate) voice over on the less impressive 'Living Hell'. Seems Mr Bronson has become a patron saint for the UK hardcore community of late. Funny thing is, if he ever got out of jail most of these cunts would run a mile, and I wouldn't fuckin blame em either! H8-Target seem a politically motivated angst ridden band, but who or what they're hating is lost amidst those bland sawdust vocals and metal core beats. 4 tracks was more than enough for me. This kinda punk don't really get me excited, in fact it's not my thing at all but these geezers play it well and it comes with a good production. So if your into hard 'n' heavy stop/start hardcore you'd like these. AVERAGE!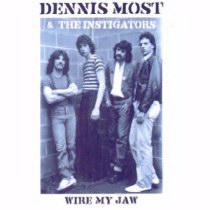 DENNIS MOST & THE INSTIGATORS 'Wire My Jaw' (ba1186) CD 2003
Despite the vintage era cover photos and those ridiculous moustouces, this late 70's American version of
the Instigators
is one of those albums that you'd expect to laugh outta the scene before you could say "prog rock". But here at Nihilism On The Prowl! I like to think we don't judge an album by it's cover. The recently recorded (2002) 'Wire My Jaw' session gets things off to a very good start and comes with a clean bright production. This album is dominated by power chord guitar workouts courtesy of Peter Poulos. He's a guitarist who over the years has thankfully shortened his over the top twiddling solo's in favour of more power which proves a big attraction. But this baby definitely belongs to chief instigator Dennis Most, who resembles a slimmer version of Hank outta
Turbo Negro
but comes at us with a slightly snotty Indiana nasal croon. The first 5 tracks from the latest incarnation of the band was the best on show. Songs like the energetic
'Tough Break'
, the atmospheric
'Cleareyed Man'
or the riffing monster of
'Three's A Crowd'
were good. But it was the album title track the cocky
'Wire My Jaw'
which shows this bunch of middle aged vets have still got a load more to grit to offer today's scene. Dennis Most is amongst other things chief songwriter, arranger and producer for most of the way. He maybe known to a few Americans amongst us as being in
Audio Love
who were kicking up a minor mess back in '76. And from that period we get a couple of live
Audio Love
songs, which suffer from way too much prog rock preening for my liking especially on
'Penetrate'
that had echoes of
the Stooges
but without the Ig snarl. However their driving
'Excuse My Spunk'
track reminds me of a Black Sabbath/
Dead Boys
crossover, which was a good. Maybe that's why it's a collectors item in underground punk circles? The album loses it's early appeal during the middle slump before finally picking up again on '
Gruesome Stories'. A
track where Mr Most's atmospheric workouts carry this gruesome track along. He's even got a Jim Morrison baritone on his vocal as it's chuggs on into the early 80's. By 1994 the band sound their most snottiest on the funny but ultra catchy
'Sex Is An Art form'
. Bu the screwy
'Don't Take Me For Granted Janet'
song has gotta be one of the most corniest song titles I've ever heard...it's fuckin hilarious! They end on high with the buzzsaw but poppy
'Fallout Shelter'
which owns a classic punk rock riff, complete with catchy vocals. The whole package comes with band sleeve notes by Dennis himself.
WORTH A LISTEN
for the recent tracks. Now available on the highly rated Californian label
Dionysus Records
. You can check out Dennis &The Instigators for yourself at
www.dennismostinstigator.com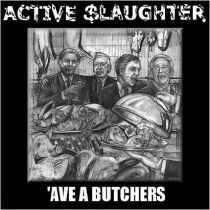 ACTIVE SLAUGHTER
'Ave A Butchers' (ACAB 01) CD August 2003
Finally released on the bands own Slaughtered Records 'Ave A Butchers comes complete with lyric sheet and professional colour montage artwork.This long awaited debut album from North London's angriest Anarcho mob since Conflict discovered Armarni is well worth a butchers. Although some of the 13 tracks on show require more fine tuning and touring to reach a more potent standard. You can only feel utter contempt for their targets. First thing you notice is their older songs re-recorded here have matured into a tighter more concentrated assault. Another thing 'Ave A Butchers' definitely succeeds on throughout is the anger! They positively regurgitate it!!! These fuckers are not a happy bunch of punks at all, but can you blame em in today's paranoid world. Active Slaughter's teeth are firmly clenched, and with guitars glaring we get a real street view on the state of the nation (UK) today. Maybe some of the targets are predictable with cruel Vivisectionists, corrupt Labour or hypocritical Religion taking the lions share. But this is a band who live it as well as preach it. First thing to hit home is the growing power chord sound JJ conjures up. This CD has really improved from last years debut single. The Active Slaughter sound today is a cross between heavy duty Sham and early Conflict, but with a 21st century skew. I like em best when they diversify in their rants. They have a very competent rhythm section (Trev and Joe take a bow), while their juggernaut sound rolls along. A knack that'll serve em well and give em plenty of scope to pinpoint future attacks. Jake's delivery is very potent, but I suspect he ain't given as much time to deliver the knockout verbal just how he'd like during some of the more blood splattered outbursts. The all out attack of the lyrics really do state the play, but could do with some slight cosmetic surgery just to flow more with the tunes. However this is a band who won't sacrifice their message for the sake of clarity. Not even for out of touch cunts like me ha! 'Macho Maggot' about bully's at gigs is one of their strongest tracks. Armed with it's semi skank attack it recoils into that big anti macho chorus. I was always one for a guitar sound where you can hear the slide of chord changes being made, it's gives em character. Next up is the atmospheric 'Labour Lied, Barry Died' about Barry Horne, the ALF martyr who died on hunger strike in prison. Barry gets a fitting epitaph as A.S. shine a spotlight on Tony Blair's bureaucratic deceit. Active Slaughter are a very British band whether they like it or not, so some of their rage and dialogue might go over non UK punks? Although this won't stop their utter disgust or contempt for the system sinking right in. This is an album full of big rallying chorus's and one to get you primed for direct action, no doubt! They know their stuff and know how to really turn the screw and expose the deception! Jake's gutsy attack is aided and abetted by JJ's duel protests, which makes for an incendiary package. But one thing missing, and more than noticeable by its absence is humour? We do get one laff from Alan Partridge in a sound bite introducing 'My Foot In Your Mouth' which was hilarious. But not a sniff of it amongst the songs? I've met Active Slaughter and I know they like a laff, as well as the next. But I think that's one thing they could maybe deploy more often in future. A bit of sly satire especially at the expense of the enemy, never done Crass any harm. Their signatune 'Active Slaughter' shows em getting more adventurous in their playing, with neat dropouts. This track gives each member a brief expose on their musical prowess. This is a band with no ego's over shadowing their prime directive...PROTEST! The straight in, no messin 'Rapist 666' adopts a thick, chunky guitar sound midway through, as we stand back while the duel vocals consider the best way to dole out the punishment to nonce cases (snigger). Whilst 'Pride And Prejudice' is a direct attack on British ignorance. This song boasts a nifty guitar solo, which gave the song a load more substance. Lastly 'Paedophile Priest' possibly my current favourite has a sinister clinical guitar lick that'll stick with ya as the sirens wail, the vestry gets ransacked and the clergy get defrocked! Say no more!!! 'Ave A Butchers' comes with a brutal production to match the hard-hitting sentiments. Although this may not capture em in a live setting, it's a definite progression in this bands sound. If I had these fuckers on my case I'd be very wary indeed. So take a look before we all get exposed! WORTH A LISTEN
MORE REVIEWS
ADDED SOON