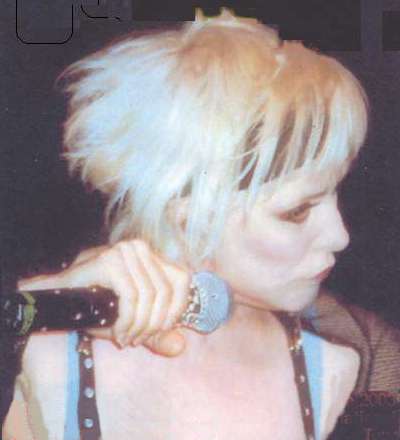 BLONDIE
Carling Academy, Birmingham
Saturday 15th November 2003.
Blondie may not be the force they were - what band would after taking 16 years out of the music business? But they showed their West Midland fans over the weekend that they always had much more to offer than merely the good looks of singer Deborah Harry.
In their heyday over 20 years ago the band outgrew their punk roots to embrace pop, dance and reggae and won a whole new army of fans. This was reflected in the wide-ranging make up of the audience at the Academy on Saturday - from middle aged executive types to teenagers who would not have been born when Blondie first topped the charts in 1979.
The band came on earlier than scheduled and their set ranged from early tracks like 'X Offender' and 'Rip Her To Shreds' right through to material from their new album The Curse Of Blondie. Harry, now aged 58, looked in better shape than the last time the band toured the UK and seemed more comfortable on stage too. The band seemed delighted at the warmth of their reception - and have already announced another UK tour for June next year.
Before becoming a star and household name with the 70s band Blondie she spent most of her twenties working odd jobs, including, secretary, cocktail waitress and Playboy bunny. She even rubbed shoulders with the Warhol set at club "Max's". Harry's first musical chance came when she recorded backup vocals on "The Wind in the Willows" a banal folk band, who recorded only the one album. In October 1973 Deborah Harry started both a musical and personal relationship with Chris Stein and the pair formed Blondie. And in 1977 'Denis' hit the number two position in the British charts. 'Heart of Glass' was Blondie's first world wide hit, going number one in both America and Britain. The group had several number one hits, including, 'Heart of Glass', 'Call Me', 'The Tide is High', and 'Rapture' which was the first commercially successful song featuring rap. But fame and success pushed Deborah Harry too far out into the limelight, with tensions causing the group to split in 1984.
PETER CARROLL (Wolverhampton, Express & Star)