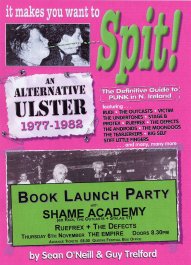 TERRI HOOLEY (tee hee)
THE DEFECTS SETLIST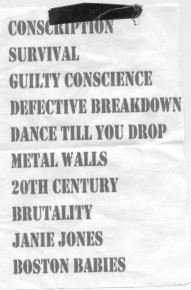 THE DEFECTS
(Buck)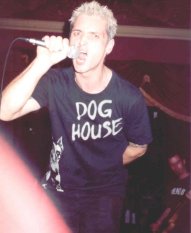 THE DEFECTS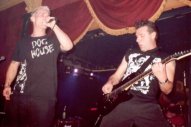 RUEFREX (Alan Clarke)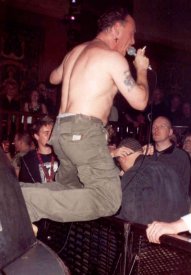 BRIAN YOUNG'S 'JT' AMP
$H@ME ACADEMY
(Brian Young)
$H@ME ACADEMY
(Brian & Greg)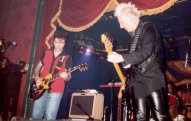 $hame @cademy
+ Ruefrex + Defects
Empire, Belfast
6th November 2003.
Well my past has finally caught up with me. Last year was supposed to be punks silver jubilee and that passed with a whimper rather than the expected roar, but this past year has been like some weird punk festival of remembrance with a number of retro punk gigs and a mini punk film festival happening here in Belfast. But the most important moment so far is the publication of the N.I punk bible "It makes you want to spit". The massive amount of interest and excitement around the event has created a real buzz that hasn't been about since the days when it really mattered to be a punk. Old bands have reformed and ex-punks not seen for many years have been turning up at gigs in ever increasing numbers. That book has been the kick in the arse many needed to realise what they have been missing and that there's more to life than watching TV night after night after night. The long journey reaches it's pinnacle tonight with this gig to mark the official launch of the book. By the end of tonight we all will be crying into our beer due to this overdose of good old punk nostalgia. Earlier there was a small swoiree for the invited few, which included contributors to the book, ex-band members, journalists etc. And of course the authors and publishers with free beer, which was greedily consumed before the 8.00 cut off, when we would have to pay before the riff raff were let in (I'm only joking by the way)...the free bar ran dry anyway. Shell Shock rock (N.I. Punk Documentary) was rolled out once again and shown on a screen. I've seen it a few times lately and I think I can wait a while before I see it again. A film on the Anarchy centre scene is currently in production using old footage from one of the Saturday's so I'll look forward to seeing that. An exhibition of photo images from the book accompanied by a soundtrack of N.I punk classics followed, which I enjoyed.
Tonight's bill is one I never thought I'd ever see the like of again. It features the recently reformed Defects with Buck taking a break from his other band Doghouse, Ruefrex some of who have recently been recording new material as the Black Taxi Ballads, but that's on hold for now as they have found that spark again and are back full time. And last but not least our very own punk supergroup $hame @cademy who headline fresh from their triumphant return to the live arena in Giro's back in September. In the weeks running up to tonight there has been a press and radio blitz to promote the book and gig, and going by this sell out crowd of 400+ including many veterans of the 1st (Harp bar ) and 2nd (Anarchy centre) generation punk wars, it looks like they are going to shift a lot of copies of the book. It does have the atmosphere of some mad school reunion with all the faces trying to identify each other after so many years. And that adds to the sense of this being a special occasion. They were actually turning large numbers of people away as the place was packed to capacity, such was the interest. Even the big punk bands visiting don't draw this many punters. There was more male hugging and hand shaking going on than you would see at a gay club, as ex-punks rekindled old friendships some after a 20 yr. lapse. I lost count by the end of the night of how many people I'd spoken to that I hadn't seen for years. First and most importantly though Sean (Spit book Author #1) wearing his village people leather trousers (ha ha! I told you I wouldn't forget mate) and Guy (Spit book Author #2) were introduced to the audience and received a well deserved standing ovation. Without their hard work this night wouldn't have happened! I missed this as I was taking a piss at the time, it was all that free beer, but I congratulated them both personally later on.
The show got under way with a surprise addition to the bill, Terri Hooley with a guitarist in tow. Terri who is a modest soul, not one to talk about himself (yeah right!!) proceeded to tell everyone how he was number one in the indie charts with his first song "Laugh at me" back in 79. And just for the craic he had a cardboard hat with the title on it. He looked like an arse and he threw the hat into the crowd mid-song and someone threw it back, hitting him with it. He did another song which at the end, he called us all bastards and said that he hated us all, then he threw down the mic stand and walked off! He was crap! Thank god he only did two songs, none would have been even better.
I took out my old knackered copy of 'Defective Breakdown' by the Defects earlier today, for the first time in years to blow away the cobwebs in my head. It gave me a refresher course to prepare me for tonight's performance, and they were great! The Defects were the perfect band for this show. They still looked reasonably good and have a full on attitude. Buck was clearly relishing being on the stage doing the old songs again, chatting to the crowd and the band were really tight. 'Survival', 'Brutality' which included the chant along "SSRUC!" for the first time that evening, and 'Dance Until You Drop', were just three of a brilliant 10 song set. They finished with the Clash's 'Janie Jones' and Slaughter and the Dogs 'Boston Babies', these boys know their audience and they gave them exactly what they came for, the Defects were excellent. Buck told me earlier in the evening, after a bit of reminiscing about the punk days and the overpowering smell of glue in the Anarchy centre at its peak, that this gig was a one off for the band! But I hope they change their minds and play again soon, as it will be a real waste and a missed opportunity to show they can still mix it with the best and cut it live if they just wind it up again.
Ruefrex were up next for a short and varied set. There was acoustic guitars brought on stage! I'm always wary when this happens with reformed punk bands, as it's a sure sign of maturity getting in the way of our last dregs of teenage rebellion, even if our teenage years are long gone as we attempt to travel back in time for a few hours, and they want to move forward.
But there was no need to worry with Ruefrex, as they are a powerful and intense band with a maniac front man. They were a good bridge between the Defects and $hame @cademy, adding a bit of a contrast to the bill. Jackie Forgie is a spit (excuse the pun) for Jake Burns, and could be his twin brother. Also Alan Clarke with his tough guy stance aggressive singing style scared the life out of the audience! He stood on the barrier and jumped into the crowd, then climbed up a small balcony, fell off, then got up and stood on the dance floor amongst them singing. They delivered one of the performances of the night with a double whammy of a ferocious 'Capital Letters' a personal fav and 'One By 0ne', it was fantastic! If your wondering about the strange name they were once many years ago called the Roofwrecks now you know.
And so to $hame @cademy. What can I say that I haven't said before? By the time they arrived on stage I'd had one drink too many, I was hammered and the set seemed to fly by. I was very impressed by Youngsy's Johnny Thunders sacred heart photo on his amp, as I was wearing my JT shirt, a bit of blasphemy never hurt anyone. It was the same set as Giro's...six Rudi, six Outcasts and eight songs from the Harp bar disco, and again each song just got better as the crowd got wilder. We were 100% behind them, the band were really up for it and fed off the crowds reaction and energy. They knew they could do no wrong, so they threw caution to the wind and put on a great show. There are no signs of nerves now, and they are playing with that swagger and arrogance that all great bands have. If $@ really mean it when they say that they will split after the book duties are completed, then tonight was the perfect time to call it a day as they will never play in front of an audience anywhere else who will give them the support they got here tonight. The band played a blinder. At one point me and Facer found ourselves in the middle of the dance floor with assorted ex 70's/80's punks. Spotted were the Defects and two local radio DJs, plus an NME journalist chanting "SSRUC" to Rudi's 'Cops', drunk and going mental like it was '78 all over again. It was surreal, but magic. Another mate Freddy slipped onto the floor and nearly broke his arse, much to his embarrassment and everyone else's amusement. After the bands had finished a selection of punk classics from everyone's record collections was played and was the perfect end to the night. This gig was definitely a one off! Everyone said their goodbye's and god knows if we'll ever see each other again like this, because there's no chance that it'll be repeated another twenty odd years down the line. I don't think it will happen again? A night like this, when everything just came together. Perfect planning or pure luck, I don't know? But I would love it to happen at least once more, it was great fun and it was of the best punk gigs that I've ever been to and I mean that! Everything was just right. Until they invent a time machine this was as close as it gonna get to actually travelling back through the years. I have an overwhelming feeling now that this gig was the end of the line for N.I punk. I don't know why but it'll never be the same after tonight. The book, and gig, perfectly brought the whole adventure to it's natural conclusion. So don't forget the reason for this celebration of our youth..."It makes you want to spit" So make a point of checking it out as it
really is worth the effort.
JOE DONNELLY 9/11/03.