Killing Joke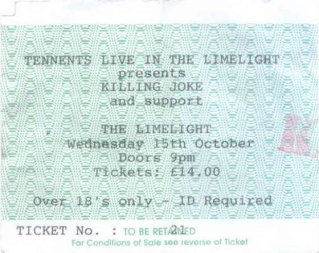 The Limelight,
Belfast
15th October 2003
I was having doubts right up to the last minute about attending this gig, not because I'm not a fan of the band far from it, but circumstances like the £14. 00 entrance which I thought was over the top for a club gig and the fact I had to be up at 06.30 am next morning for work, which meant I couldn't have a drink played a big part. I was arguing with myself up until 8.45 pm should I stay or should I go (cue the Clash!) when the nosey bastard inside of me scared of missing something decided to go to the gig and boy was I glad I did.
Killing Joke
were excellent! As I entered the club an older guy with a mop of black curly hair hanging below the rim of a Spanish bolero hat was walking towards me, as he got closer I could see it was Jaz Coleman. I said "alright Jaz" and he gave me a nod and said "hi" back, he then tried to get three female fans into the venue who were being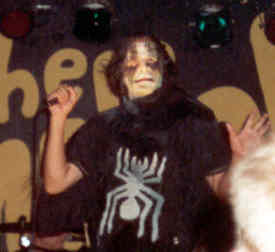 denied entry by the door staff. I went into the Limelight and had a look around to see who was here that I knew. There is a bit of a vintage punk resurrection going on in Belfast at the moment after a recent spate of gigs and the upcoming publication of the N.I punk bible
"It makes you want to spit , revisited"
, which has really put the feel good factor back with ever increasing numbers of original 70's punks and band members turning up at the gigs etc., and meeting each other for the first time in many years. Sean and Guy should be congratulated and deserve all the plaudits that are going to come their way as the book has given a lot of people something to look forward to and an overdue kick in the arse to get out and have a break from their domestic bliss/routine for a while. I met up tonight with big Paul Bennet a Harp bar regular like myself as well as Charlie Reilly and Colin Fletcher who were both ex-members of
Stage B
, Belfast's first and best gothic punk band, back when this term hadn't even been invented. All the aforementioned are ex-punks I hadn't seen or spoken to for a very very long time.
The support band whose name I didn't catch were one of those nu-metal type bands, very like the Deftones only not as melodic or good. Their songs consisted of long instrumental sections and loads of grunting passing for vocals. After the first song me and Guy Trelford (spit book co author) agreed with each other that this is awful, though some of the crowd seemed to like them so its really a matter of taste and this crap certainly wasn't to mine.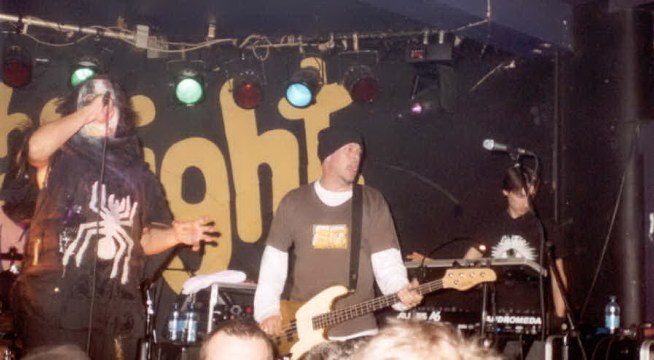 Killing Joke arrived onstage at 11.00 pm approx to a noisy reception from the audience, and launched straight into 'Communion'. There is no other band who can conjure up an atmosphere of menace and aggression quite like them. You need a course of anger management after watching a show. They can fuck up your head, such is the power of the music and the eerie presence of the band. Geordie, Jaz and Raven are three of the nastiest looking band members to ever grace a stage, with Jaz looking like an even more demented version of the joker from "Batman" in a monks hood. His face covered in theatrical greasepaint make up and a large spider print on his chest.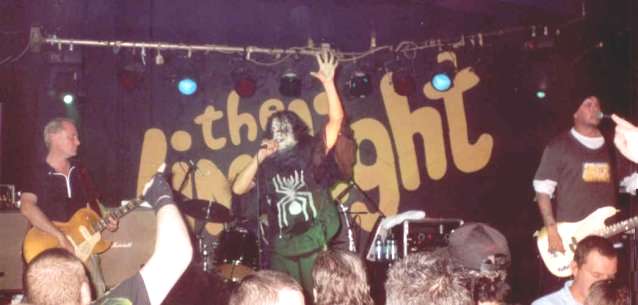 With the music pounding, driving him to another place and a psychotic state of mind going by the expression on his face, and the staring crazy eyes! I was expecting to see Youth back in the fold having returned from disco hell, but it was Paul Raven on bass looking like a really mean mother fucker as Geordie Walker fired of those riffs, chain smoked, talked to himself and drank through a straw!! While Jaz was lost in a world of his own somewhere else. The guy definitely has a crazy streak and watching him perform live it's easy to understand why he predicted world destruction in the 80's,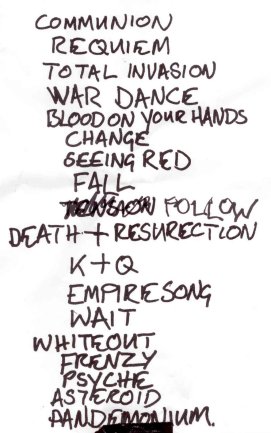 and went into temporary self imposed exile in Iceland, and eventually became a classical composer. He's a hypnotic intense performer and your just waiting on him to do something totally mad. The three KJ permanent members were joined by a drummer who I don't think was big Paul Ferguson or Martin Atkins, and a keyboard player who were both great. Again I didn't catch their names, sorry lads! I'm not going to pick out any particular songs have a look at the set list on this page, they were all good but the
'Wait'
was absolutely magnificent, the whole performance just fell into place during this song. The Limelight was packed, it was boiling hot and it was very loud! At times the bass was so low your insides started to vibrate. They finished with
'Asteroid'
and left the stage, only to return a few minutes later to encore with 'Pandemonium' but no 'Love like blood' which everyone was shouting for. You wouldn't expect anything less than attitude from
Killing Joke
, they do the opposite of what everyone in the place was expecting and leave the audience wanting. Their biggest hit and they don't play it, they sure don't do things the easy way. While it would have been great to hear old standards like
'Fire dances', 'Chop chop', 'Eighties', 'Love like blood'
and the rest, even with the omissions this was a top natch show! They got a great reception and they seemed to have enjoyed the gig going by the smiles all round as they left the stage for the last time. This band can still hold their own with any of today's young pretenders. They're definitely not a punk cabaret nostalgia act, but then again there's nothing wrong with a bit of punk nostalgia is there?
JOE DONNELLY