It took us about 3 hours to get to Londinium!, went through the usual places en route and then came upon the middle class haven of Highgate, we then did what all self respecting punks do - we found a picturesque cottage and pissed up it! (Our donation to Class War!) We found the Forum down the road opposite the off-licence and a pub (ironically called the 'Tallyho!') A quick chat to my mates Jake, JJ and Trev from
Active Slaughter
, who were lurking outside, a trip to the 'offy and we went in!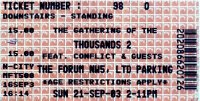 Despite arriving two and a half hours after the alleged start time, there wasn't the usual large crowd of miscreants outside - which was slightly ominous.
After an initial reccy around the stalls and some food, we ventured down towards the stage. Apologies to any bands on prior to our arrival. The first band we saw were Hedgehog, a dub band who were pretty damn good. Heavy duty dub with a real Anarcho stylie - they had that 2 am festival vibe about them. I can't tell you any track listings as I don't know any - but to have the audience skanking at 4 in the afternoon is a real achievement!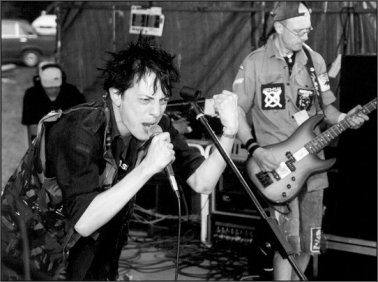 Next on were
Active Slaughter
- my favourite band at the moment. These blokes are the real McCoy, no ego's, no bullshit it's like being smacked in the face - real punk! Joe and Trev keep it solid at the back whilst JJ slams out riffs, machine gun bursts of guitar and additional vocals. Then there's Jake, firing out spitfire lyrics against such scum as HLS, the M.O.D. and Tony 'Bastard' Blair. The tracks which stood out for me most were
'Terroriser', 'Mash Up Tony Blair'
and my fave
'Smash HLS'
, (thanks for the name check boys!). In between songs they urged people to get active: fur demo's every weekend and the forthcoming 'Stop Primate Experiments At Cambridge' demo on Oct. 11th, at 12 noon at Parkers Piece, Cambridge City centre. Their current album 'Ave A Butchers' is well worth checking out as are their web sites -
www.activeslaughter.co.uk
and JJ's
www.londonpunks.co.uk
. This is a band that I support all the way and I suggest that you do the same!
The next band up were the Lost Cherees and they certainly lived up to their name - Their was a lengthy interval whilst some members had to be found! And this did impact on the general flow of the afternoon. To be honest I didn't really see much of them, I was mainly talking pissed bollocks to various people. These were not one of my favourite Mortarhate bands - the last time I saw em - was in about '84, gulp!!! But to my suprise, they held their own musically. So - I'll give em their dues - They were solid, but they were a bit of a comedown after Active Slaughter and the lengthy gap.
Next up were
Inner Terrestrials
. Fucking brilliant! These anarcho, tree huggers are my kind of skanking punk! Their version of 'Guns Of Brixton' is a classic. Paco is a fucking god amongst mortal drummers. These are a band that I'm just getting into - I've caught them a couple of times before and they've never failed to deliver yet! I'm going to get hold of their stuff and I'd travel to see em! Excellent bass player and a charismatic spikey topped front man doing lead guitar and vocals. Apparently their web site is being constructed as I write but in the meantime you can get hold of their stuff from
www.activedistribution.org
or E-mail them at
innerterrestrials@yahoo.com
A short interval and then 'the one and only' Blaggers AKA these rads do it! A real good sound, the sax is just right, a nice bit of anti pig, anti nazi music. Cable Street lives on in the Blaggers I enjoyed em through and through. There was much jigging about in the pit! I've only got a couple of Blaggers tracks but after seeing em live I've got a bit of catching up to do! Fucking good stuff.Another sizeable interval and a bit more mooching about, not as many stalls as the last gathering, nowhere near and the food wasn't even provided by 'veggies'. And I'd been looking forward to a piece of vegan bakewell tart grrrrr!
Next on were a highly dubious version of Disorder. Now I saw Disorder back in the day, and this was not them! No original members from what I can gather. I don't like dissing people who were actually making an effort for the old punk thing that I still love after 20 odd years! But the crowd were confused and they were pulled after 3 songs - they were shite - sorry chaps.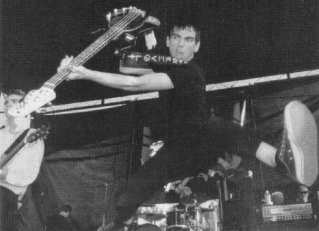 After much grumbling from older members of the audience who had been looking forward to the Disorder of old, we were given a real treat! There had been mutterings that
Anti-Flag
were not going to be playing, as their lead singer had broken his jaw - a reasonable excuse I thought, but no, these guys really pulled through! The remaining 3 members flew over for the gig and blew us away! They started off with an amazing version of 'White Riot' dedicated to Joe Strummer, which had the whole crowd leaping about. The place was mad, the floor was packed and there was much pogoing and slamming! It was the most energetic crowd of the day so far! Between songs - much anti war sentiment and their version of 'Die For The Government' was absolutely amazing - with much chanting and fists in the air. It was a real insult that these guys were only given 20 minutes after they had given so much! For info and merch. etc. go to
www.antiflag.com
. I would rather have seen a few more Anti Flag tunes than have to endure Disorder and the Lost Cherees fiasco! Thank you Anti-Flag.
A short recovery break - OK beer break and then the mighty
Subhumans
. After all those years they're still a treat. Such classics as 'Peroxide', 'All Gone Dead', 'Parasites' and 'Religious Wars'. Dick still has real class and real charm about him, Trotsky still on drums and Bruce and Grant still as solid as ever.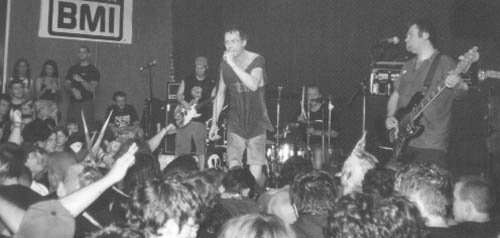 Dick ever the gent, thanked Anti-Flag for all their effort, the Inner Terrestrials for lending their equipment to the other bands all day and even thanked the AA man who had apparently towed some of the Subhumans to the gig. He even had the courtesy to ask "If any sleeping punks who wanted to see the Subhumans could be woken up! As that was who
they
were!" Ahhhh. When he introduced 'This Years War' he mentioned that it had been written when the Afghanistan conflict was ongoing. That it was still relevant now with Iraq situation and that he feared that he could still be singing it in 5 years time and that it would still be scarily relevant. The security were being a bit aggro at this point, and at one stage two bouncers who had hold of one young lad by his throat, had to be removed and restrained by other bouncers! Some stage divers (and attempted stage divers) were evicted! Apart from this minor incident it was a blinding set as always. They then finished the set with another three songs including 'Forget About It' and announced that Icons Of Filth would be performing after Conflict (I thought this unlikely - somebody else headlining a Conflict gig - that wouldn't happen nahhh!) Then during the interval, Dick rushed back on to explain that Icons Of Filth would be on next. (As I suspected!) Oh and the mighty Subhumans were only allowed 25 mins!
Icons Of Filth
are a real kick in the bollocks band! Still as dark as ever, with that twist about everything. A sarcastic mocking leer as lyrics are inserted into your brain! 'Death Is The Only Release' and 'Show You Care' were amongst the songs that we were treated to. Again the crowd went absolutely mental and rightly so. I only have 'Onward Christian Soldiers', 'Not On Her Majesty's Service' and a single from '84 but will definitely be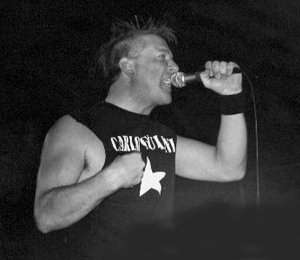 updating my collection. Pure class.
Conflict to me, was something personal, a band who changed my life, got me into animal liberation, hunt sabbing and hating the system as much as I do! Don't get me wrong, I love this band and always will, but somethings changed. I felt left out maybe even left behind. Musically they are as solid and angry as ever, but after 3 songs I had to leave as did my friend Tim who had supported Conflict years ago with his band Revulsion. The amount of choreography involved was scary, not what we expected from a band of this caliber . I didn't say a word in the car on the way home, it was something very personal, I was heartbroken - enough said.