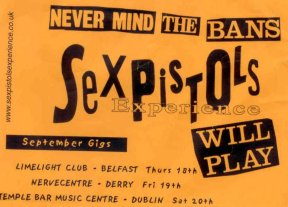 The Sex Pistols Experience
The Limelight, Belfast
18th September 2003
It's not really the done thing to review a tribute band but I thought this gig deserved a special mention. So here we are to see a Pistols tribute band as its now very clear that its very unlikely we will ever see the real thing in the now flabby flesh on this side of the pond. Back in 1996 they were due to play here as part of the Filthy Lucre tour at the Maysfield leisure centre supported by Iggy Pop, but so backward were the religious fundamentalist city fathers that they banned them, fuck me it had been a long time since the Pistols posed any threat and they're notoriety was long lost in the mists of time, but then NI has a long history of living in the past not the present so I'm sure the Pistols loved this rerun of 1976 in 1996, brought back memories. Now with old age and death ever closer would you really want to see them these days as Rotten is only a bitter parody of himself, he has now fully morphed into old man Steptoe constantly whinging but I still think Steve Jones is great, even though he's well past his prime he's sticking to the booze and birds philosophy he always preached.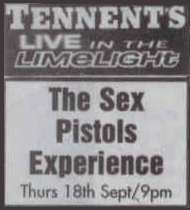 So back to tonight's trip back to the glory years. I checked out this bands web site before the gig and I have to say they seemed to have made the effort as they looked the part in the publicity photos, unlike the Counterfeit Clash who were here a couple of months back who sounded great but looked terrible, Joe Strummer with a full beard I don't think so, it wasn't even a goatee but a real Emmerdale farm job! It's one of those unwritten rules Punks and beards don't mix
(I second that - DC)
. The SP Experience are Johnny Forgotten, Steve Clones, Pull Cock and Kid Vicious. Irreverent comedy names and they sell merchandise with the Pistols original graphics and their own logo, cash from plagiarism!!! This is the first night of a short 3 date Irish tour that takes in Belfast, Derry and Dublin and tonight's venue the Limelight is located off the seedier back streets of Belfast city centre where the prostitutes trade their wares.
The audience was a mix of original 70's punks (me, facer and a few others) a group of middle age skins jumping around aggressively and shouting when a Sham 69, Specials and Madness medley of hits was played by the DJ, their wives must have let them out for the night and young punk pretenders who haven't a clue what real punk was all about.To be honest there wasn't a big crowd, the place was about half filled and I'm sure that was down to the rip off £9 admission. The Limelight should wise up and lower it's extortionite prices then maybe the place will be full in the future.
The band came on to an intro tape of spoken and musical parts from the Great R 'n' R Swindle soundtrack, Tona DeBrett, Talcy Malcy etc. and then blasted into 'God Save The Queen'. The first thing you notice is Steve Clones looks more like the DJ guy from the TV show Phoenix Nights, Pull Cock looks like the singer from Erasure and Kid Vicious looks about a foot shorter than Sid and doesn't really look like him but Johnny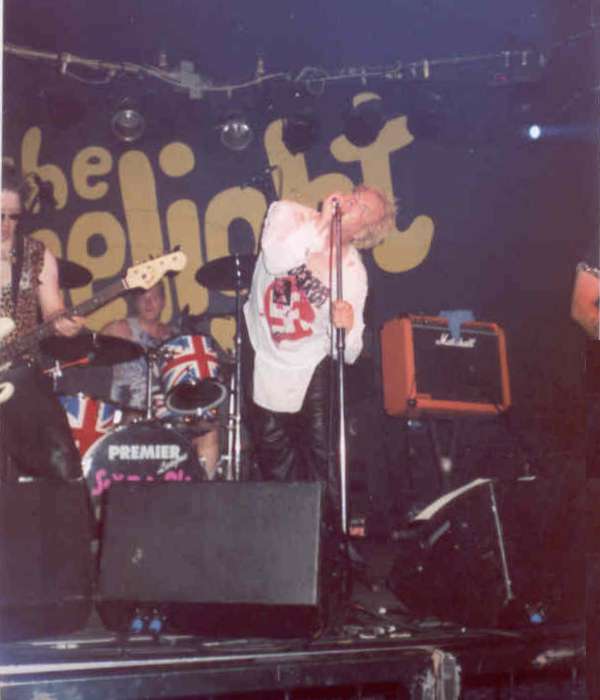 Forgotten is another story altogether. The guy is a button for Lydon, there were times during the show where you would have sworn Rotten was there in front of you it was scarey, this guy has obviously watched many hours of video and remembered Rottens moves and facial gestures he was excellent. Now I'm not criticising, no tribute act ever fully looks like the real thing but they are a very good band, they have paid attention to detail from the 70's repro Sex clothes down to the 90's union jack drum kit and the 'slag' guitar strap. The overall effect of the whole package is very good and they probably sound better than the Pistols did playing these songs all those years ago, it's more or less as good as your gonna get apart from the real thing. I don't need to go into the set list as I'm sure you'll know off by heart what they played, all the Bollocks LP plus a few of the early songs off the Swindle LP like 'Belsen', 'Substitute' etc. But no 'My Way' and I wish they had given 'Silly Thing' and 'Lonely Boy' a bash just for a change, but 'Anarchy In The UK' the powerful life changing song that it is makes everything worthwhile and reminds you why you got into all this punk rock malarky in the first place. So the omissions are soon forgotten, fantastic! It was interesting to witness what it would have been like to see Rotten singing 'No-one Is Innocent' as that'll never happen in a million years in the real world, though it's a crap song and could have easily been left out in favour of another tune. They finished the set with a long drawn out version of 'No Fun', not one of my fav's which dragged on and on and included a cover version of
Sham 69's
'If The Kids Are United' in the middle section, why I don't know but the ex-skins enjoyed it. The boredom during this song was eased by the sight of two lesbians dancing, kissing and taking their T-shirts off to reveal their black bras. And then that was that, they came back on and replayed a couple of songs as an encore. It was a very good show and I would have no hesitation in recomending the Sex Pistols Experience as a night out for anyone in need of a bit of punk nostalgia and for anyone else who is waiting on the Pistols to come and play in their town if they ever do as we've only waited here in Belfast for 27 years, but hey we've got
$hame @cademy
to see on Saturday night for some real authentic 70's N.I punk rock.
Joe Donnelly Belfast 19. 9. 03.