RANCID! RANCID! RANCID!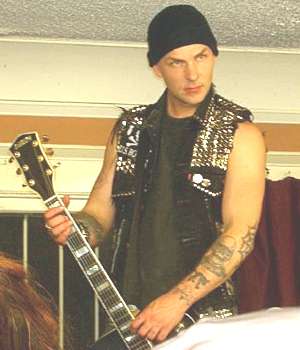 THE FIGHT
DEADLINE
September 18th Brixton Academy, London
Got to gig, just in time to catch last few songs of 'londons finest streetpunk!'
Deadline
. As I don't know too much about this mob, all I can really say is 'I fuckin liked em! (a lot!) They have a brickwall sound, good tunes, fine musicians and a punk diva 'Liz' on vocals. At one point, they were joined on stage by a class brass section, (blagged from The Filaments, I believe?) for one of the last numbers. This is what I call streetpunk/oi! Sorry I don't know more, but these are a band that I'd travel to see! To find out more about these herberts, go to
www.deadline-uk.com
Second on, were Dudley skatepunks
The Fight
. Again don't know too much about these guys, but again, good music and a class front woman, young and strong voiced. Not usually my sort of thing, but tonight they slotted in well. This is a band that will go far, they are well worth catching live, if you're into strong female fronted bands, (with a vaguely lavignesque appeal). Catch em if you get the chance.They are signed to fat wreck, and info is available from there and also at
www.thefight.co.uk
RANCID! RANCID! RANCID! Wot more can I say? This was the one, although I did feel that I should have been chaperoning half the audience, but maybe that's just me being a geriatric wanker! The build up was amazing, then on came Lars (to a massive roar) with a solo version of 'at the wars end', soon to be joined by: Timmy, in his ever faithful woolly hat, looking as if he couldn't give a fuck! Then came the greatest bass player in the world, Mr Matt Freeman and last but not least Brett Reed. The sound was amazing, after seeing many bands at this classic London venue, the place had never sounded better! They played classics; 'Maxwell Murders', 'Roots And Radicals' and 'Lock, Step And Gone', my favourite song of theirs had me pogoing (yes pogoing!). This was one of the best gigs that I have ever been to! Then Lars spoke words that made the hair on the back of my neck stand up, "This one's for Dee Dee, Joey and Joe, (my hero) they're here with us!" (Fuck, yes they were!). They then launched into the Billy Bragg no. 'To Have And Have Not' perfect! They also played tracks from the new album, such as 'Dave Courtney', 'Tropical London' (ska as fuck!), the single -'Fall back down' and a classic version of 'Deadbodies', from the last album. I'm not into arselicking and hero worship, but these guys deserve all the credit they get! An added bonus was falling asleep in the back of the car before we left london and waking up 3 hours later back home in Norwich! The only downside was the beer, fucking stupidly priced and tasting like shite!