Deaths A Career in the bowels of Digbeth...or in this case the HEAT!
Drongos For Europe
Disturbance
Dogshit Sandwich
False Idol
Friday 8th August 2003
Royal George, Digbeth High St, Birmingham
8pm £3 entry
First time for me in Birmingham's latest Punk venue (Royal George). And like all good punk venues it's set in the basement of this pub. But on such a humid night like tonight made for a very hot 'n' sticky affair! As I have to sit and endure half hour with a bar full of building contractors blowing their wages, I find my bearings and decide to go down into the pit of this venue and catch the young and eager bottom the bill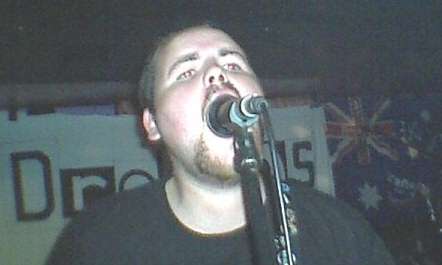 support band
False Idols
from Stafford going through the soundcheck. I tried not the embaress them too much as I lent on the bar right in in this tiny sardine can. I check out some flyers then spot lead screamer Tom Drongo out of Birmingham
Drongos For Europe
checking out the young proteges too. Well it was a bit hot to stay in the cellar makings kids feel uncomfortable so I retreat upstairs to hang around outside for some freshly polluted City centre air. There's a smattering of punks from various bands awaiting the arrival of more band members including Roterdam's
Disturbance
who still ain't arrived from yesterdays local gig, must've got lost?
Ross from
GBH
was giving me a few tour stories from their recent USA tour. Dave
D.T.M.
informed me Becca Puke (whose abscence was duly noted) was busy on holiday in sunny Spain. Another hello to Spock and Angie from Wolves who were also taking some pics and telling me tales of
Anti Nowhere League
who Spock is more than fond of.
Another rumour I heard on the Digbeth grapevine was
Dead Wretched
are due for a reformation at the Market Tavern someday soon! No hope for the Wretched eh! Talking of which
Disturbance
have just arrived with guitars and amps looking like mohicaned mercemnaries about to storm the citadel. I point em in the direction of the cellars and bid them good luck. P.K. from
Dogshit Sandwich
and sporting a GBH t-shirt told me they played to 20 last night, so I think they'll get a bit more support tonight we hope. Just at that moment Sam from
Dogshit Sandwich
arrives on her flurescent mountain bike that almost matched her crazy coloured barnet, Best entrance I've seen to a gig since
Torcha Shed
pulled up in a black cab!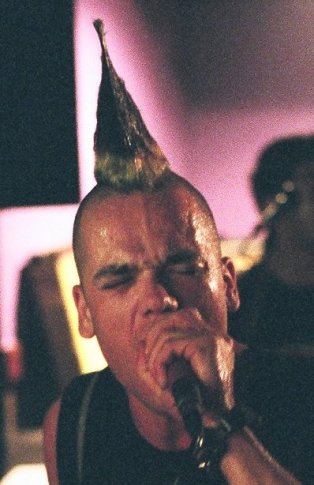 I hear rumours The False Idols are finally getting things goin downstairs. So after putting the sweaty jaunt off I reluctantly venture down to the depths into the raging inferno of the venue. These young energetic kids certainly have youth and energy on their side and look set to be more than capable of making a decent racket given more time. They're still learning their trade but they look more than capable of making an attempt at their burning their own idols who by the sounds of em are UK earlys 80's punk rock. The lead singer was decked out in a fetching customised Jesus Christ top dismissing the first of many Idols tonight. False Idols were first of a very similiar styled bill tonight. And anyone who can jump around in this heat needs applause.
Dogshit Sandwich were up next and gave Rich a break from door duties to take up his guitar. He and PK on bass front the band along with Second guitarist Sam. She's currently running for the record of being in more local punk bands than the current title holder...Stupid Bastard! I think there's only 2 members left in the Dogshit Sandwich line-up that I seen last time in Derby. And I gotta say they were very impressive that afternoon. However tonight lead screamer Rich was strapped behind a guitar so he couldn't confront his audience in quite the same extreme manner which was a pity. But they always seem to put on a fast hardcore set with duel vocals being the order of the day. They come in semi gruff form and ultra gruff! No choirboys in this combo. I'm still completely ignorant of any of their hardcore anthems but I'm sure that'll be tempered very soon.
Disturbance
representing Europe were up next, and were the main reason I came over after meeting em in Morecambe. Their CD didnt set me alight but I had to check em out in a live situation, and they didn't dissapoint. Rob the singer decked out in with the regulation mohawk and black
Disturbance
T-shirt is definitely the focal point of this band. Confident frontmen are few and far between in todays scene and they certainly entertained us. He's ably encouraged in their disturbing racket by some good riffing from the impressive guitarist Dim, who also sports a mohican. Together this band deliver tight Rotterdam street punk proveing to be a new hardcore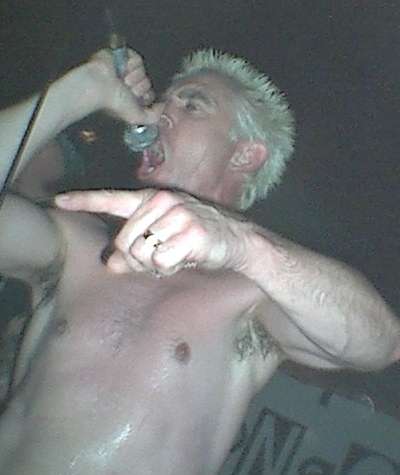 prospect if your into the
GBH/Exploited
wing of punk. Best tracks had to be the
Ramonsey
'God Pulled The Chain'
, the buzzsaw of
'Generation X'
or the impressive
'Constable Cockney'
which stood out off their album. They got a few more mohicans jumping up around before leaving the stage drenched as did all the bands playing in these blistering conditions tonight.
It was left for Brummie Vets Drongos For Europe to end the night and they certainly went out with a bang. Their banner draped across the back wall gave em the hometown feel, which the local crowd lapped up. I hadn't set eyes on this band since back in '83 at Digbeth Civic Hall, situated only a few hundreds yards down the street. So it was a good reality check for me to see how they've made the transition into the 21st century. They were a lot better than I was expecting, giving a fresh enthusiastic performace for the oldest band on the bill and no meanb feat. I'm only familiar wih their debut 45 'Deaths A Career' which I had been blasting out before I left for the gig. It still sounds good and in a live setting was great to hear. They played all their songs with gusto and Tom Drongo the blonde spikey lead singer shows charisma, he's still up for it big style. They were rewarded with jumping abandon as I dodged the pogoing splitbreeds of punks, skins and god knows what else? By now the copious amounts of lager were sinking in fast as I tried in vein to snap the bands and do em all justice. A jolly good end to a very sticky night!
PETER DON'T CARE