HOLIDAYS IN THE SUN 8TH ANNUAL PUNK ROCK FESTIVAL
Morecambe, England June 20th, 21st, 22nd 3003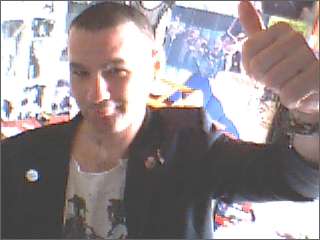 It's been 4 years since I last attended one of these massive HITS festivals, and I can't say I missed em! But being as this was the last year under the HITS banner, and my old mucka Paul K. from Bristol had booked me a ringside view. I couldn't very well refuse now could I? So I tag along to view the sun, sea and loadsa fuckin lager!!!!
(DAY 1) Friday June 20th
As I board the 1:20 train at Wolverhampton station on this hot Friday afternoon, I had a giro, 4 cans of Carling and 3 Brazilian bottles of god knows what? The bottles were just given me by the gaffer of the Posada pub in Wolverhampton. So life was looking good and I was in high spirits at the weekend ahead. Hanging around on train platforms is guaranteed with the British rail system, but just as the Lancaster train pulls in and only 5 minutes late!!!! I was approached by a kid who I vaguely recognized.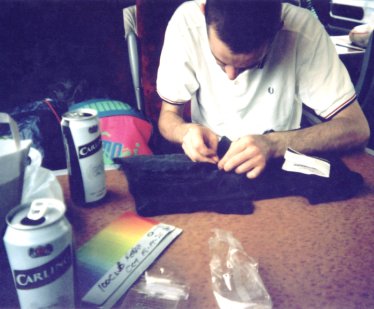 The geezer told me his name but I forgot? So he shall be known as
the Tailor
from Stoke. For some unknown reason he's picked Wolverhampton as his new base!!! I'd seen him previously at the
Penetration gig
earlier in the year, so I guessed he was heading for Morecambe too. Well it didn't take a detective to deduce, coz he was carrying what looked like a 6 month expedition's worth of gear, complete with tent, sleeping bag and even a needle and thread! I thought to myself thank fuck I ain't camping out. And compared with my trusty black holdall which was more than enough for me, I felt positively lightweight. We swopped anecdotes on the punk scene and the bands in general as two travellers do in these situations, then boarded the packed Glasgow bound train. Luckily we manage to secure a table seat. Which was even luckier for the
Tailor, coz he immediately proceeded to pull out a ripped pair of trousers with the arse hanging out, and from now till we hit Lancaster he diligently sowed a patch on em, inbetween swigs of Carling. As the cans were despatched we hit Lancaster within a few hours. I traded the Tailor the 3 bottles of god knows what? for a couple of joints as we wait for the 10 minute shuttle train to take us to Morecambe. The shuttle was full of young American/UK spikey tops and even some joker in a Vikings hat! The only familiar face I spot amongst the throng was Noel Martin the drummer from
Menace,
who were playing the Platform stage later that night. As we arrive in Morecambe at about 5 o'clock, the last can of Carling gets deleted and I'm starting to feel merry. I leave the Tailor to his own devices, talking to some other punky camper and try and find my bearings. As I watch the latest intake of punks fuck off to wherever they're heading. I seem to be the only cunt who dunno where's he's goin? My reception party hadn't materialised, but luckily I had
Paul K's
(my HITS Bristol liasion officers) mobile phone number on a piece of paper, so give him a bell from the phonebox ( I don't carry mobiles). Naturally he's busy sinking pints in the boozer (The Ranch). He proceeded to give me directions to the current watering hole...."straight ahead and turn left". So I proceed with a sudden thirst and the sun beating on my back. As I hit the sea front and turn left amidst a steady stream of punks going in either direction, it felt llike I was in Punk Town!!! As you walk past them they look or nod with a smirk on their face.

Just so happens one of these punks was Billy the editor from Belfast's premier punk zine
Riot On My Own
walking towards me. I recognised him from the mug shots he prints of himself in his zine. So I had to introduce myself much to his dismay! Maybe it was the Wolvo accent or the drink, who knows, who cares? After the first of many handshakes this weekend he diplomatically pretended to know me (snigger). If ever anyone reading this ain't seen a copy of his FREE zine yet, just get one you'll be in stitches at the dry Belfast humour. At long last I spot the Ranch, set back from the main drag with gangs of punks secreted on the tables outside. Last time I darkened this boozers doorway was 4 years ago and it was a 'pound a can' (Red Stripe) but now was £1.75 for Carling? The cost of inflation here ain't too bad is it? I scan the room and spot Paul K. decked out in a black suit jacket, minus 3 stone in weight and with his bleached blonde Mohican. He was sat with the rest of the Bristol contingent about 10 of em in all, plus two Sex Pistolfiles he went to the US with. They had all arrived the previous night so were in party mode. We begin as we mean to go on in session catching up on numerous escapades, dirty deeds and scams. I was shocked to see
Bungle
(AKA - Ian Ashman - Bristol guitar slinger and legend in his own back garden) with a spiked main!!! You maybe thinking what's shocking about that, well lemme tell you this it ain't bad for a geezer who's lost the rest of his main to the ravages of time tee hee. Having already downed 2 pints in the Posada (Wolves) and 4 cans on the train I was starting to loosen up taking in the atmosphere. But my biggest concern right now was getting this fucking bag stashed safely back at the hotel. I knew given another hour or so drinking id loose the bastard. Luckily for me
Andy
(
Punk's Oxo
zine
editor and ex-lead singer outta Bristol's early 80's combo
Illegal Influence
) was heading back to the hotel, so he offered to take my bag with him, but not before I secreted a taxi fare in his hand. Yeah I was that desperate!!!! Well with my hands free and money burning a large hole in my skyrocket I was ready to rumble.
We make our way down to the Market Arena or the cattle market in a previous life. The cattle these days were hordes of punks from all over the world. This was the punk epicenter of Morecambe life for the next 3 days and nights. The grass verges outside are teaming with punk life in every shape or form....The good, the bad and the very ugly! Immediately outside is the booth where you queue for a few minutes to exchange your Orange tickets and get those precious pink wristbands that gave you access to all 4 venues. Once I got processed and branded like a black country Heifer, you can join the fast flowing queue into the main arena.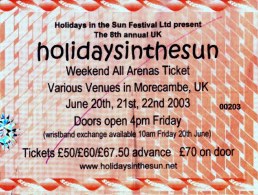 First band of the weekend for me was
Vice Squad
, which was pretty fitting coz of the Bristol connection I was drinking with, but also coz of someone who blew these off the stage some 6,000 miles away. Yeah Beki Bondage was never gonna be no match for Mish Bondage (
Sado Nation
) but she's about the only pull in this band these days. She does still look good for her age in a short mini and fishnets, and certainly got the young hot blooded spiky tops up the front craning their necks for a piece of the action. But something just didn't feel quite right? She sang the songs like her old self on the oldies, which their set is primarily based upon, but the new ones just don't cut it. Especially with those metallic overtones her band seem primed to dish out. And when they done a pathetic cover of the
'Ace Of Spades'
that was it! Maybe I'm set in my ways, but it had a cheap feel, you could tell they were going through the motions. Miss Bondage proceeded to stick the microphone in the young eager punkers faces who screamed back with glee above the barrier to
'Stand Strong Stand Proud
' which was a standout, along with
'Last Rockers'
. I'd finished my pint by now so I nonchalantly lobbed an empty 'plastic' glass which pirouetted through the air just missing it's target (the long haired guitarist), and made my way back to the bar. By this time I was staggering around a pretty full auditorium but not crammed. I didn't like the feel of the Market Arena much, it was too gloomy, too big and the acoustics reminded me of the Queens Hall at that Christmas on Earth bash years ago. But with daylight still beaming through the rafters it was OK for a punk festival at least it was in doors. More pints in plastic glasses get consumed by the 6 ft high bar that was built to auction off cattle, not serve pissed up punks. I turn around to glimpse the stage and the
UK Subs
are goin hell for leather. Gotta say this was one of the liveliest performances I seen em play in maybe a decade? Maybe it was the Carlsberg lager or the exciting first day buzz of an event like this? Whatever it was,
the Subs
seemed to go down a storm with the crowd, as they dispatched a long list of classic
Sub
standards.
Can't remember much about what happened next? I vaguely remember lurching across the road to the Dome to see Sick On The Bus maybe? Well whoever it was I never quite made it inside the venue? All I can recall is sitting outside the Dome on a wall with a joint in my hand watching some gobby bird with a massive black eye going off on one. Who cares I was stoned. After losing more time than a serial alien abductee, and also losing the rest of the dope. I regain enough composure to stagger back into the Station pub for a few with Paul K., we spot Max Splodge holding court around the a tables. By this time It must've been about 1:00 coz we were just in time to see a very blurry eyed glimpse of the Damned. I think the Captain had some sort of Dennis The Menace jumper on? And Dave Vanian was sliding around the stage like a slick python decked out in regulation black? They sounded OK to this drunken lout, but at this stage of the evening I think a set from Blink 182 would've even got a half hearted pogo. Before I knew it, it was over and time to see where the fuckin hotel was? Not a good idea if your pissed out your head, with no key and no address? It was looking like a cold night in the bus station till I bumped into Paul K again.... sanctuary!!!! We made our way back down the sea front to our abode. Our room was situated on the top floor, but I was just glad to get my head down for the night anywhere. While Paul K. was busy decorating the bathroom, and me not being able to hold out much longer, I took a leak in the bucket and fell asleep with my clothes on. Next thing I know it's breakfast!!!!!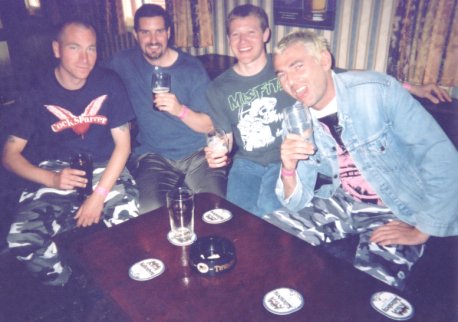 (Day 2) Saturday June 21st
Up with the larks.... well 8:00 am actually, so in a blind panic I rush downstairs still half cut anticipating missing the breakfast.
Paul K.
was asleep taking special care not to sleep on his beloved Mohican, which was still erect! I was hungry and determined to get some food down my neck despite sinking a gallon or two the previous day. Only Bungle made a show plus a couple of the Bristol contingent. Once the Full English breakfast was consumed I went straight back upstairs and found my bag outside Andy & Bungles room. Bungle wanted the shots I bought along of the
100 Club Punk Festival
and gimme a fiver for em, which was handy for my rapidly diminishing lager funds. At long last I managed to get a decent wash and a change of clothing, plus I emptied the bucket of piss (snigger). By this time I was ready to set off on today's monster marathon session. No sign of life from Paul K. so I arranged to meet him later at the Station. Must say his representation of Bristol in the drinking league was floundering tee hee. I also managed to cop a spare key from the Hotel in case I lost everyone, which was a result. Fucking hell its like gaining entrance into Fort Knox at this place. It was good to step outta the hotel, breathe in the fresh sea air and with money in my skyrocket. It was approximately 10:am and I'm in search of Eldorado or as luck would have it, the Oyster Bar on the sea front which opens at 9:00. This sleepy bar with a dog lying on the carpet became my first port of call for the next 3 mornings. The friendly locals helped me acclimatize especially when they informed me I just dropped a fiver (Bungles) which was very fucking honest of em! Now that's something which is inconceivable in treacherous places like Wolverhamton...cheers Mr. As I'm sitting in the bar watching the world go by and the Bristol contingent are still snuggled up in their beds, the first pint as always was a struggle to go down but I was in no rush. The punks are starting to make their presence felt on the sea front as I spot Day-Glo haircuts pass by the open door. I soon drink up and move on down towards the punk epicenter familiarizing where everything is for my return journey. Further on down the road I hear punk rock blaring out from another bar which looks promising.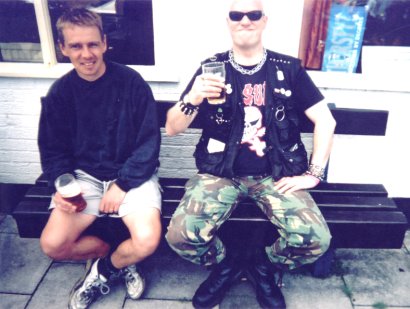 Who should I spot outside but
Tidy
and friends sitting on the benches, which were decorated heavily by bloating middle aged over weight punks Ha! And not a teenager in sight! Tidy for those who don't know him, was originally from my home town but now lives in Shrewsbury, UK. However he's still an ardent Wolves fanatic yesssssss! I couldn't resist but have one with him and gloat over our Premiership promotion which makes a fuckin change! Just as I find a spare bench to squat whilst necking my pint in the sunny climate. I suprisingly spot Andy Oxo and Bungle walking past. Andy was up for a drink but Bungle panicked it was too early and scampered off in search of some Johnny Thunders bootlegs.
We have another before deciding to hit the Carleton, which as it turned out was the best venue of the whole lot, small stage, great sound and sticky carpet. It was tucked up away down past the Ranch. I think i may have seen
Apocalpyse Babies
but the jury's still out on that one? They're good anyway, so give em a perussal if you get chance. I like these small intimate clubs without a barrier in front of stage and it was here that
Capo Regime
from the Isle Of Wight
put on a fine set. No much audience participation but they drew more in as time went on. Lead singer was good and put in a good effort. I nearly come to blows with this mohican who despite having about a 20 ft perimeter to play in had to fucking knock everyone who wanted to see the band coz he was hard! I pushed him back as he careered into my pint just letting him know not to mess. I decided to stay in here for a whle as it had the best atmosphere to see bands (despite Mr Mohican) and the bar was easy access. Next up were the
Swellbellys
which begs the question...why are most vegetarians fat bastards? I wasn't expecting to like these at all, but when you got a singer whos crossed between a tattooed maouri and a Midlothian pisshead you have to take notice. The sound is ultra fast hardcore with an
Exploited
bent which wasn't that good but the lead singer kept everyone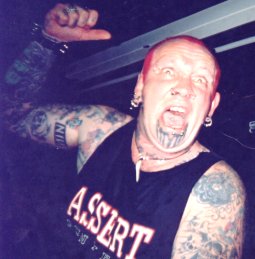 amused with some witty between song banter. Next up were Italian skinhead combo
Reazione.
I think Andy was here to check out the blonde skinnette bassplayer, I know a lot of people were. The band themselves were very pedestrian, an almost wooden bunch. So tell me, where's all that Italian passion?!
I drink up and leave coz I had an appointment to see the first US band of the weekend down the road in the Platform. Defiance from Portland, USA are my old mate Tim Trouble's (Statch And The Rapes) favourite band ha! So I really did have to check em out for meself (adopt a sly grin). There's a good crowd in the Platform and despite massive queues for the toilet, the bar was easy to access. Defiance come on dressed in black with a duel mohawk vocal attack. They look the part amongst the bright surroundings. I get a beer and went down the front for a closer look. They were actually better than I expected from the tinny sounding 'No Future No Hope' album I got on tape. However this is the band that threw beer on Sado Nation's Mish Bondage which is sacrilige in Portland circles and the Wolf's Lair!!! So it calls for a responce. And together with their song 'AntiSocial' I just had to empty the half a pint of Carlsberg I had left over lead singer/guitarist Mike Aragorn...shouting - "that's from Mish!" I get a shocked glare from the ogre and no doubt a few fucks backstage, but what goes around comes around. As Defiance left the stage, I went to get a fresh pint from the bar and 3 snooty American punkettes who were standing on stage left, asked me why I threw the beer? So I told em exactly why, and they either couldn't understand my brogue or didn't believe me. Oh well I'm sure I reafirmed my status as being a low life piece of shit on the bottom of their trendy Dr Martin footwear....but you know what, I don't Care! Biggest suprise of the day came when the Expelled hit the stage. What a transformation!!!! I think only the rythym section were the only original members left, so no big fat Jo (the Leeds Bodacea) nor even Jewlie the schoolie? What we do get is a slimlined dyke fronting em. She made all the songs sound "indie". I thought I was watching sporty spice fronting a covers band for a split second...very dissapointing!!!
After that debacle we went in the Station to chat to Biff (Sick On The Bus) and Max Splodge. Then back in the Arena we went to catch the end of 999. I bump into Bill (Riot On My Own) again, who thrust a copy of his latest zine in my hand (cheers Bill) The next few hours became the usual blur. Outside on the grassy knoll affectionately now known in the Wolf's Lair as 'Crusties last stand' it was as packed as ever. Hundreds of punks sitting, eating, smoking dope and generally pretending to be peacocks, but no signs of aggro at all. There were a few really great visions mostly young Mohicans, but there were also a load of very old soiled looking relics which I'm sure I probably came under. I spot Becca Puke, Jemma Puke and Dave DTM outside feeding their faces. Becca (Puke fanzine) complete with the classic '77 look of felt penned suit jacket, school tie and panda eyes was probably the only punk who could carry it off all weekend. I suddenly realise as I write this up, I don't think I seen one bands set from start to finish? It's virtually an impossible task. Caught the last half of the G.B.H.'s set in the Market Arena. I gotta say Colin has aged very well, still looks the same in his zipped up motorbike leather as he did down the Cedar Rooms 20 years previous. He's gotta be the Peter Pan of the early 80's punk scene and G.B.H. did not disappoint. Big stage, small stage or back room of a pub, they are very professional indeed. Big Graham from Brum done a guest slot on 'Gimme Fire'. To finish G.B.H. do some serious damage to 'White Riot' I lose Paul K. who stayed to watch Anti Nowhere League. So I follow the Aylesbury tribe next door for a great rendition of TV Smith with the Geordie's 1977 backing him. TV Smith takes us on a nostalgic but splendid ride through the Adverts classics. No acoustic shit this time, no one man show, this is how it sounded back then. He's finally got a band who knows his songs and know how to play em. In fact it sounded fucking great to these ears. This geezer maybe an old grey-haired stick insect, but with a real band and his neat stage presence he can outplay the best of em, and the songs are all virtual classics. He done a crazed Indian dance-come aborigine initiation jive during the solos which made em even more potent. Highlight from my recollection was 'Bombsite Boy' ....."leapfrog over fences, little time, less senses" and of course the late '77 anthem of 'Gary Gilmores Eyes', which got even the security singing along. Just as TV was leaving the stage meet up with Paul K. again who dragged me off to see the last of The Vibrators (literally) down the Carleton. One Way System were on next but it was a bad move, coz there was no Lee Havoc gobbing off to all and sundry. What we got was the tattooed very iffy Telford geezer outta Assert fronting em. Talk about creative license, coz all we got was a set of Assert songs instead Fleetwood classics like 'Gutter Boy'. If there were any One Way System songs to pick amongst the leftovers of the set, they were completely eradicated in a thrashy stop/start mess. No matter how many times you jump off a drum kit it won't wash, so come back Gav White all is forgiven. Then on the way back to the Arena we meet up with a bullshitter from York who we met here 4 years previous. He recognizes us as we were sat on the wall having a Burger and the cunt scrounged one from us just like he did 4 years ago! We round the night off back in the cattle market watching a bunch of old West Ham fans called Cock Sparrer conduct a mass rally of pub singalongs. This band look shit on stage, but whatever they lack in presentation they can sure make up for in cracking anthems. And they certainly keep the testosterone skins happy, who were taking their tops off growling at punks (and Us), just waiting to jump any cunt who eyes up their bird. I still think Cocksparrer are way overrated compared to performances like TV Smith's earlier set, but maybe I'm partial? They gave out T-shirts like big friendly uncles, sent none aggro messages out to the nutters in the crowd and milked their encores to infinite degrees. Songs like another cover of 'White Riot' (dedicated to Strummer) and their crowning glory 'England Belongs To Me' which was sung by every cunt in the auditorium including the Japs, Europeans or Yanks was a sight to see and hear. Surely 3,000 people can't be wrong, can they? Well it was goodnight from Cocksparrer for another year but for us it was Bath time. We end up down the Bath Arms and listen to the Punk Juke Box till gone 3:am when they chuck us out. As were staggering down the sea-front we spot 'Little Reggy Holdsworth' (Nick from Blackpool) in another Boozer that's still serving!!! So we go in there for a couple and then at about half 3 fuck off to the hotel. What I learned this weekend about these festivals is they're such a hit or miss affair. You walk in and out of arenas like revolving doors. It's so hard to take in any one band before your pint runs out, and then it's back to the bar where you meet an old face from the past or get lost looking for the toilet once more and find yourself in another venue. Inevitably you never get to see all the bands you wanna see but I spose that's part of the draw, something for everyone.
(Day 3) Sunday June 22nd
Everything is started to wind down today. Only 3 venues to contend with. As I sit outside bar #2 with Tidy yet again, someone hands us a flyer with a big pair of tits beaming out. Were tempted to go and check out Haggis? who apparently have some strippers baring all. But it's gonna take more than a publicity stunt to tempt us from our drink, and it being 12:30 on a Sunday morning were rooted. I needed to relax with a lager in my hand outside a bar which was playing punk rock tunes on a Sunny day, know what I mean? Spot Mike Aragorn again buying some punk records from the stall down the street, and still wearing his beer soaked shirt... now that is Punk Rock tee hee. Me Paul K. and Andy Oxo head down to the Bath Arms again for a couple and the brilliant Jukebox, amongst others we play Sid doin 'My Way' ha! Only recall seeing two bands today although Beerzone were in the running too. Reason being, there was a beer tent outside the Station which was serving everything at a pound a pint all fucking day!!!.... so that was my excuse and I'm sticking with it!
By now I was on my own again. I did manage to catch the best 'newish'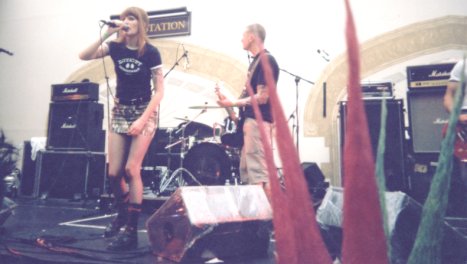 band of the festival called
Deadline
from London. They been going a few years now but this was my first encounter and I was well impressed. These are a great export for any of you yanks reading this, so check em out pronto. Great skinnette singer (Liz Rose) who can actually sing with some passion, amidst a heavy barrage backing of streetpunk. Confident stage presence gives the songs a memorable feel amongst the lesser and way inferior acts they're lined up along with today. Pure entertainment is
Deadline's
name and if they're as good on record as they sounded in the The Platform this afternoon I wanna hear. They finish the short but sweet set with an encore of '
Sheena Is A Punk Rocker'
.
Meet up with Andy Oxo and decide were gonna go for some Stella inside the Station Bar
(which had took £20,000 the previous night behind the bar
), so we head inside to chill out. It turned out to be a funny experience as we watch a passing throng of punks come and go. One kid from Sweden was eating the leftovers from someones meal. Teenage waifs and strays from the US came and went, then these young punks from Rotterdam, Holland came over and asked Andy for a light. I ask the Mohican who's sporting a black
Disturbance
t-shirt and dressed like an undertaker wheres he's from? It turns out he's
Rob
from
Disturbance.
It just so happens I just had their debut CD
(
see Reviews
) come in, so we got talking about the band. We have a few laughs swopped some mad tales and I nearly crushed the cunt when he tried to pick me up and we fall over in a heap. Rob was a funny character and I'm hoping to catch
Disturbance
live when they play Britain later this year? Also seeming to be out for a good laff was Biff outta
Sick On The Bus
steaming drunk by the bar jumping up and down. Pity I missed em in the Dome on Friday coz on this performance in the bar I'm sure it would've been memorable. After a few Stella's I head out for the long ropey walk to the beer tent bar and bump into
Defiance
for the 3rd time!!! I couldn't help but ask guitarist Mike Aragorn and the co-singer about the beer throwing incident regarding
Sado Nation
. Of course they denied it, but I think we know the real score. His co-singer said
"hey are you the guy who threw beer on us?"
I said
"yeah"
expecting to get a Portland maul, but I think the big guy and his crony realised what's good for the goose is good for the gander. I spot Charlie Harper of
UK Subs
signing autographs, and a rare sighting of Bungle and some more of the Bristol contingent sitting in chairs on the breezey lawn. I took a shot of em I think? Oh yeah the reason the band shots are very few and far between in this piece is coz I can only take shots of the bands with two hands free, so holding a bendy plastic pint most of the time, made my camera action less than infrequent. Plus I kept forgetting grrrrrrrr!
Paul K. resplendent in green
Pogues
t-shirt went to the Dome to check out
Shane McGowan
, who apparently sat through the set plastered tee hee. Must admit by this time I was plastered meself, not being used to Stella's potent texture. My Sunday was bought to a virtual close (bandwise) by a vague Stella induced sighting of
the Business.
They were probably great considering half the audience got up on stage at the end to singalong to
'Drinking And Driving'
which I think is probably one of their shittiest songs ever. And compared with the streamline but superior
'Suburban Rebels'
and the yob anthem of
'Harry May'
which they knocked out earlier with drunken precision, it was a bit of an anticlimax. However this was probably a fitting and fond farewell to HITS as we know it. Which ends today, but will be back again next year with the same setup probably the same bands but under a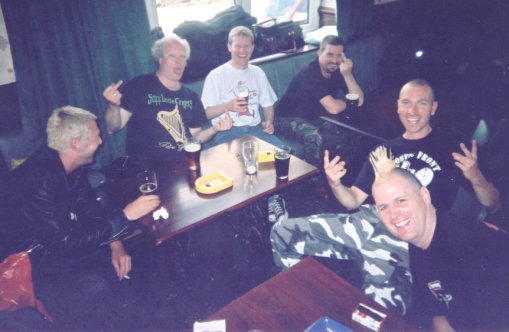 different guise (WASTED!) Everyone streams out the venue very satisfied by the looks on their faces, meanwhile I need a piss. Having gotten lost amidst the back streets of Morecambe trying to find a way to a bar. It suddenly dawns on me there was a Punk party advertised at bar #2 on the sea front. Well it can only be about 11:00 so I manage to find the seafront, dodging drunken straights who seem to have come out in force for the first time since I been here. Finally find the bar in question and who should be in here but the Bristol posse, plus Tidy drinking a funny coloured bottle! First time I ssen em all in the same boozer since day 1....sure sign were going home tomorrow. Andy like me, who was on the Stella earlier was definitely feeling the kick in effect. Swaying like a lord and swearing like Punk, it's a good job it aint Blackpool.... he retires shortly after swaying out of the door. The party never did manage to materialise even though the DJ was blasting out the punk. It was a case of too much too late, everyone in the pub was commatosed to varying degrees of drunkeness so that was it...finito!
EPITAPH: HITS is a great experience and worth the money if you can afford it. You will need patience to stay relatively sober if you just wanna band watch, coz that's about the only way your gonna see em all. But if you just wanna have fun, a drink and a laff and take what comes, it's probably a way better experience. I doubt I'll be going again, I just don't find the bands (apart from the few exceptions) as enticing on a big stage. But I had a good laff and it got me outta the drab confines of Wolves for a few days!!!
PETER DON'T CARE
Special thanks go to Paul K. for organising my stay in the punk whirlwind for 3 days and nights - cheers mate!