Birmingham, Academy #2, UK 10 May 2003 £9.00
I haven't anticipated a gig quite so much, in what must be close on a decade. Nordic chord lords
Turbo Negro
are on their first UK tour of the inner city slums. It's the Euro leg of their 'Scandinavian Leather' world tour, and by all accounts are slaughtering every house they invade. I have to thank Welshy (ex-singer with
External Menace
) coz he got me into these, and I ain't been right since! I in turn have been spreading the
Turbo
word far 'n' wide to anyone who'll listen (hello Erin). My old mate from the Wolverhampton punk days, Kev Harris liked em that much he's even joined me tonight to witness possibly the last European claim for the worldwide punk rock crown. We get to Birmingham only just, despite train delays and high tailing it across town to catch a metro tram full of Wolves fans who's just beat Reading (yesss!). So spirits were high despite very nearly not getting to the gig at all. As I'm paying in I ask the girl at the door what time
Turbo Negro
are due on? And she said they just started. So we rush into the side room of the old Top Rank Suite/ Hummingbird to be greeted by a sweltering packed room full of punks, straights, rockers and some sailors (snigger). The Academy #2 is intimate enough to feel the sweat droplets from Hanks drenched main hit you in the face, but big enough to hold a healthy crowd of misfits which go right up to the back wall.
As we make our way to the bar, the drink was £2.50 a pint, which was a big leap after just paying £1.50 for the same drink only an hour ago! But somehow that minor gripe was quickly merged into insignificance as the spectacle of rifferama on stage was sailing our way. Turbo Negro are revving up on their 3rd number, the anthemic 'Self Destructo bust'. We can just see the top of their heads above the crowd, but can hear em loud 'n' very clear. Were witnessing here tonight one the most noxious, explosive cult rock bands to emerge out the last decade of punk...no bullshit! My camera finger was itching as my pint disappeared and the lure of the front rows beckoned. If you had just somehow arrived on the planet, Turbo Negro could appear to be just some rampaging rock band. However on closer investigation you'll see they play punk rock with suss, and with such a swagger not seen since Johnny Thunders dirtied a stage. They are loud, they are hairy and they're in your face!!!!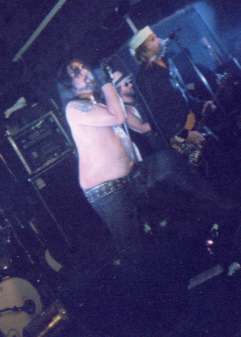 As I'm fighting my way through the crowd I think to meself, ain't it great to hear songs that sound just like the records. For me possibly the best track from their new album 'Scandinavian Leather' was the throbbing negativity of
'Turbo Negro must be destroyed
', which hit me as I secure a place near the stage barrier...I wasn't let down. Seeing the band in the flesh was a shock to the system as big Hanks beer belly hits you right between the eyes. A sure sign he's refrained from Heroin abuse, which is good news for us, but bad news for his camp pin-up status. I somehow don't think those polystyrene weights he was lifting over his head are gonna do much good either? But this ain't airbrushed pop were here for tonight, this is real gutter rock for kids who want it loud 'n' fast 'n' dirty! No matter what he looks like, this geezer alone is the only beached whale able to front such a foreboding outfit. With his black leather gloves, Alice Cooper/Clockwork Orange makeup, and that sweaty torso wobbling in the spotlight, it takes on a surreal air. He takes a breather between songs and asks us in that hilarious Scandinavian accent
'if were ready for some darkness?'
to which everyone in the house screams
"yeahhhhhh"
. Only the silent mannequins standing either side of the stage look on oblivious.
Turbo Negro
are a band pumping on all cylinders as they hit the home run of their world tour. The filthy lucre of '
Sell your body'
has Hank throw open a case of
Turbo Negro
zillion dollars bills, that are thrown into the clamouring audience like confetti. Before
'Midnight Nambla'
signals the first track resurrected from the 'Ass Cobra' album, and we all know why?
Turbo Negro
are classed in some circles as dark 'n' evil, but these boys are classic windup merchants. If you think these dungareed dropouts are deadly serious, their theatrical makeup and general Homo routine is quickly evaporated as Hank wobbles out another comic put down. The man's a comedian! He's also done his homework. He knew what a 'Brummie' was! And he also knows the economic situation in this area, which I thought was good for a travelling band blitzing a different town every night. But don't worry we don't get no sympathy from this big Bad Mongo coz he's about to reach for a silver champagne bucket of theatrical blood, which he literally drenches the front rows with. I just ducked in time but Kev and about 30 more got it smack in the face. It was a bloody momento as
'Drenched In Blood'
gets unleashed with Hank completing the song with the said bucket sat on his head. More new songs get aired as that slow building monster of a track
'Fuck The World'
and easily their most involved number to date, roars into view.
"gimme just a minute.... while I Fuck The World!"
is another one of those great anthems this band has a knack for knocking out.
The only other member of the band to challenge Hank for the limelight on stage is Axe hero, Euro Boy. This geezer is possibly the real star of this band. His musical arrangements and that Johnny Thunders natural style of playing his guitar is a marvel to behold. During
'Prince Of The Rodeo'
he dons a white Stetson and sets off on a rough ride guitar solo balancing precariously on the shoulders of the silver helmeted keyboard player Pal Pot Pamparius. Sounds very showbizzy and it was, but these are pure entertainment. We finally get to hear live
'Good Head'
from the band who have made blowjobs their trademark. This really got the audience jumping up and down like jackhammers. Good to see the women up front here tonight going for this band big time. Coz beneath that camp exterior there's some rabid, raw animal sex appeal going off. As the band pummels into the last strains of this heads down neo classic, Hank exits stage left with the rest of the band following shortly after.
The tiny stage goes dark as the Birmingham audience cheer for more, and we don't have long to wait. 'Age Of Pamparius' from 'Apocalypse Dudes' is ushered in. Those distinctive keyboards getting some rare PA time before the beefed up power chords light the fuse for the 4 song encore. 'Get It On' follows next and is my all time favourite Turbo Negro track. Shot blasted out precision riffing don't get much better than this. The baying crowd sing along to every word. If you ain't heard this one yet, it's got one of the chunkiest riffs I've heard since maybe 'Satellite' or the Ramones debut album. This fucker rocks ya socks off and yeah... we do like it and love it! The Denim clad demons have set the mood for the grand finale in fine form, but not before Hank goes round the band giving em a boxing promotion kinda intro. All this band work hard and full credit goes out to other members who create the legend that Turbo Negro have become. Hank gets his own special intro from the silent but deadly blonde bass player Happy Tom, who has his own Sailor fan club here tonight. Hank asks us all finally if "we've got an erection?" as one of their classiest, if not dirtiest tracks of their repertoire gets exposed. 'I Get Erection' is pure black humoured addiction, with another great riff and those hilarious lyrics......but it's the big chorus chant of "ohhhhhh ohhhh I got erection" that seals it's fate. Hank holds the mic to audience whose arms are waving like a mini Nuremberg rally as they sing along "ohhhhhhh ohhhhhhhhh" ....and that was it!!!! They left the stage as Happy Tom tossed his sailors cap into an audience already brimming with naval headgear. There was no more encores, there was no need for any. Everyone had witnessed an event. Kev said to me as we left the gig "these were better than Nirvana!", and you know what I believe him. Turbo Negro must not be destroyed.... they must be seen and heard right now! - Peter Don't Care
(For any devotees out there who missed em this tour, it was filmed. A bloke stood next to me was filming from a digital camera so look out for it on video/dvd soon on E-bay no doubt!)