Salisbury City Hall, UK 29/4/03 Tuesday (last night of the tour)
Buzzcocks were good, I had a great night out, but. . . there is always a but... It hit home just how fast time is passing, our lives are just whizzing by. There is a line in Fawlty Towers when Basil says to himself; "Ffffrrrrrumm.! What was that? That was your life mate. Is that it? Yep." I felt exactly like that as I was listening to fast-as-a-speeding-bullet versions of 'What do I get?', 'Oh Shit' and 'Breakdown'. Three of my favourites from Buzzcocks back catalogue which they played with sloppy precision and a half-arsed but manic Manc pride.
I was 14 when the string of classic singles came out and I'm 40 next year- so Shelley and Diggle are presumably approaching 50. (On Radio 4 this month Shelley confessed to lying about his age in 77 -because punk was supposedly all about youth.) Pete Shelley does look his age. His receding hair a mixture of white, grey and yellow; Half peroxide, half the ravages of time. A vague attempt to fluff it up to look punky made him look like a cross between Orville the Duck and Doc in Back to the Future. Diggle looked podgier than last time I saw him and reveals a monk-like bald patch when he turns round. Diggle, as always, tries too hard on stage; he puts on a show, he rocks, he rolls, he hits his guitar with the mike-stand! Shelley just sings and looks a bit bemused, smiles occasionally and ambles about the stage when he's not singing. Diggle over compensates for Shelleys lack of dynamism.. .but it's the songs that matter -that's where Buzzcocks dynamics are built-in. The `new' riddum section -who've probably been with the band for ten years odd, are great. Tony Barber is the archetype punk bassist. Low-slung bass, great cheekbones, a fuck-with-me-not stance and he can play. The drummer too, even if he was half as good as John Maher in his prime he would be adequate. But he's better than that, and then some, with knobs on.. .and parradiddles.
Opening with 'Boredom' and closing with 'I Believe' this was a decidedly, gloriously retro set -bar three or four newies from the eponymous new album -and one of them was a Shelley Devoto tune from Times Up days -the wonderfully spiteful 'Lester Sands'. (Great Song - Don't Care)
I love Buzzcocks though, always have, always will, but this was a bit of a poor show. A bit pricey at thirteen pounds fifty -consequently half-empty -despite having popular Ska-punks King Prawn supporting, the sound was terrible and there was little or no attempt to communicate with the audience. The pacing was very Ramone-like, one song ends, nether begins but a bit sloppy with it. Shelleys voice was a bit end-of-tour ragged but passable but the reliance on the old stuff was what was at the same time disappointing and bloody brilliant about this show. It was strange to cos if they want us to buy the new album -then why not play it?
It was good to hear the b-sides played live; - a venomous 'Oh Shit', a mischevious 'Noise Annoys', a juggernault-like 'Somethings Gone Wrong Again'. Non-hits but absolute classics like 'Breakdown', 'No Reply' and an emotional 'I Believe' were welcomed like old friends ... talking of which, this was what this gig was about for me; an excuse to go to my old stomping ground and see some old faces; Salisburys' punk-generation musicians were represented by Micky Dyer (Horizontal Bulgarians and a million others) Cohn Holton (the QT's and more recently Mad Cow Disease). It was nice to see Dave Todd and his mate (whose name I always forget) from Jane From Occupied Europe -yep an 80's indie band named after a Swell Maps album. The only other musician I spotted was a Southampton cult hero (Alright mate!) who was naughtily bootlegging the event.
The cavernous barn-like acoustics of the City Hall didn't make for a good sound to be frank -up-close it sounded too fuzzy and further back echo-ey, booming and not loud enough! To be honest it would've probably been impossible to get it right. It was great to see old mates who I'd arranged to see (Lister, Matt and Cheyrl) but brilliant to bump into faces like Paul Abbott -onetime bassplayer, Stranglers fan, works for British Rail, I hadn't set eyes on him since 1982. And Rich Laughton - mentioned in my Times Up review as the cool older kid who loaned Ebo a tape copy of Times Up in 1979 -and I subsequently nicked it off him - "I want it back!" he said. "I gave it back to Ebo", I said "Well, he fuckin' didn't give it back to me" A 24 year old dispute successfully rekindled !
This gig was all about nostalgia to be honest -and no, they didn't play it. I did have a great night, and Buzzcocks were good ( but not up the standard set by Penetration and the newly reformed Rezillos) The night was topped off by watching Tony Barber battle -and seemingly win- against the tour agents and City Hall management when they demanded a massive percentage of the takings from the merchandise stall. "No-one fookin' helped us set up or count the t-shirts, you've got no idea how many we sold, so fook off!! Alright, we sold one - heres's two quid. I said the same to the Shepherds Bush Empire last night - fook off!"
Buzzcocks have still got a lot of spunk!
(GED BABEY - PUNK THROWBACK 2003)
From the forthcoming PUNK THROWBACK fanzine ( No 8) price 1.50 email
gedbabey@hotmail.com
to order and more info.

THE MOON DOGS
The Empire - Belfast 1/5/03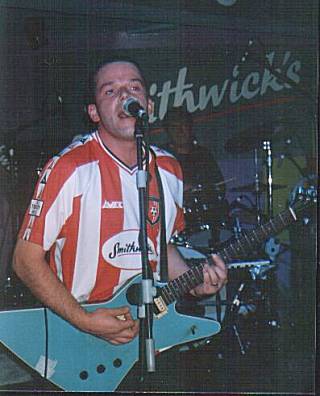 Tonight's gig featured two bands who in the heady days of the late 70's/very early 80's set out to produce the perfect pop/punk 45. One of these bands managed to do it on a number of occasions, the other in my opinion didn't. First band on tonight were
the Moondogs
, a band I must confess I never had much time for, the only other local band I disliked more at the time were
the Bankrobbers
.
The Moondogs
brand of pop/punk was so sickly sweet and contained so much sugar you could gain weight after one listen. It should have carried a government health warning for diabetics on the record sleeves, and don't mention that awful TV series. There was just no balls in their music. I received a copy of their BBC sessions a few weeks back and a fan E-mail raving about it, and I thought to myself maybe with the passage of time the songs might sound better and I wouldn't be so quick to condemn them. I'll be honest and say that a few of the songs have improved slightly with age and they seem like decent enough guys, but
the Moondogs
fluffy pop is not for me. I always thought of them as
Undertones
wannabes only not as good and still do. So would tonight's gig make me change my mind? I'm sitting in the bar of the Empire debating if I should go upstairs and watch their set or have another pint and wait until
the Buzzcocks
are due on. I decide to give the Moondogs the benefit of the doubt and head up to the gig,
the Undertones
debut LP is playing as I enter the hall.
The Moondogs
now a four piece with an added guitarist were on the stage tuning up when I went in, all looking older ( just like us all ) and an acoustic guitar was amongst their equipment, maturity!! Not a good sign in a band who's stock and trade are school yard love stories of acne and rejection, this did not bode well. They started of well enough with a song called
"make her love me"
followed by that old chestnut
"ya don't do ya",
but by the third song something new about
"Amsterdam"
I was already losing interest. Things picked up for a few songs including a great version of
"she's nineteen"
which my mate Facer thought they were singing "she's a nazi" , his hearing obviously impaired by the amount of alcohol he had consumed up to this point. The acoustic guitar made it's appearance for another new song from their up and coming new LP "Red Fish" which I can't remember the name off?, but by now I was only killing time until
the Buzzcocks
came on anyway. Greg Cowan of
the Outcasts
who was here tonight once said on a local TV programme that
"there is nothing worse than men over forty singing teenage love songs"
(sniggering- Don't Care)
and that says it all. Make no mistake
the Moondogs
are a tight band, just not my cup of middle age teenage angst.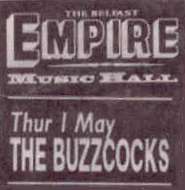 Now for another music from a different kitchen, B,dum B,dum.
The Buzzcocks
are back in town again, messers Shelley and Diggle are no strangers to Belfast, they have visited these shores many times since what was supposed to be their first gig here back in Jan 78, when the van they were travelling in broke down stranding them on the wrong side of the Irish sea and the gig had to be cancelled, it's a true story by the way not just an excuse. From first hearing the tee hee name you couldn't say in front of your mother, which was taken from a magazine article on the mid 70's TV show "Rock Follies" about an all girl rock band, to the present day where they are being hailed as the punk Beatles in the music press due to that string of classic 45s.
The Buzzcocks
are still revered and respected as one of the first bands of the original punk era. Back in '79 I was at a filming of the Belfast edition of the BBC youth programme Something Else, and I was wearing my
Buzzcocks
T-shirt, which was clearly visible during the TV broadcast . You could say I like
the Buzzcocks
and I was looking forward to the gig and they didn't disappoint. From the first song
"Boredom"
to the last
"Ever fallen in love",
they grabbed the audience by the balls and didn't let go as they banged out one classic after another at 100 mph, they were relentless! Check out this list of some of the songs performed...
"What do I get", "Oh Shit!","Harmony in my head","Fast cars","Breakdown","Love you more","Orgasm addict"
etc. etc. They tore through the set without respite one song finished the next one started 1,2,3,4,. This is how to do love songs with noise, power and a sleazy edge, it was a great gig. The last time I'd witnessed a band play a set in this way non stop was
the Ramones
many many moons ago. Pete Shelley and Steve Diggle older but definitely not wiser are joined in the band now by a cracking rhythm section. The drummer (Phil Barker) was a real powerhouse and thrashed his kit throughout the high speed, high energy set, he must have stamina and arms like Popeye. The bassist (Tony Barber) was a dead ringer for Andy Ellison (
Radio Stars
/Johns Children) and he played his black Rickeinbaker bass really low slung (just like Steve Garvey used to) with his foot on the monitor looking cool. He was talking to the fans after the gig when a guy with us said to him
"tell your dad Ronnie Wood
( who he also looked like )
I said hello",
he laughed and took it with good humour as no malice was intended. I used to dismiss these gigs as punk cabaret, and had numerous arguments over it (alright Sean!!) and I didn't go to them. I didn't see no merit in them, I suppose it was the punk snob in me, I wanted to remember the bands as they were, not as they are now. But as I've attended a few I realise if you go to the gigs with the right attitude to celebrate your punk rock youth then they make for a really great night out .
Joe Donnelly - Belfast 2/ 5/ 03.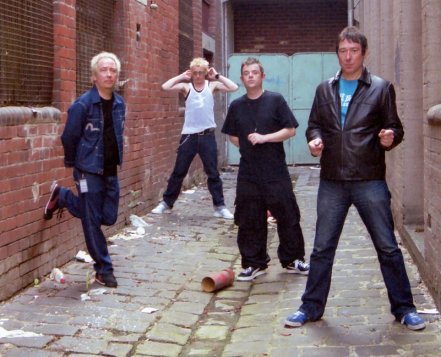 Bimingham Academy 2 April 22nd
WITH their trademark barrage of hedonistic in-your-face punk, the Buzzcocks played a blinding set at Birmingham Academy this week.
The relentless performance which slid with ease from one song into the next, grabbed the Academy by the throat and shook it to the ground.
A fleet of flying beer cans greeted the first song, the anthemic Boredom and a moshpit was formed instantly. Plenty of old classics pleased the original fans such as Fast Cars, Autonomy and Get On Our Own.
The house was packed with everybody from teenagers, die-hard punksters and, as one fan told me, those "on a nostalgia trip".
It was good to see that a break of more than 10 years had done nothing to smothsr the crazed vocals and persistent guitar that made the band so big in the 70s.
The cacophonic, rhythmic set that only the Buzzcocks can do this well featured plenty from the new album, including Wake Up Call and Lester Sands.(aint that the old number from Times Up? - Don't Care)
As the audience screamed for more after a set that lasted more than 90 minutes, the Buzzcocks did not disappoint when they returned with the classic Ever Fallen In Love.
GEMMA HANDY
(This review was purloined from local rag Wolverhampton, Chronicle coz I'm a lazy sod!)