N.I. Punk Films John T. Davis night.
Empire Belfast - 26.3.03.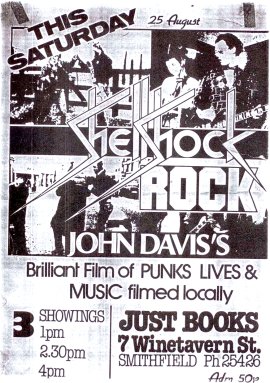 I made my way to the Empire on Wed. night for a screening of 4 films about the N. Ireland punk scene of the late 70's early 80's. They were
Shell Shock Rock
,
Self concious over you
,
Protex Hurrah
all of which I'd seen many times, and my main reason for attending
Big Time,
the Terri Hooley documentary which actually got shown this time after the disaster at the Menagerie when the organisers forgot to book a screen to show it on. Suprisingly the place was packed and I was expecting to see a lot of old punk faces from that time out for a night of remenicing and nostalgia, but they were thin on the ground. Apart from myself and Facer Mc Veigh, I only saw Petesy Burns (ex-Stalag 17), Tony Magill and Guiney who carries on where he left off with his appearance in
Shell Shock Rock
24 years earlier, with another appearance at the opening of
Big Time
. Maybe there were others there I don't know I might not have recognised them, but to me most of the crowd was made up of students, arty types and Hooleys cronies.
Before the films kicked off, Terri got up on stage and made a short speech about himself, his favourite subject and the Big Time doc., which he said he thought was really lame and fucking shit! Well that sort of put a damper on my expectations for the film, as I was looking forward to seeing it up to this point. He then introduced John T. Davis who took the stage and told a few annicdotes about the making of SSR and the cult movie it has become over the years, including a story about when it was first on release it was to be shown at a film festival in Cork, but it had been banned due to the hysteria surrounding anything to do with punk. So they went down to Cork anyway, Davis, Hooley, plus local punk bands Rudi and the Outcasts, determined to put on their own show (this sounds like a Cliff Richard movie does'nt it?), which they did and according to Davis 2000!!! Kids turned up and the film festival organisers had a change of opinion and put it back on the festival programme. While they were standing in the town centre, Hooley looking disheveled was standing at a corner drinking a can of coke, two american tourists passing by put 20p in the can as they thought he was a down and out begging, the audience laughed as it's a funny story the first time you hear it, but more of this later. He received a round of applause and the screening of these N.I.punk classic movies began.
Shell Shock Rock:
Shell Shock Rock is
the
N. Ireland punk movie from it's grainey, raw look, probably not intentional more lack of money.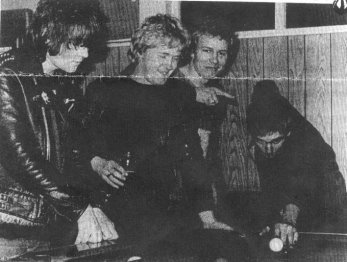 It's cast of characters, the locations that no longer exist and the variety of bands featured, make it essential viewing for any punk fan. Every time I see SSR it reinforces my faith in my belief that
Rudi
were the best band to ever come out of this place, they were head and shoulders above the rest and this is the evidence for all to see. SSR is so good because of it's niavety in dealing with it's subject matter as no-one had any idea what direction punk was going in and what would happen next, it was just flying by the seat of your pants film making, anarchic to coin a phrase. The sad thing is that all the left over cutting room floor footage, and there was hours of it as far as I know, was destroyed in a fire a John's home, so this is all there is. It makes me think what a great movie an extended version would have been but that'll never happen. I saw some of the younger members of the audience leave after SSR, maybe they were disappointed at the stark reality of 70's N.I. punk, and it was too much for them as it wasn't as glamorous as they thought it would have been at the time.
Self Concious Over You:
Self concious over you is more or less a straight live performance by
the Outcasts
during their skinhead period, and with added pyro at the 1980 Punk and New Wave festival at the Ulster hall in Belfast. It begins with views of Belfast city centre at the time, with the security gates and the army on the streets.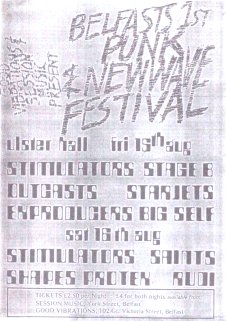 It then switches to the punks outside the venue which is always a good idea and always entertaining. After a bit of backstage footage featuring three wee teeny punk fans and a stage introduction from John Peel, the band hit the stage for what turns out to be a pretty pedestrian performance, the highlights being "Self concious over you" their best song and a ferocious "Mania". The bass player at this time Gordy Blair's style, was too fussy and busy and was more suited to his ex-band
Rudi
, Greg's basic straight ahead bass style was more
Outcasts
in sound and attitude, and was better for them. The worst part of the evening captured here unfortunatly for posterity is the
Terri and the Terrors
performance (yes it's Terri Hooley again) of his No 1 indie hit "Laugh at me", and a truly attrocious version of "da doo ron ron" featuring the backing vocals!!!!! of 3 punkettes wailing and screetching in the background, really truly terrible! Not captured here is, I remember when John Peel announced from the stage that there would be another festival the next year 1981 and that the
Dead Kennedys
would headline, well they must be walking to Belfast from the USA, because it never happened and they never arrived, I didn't care because I didn't like them anyway, but others did at the time. This film is not bad it's just a pity it didn't feature all the bands both local and international that played, as there was excellent bills and performances on both nights.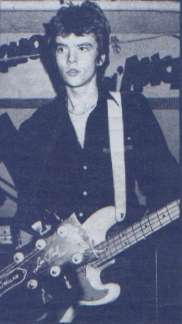 Protex Hurrah!:
And so onto the worst film of the night. Protex Hurrah! is basically a home movie of the bands trip to America in 1980, and like most home movies is pretty boring and not very good. There's very little dialogue and most of the other non live gig footage is of the band hanging/messing around in New York city, and at the city's St Patricks day parade. The film climax's with the short highlights of a live show at the Hurrah club, hence the name of the film and that's all there is to it. As a movie it's not good and it should be seen as a historical document of that time which is what it is.
Protex
were a good band but the film doesn't do them any favours. By coincidence I saw Aiden Murtagh of the band standing on the Dublin Rd the next day and it must have been the first time in 20 years at least.
Big Time:
This was the main reason I'm here tonight, I wanted to see this film - Big Time by Roy Wallace as up to now I haven't had the opportunity, and after the mess at the Menagerie a while back and Hooley's own opinion of it earlier this evening, things were not looking good and it turned out to be another toothless depiction of T.H. More of the good old one dimensional Terri that we are always given, a bit more meat on the bones would have been good. Stuart Bailie of the NME had made a short tribute speech about T.H. and the influence of the Good Vibrations label before the film started, so expect a review in that rag soon. Watching the film I couldn't help thinking that there must be someone out there who has a different view who knows the other side of T.H., because it's always the same story, but then maybe I'm just a cynic and he is always the good guy this film portrays him to be. Various times in Terri's life are covered from his birth in Cameron St, the sixties, the punk/Good Vibrations era to the present day, and we are given new interviews with Owen McFadden (
Protex
)
and Greg Cowan (
Outcasts
), who always gives good value in these situations and is very witty and he comes across as someone who hasn't got his head stuck up his arse and enjoyed the punk days without being too serious about it. John T. Davis appeared on screen and told his Cork story for the second time that night, only this time no-one laughed, everyone sighed, not again!! The film itself is a bit off centre as the majority of the many photographic images used in it are from the 2nd generation very early 80's punks for some reason, and not the Good Vibes late 70's 1st generation punks, which was odd? But there was some great rare cine film footage of
Stalag 17
and various
Defects
members, and belfast punks at the @narchy centre in the early 80's, which was good, which I hadn't seen before and I would have liked to have seen more of. Rightly Terri Hooley's position in N.I. punk history is assured as he gave a vinyl voice to an already established and growing punk scene through the Good Vibes label, and let the world know that there was more going on here than just violence. Those first batch of Good Vibes releases are all recognised punk classics, but by the very early 80's the label had already run out of steam. I know Terri had an unorthadox veiw to management, but there had to be a ruthless streak, it's in the job description, there has to be more than the nasty Malcom Mclaren/nice Terri Hooley style, and this is a side we never see or hear of, and that only the bands and people he was involved with would know about. I mean the accrimonious split between
Rudi
and Good Vibes after the failure of the label to release the "Who You?" / "Pressures on" 45 which was already recorded to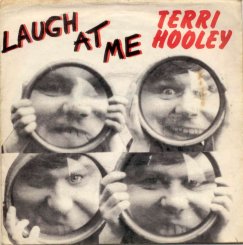 capitalise on the TV exposure from their fine performance on the BBC youth programme Something Else in 1980, is never discussed, if you lose your biggest band then somethings wrong! For me the Filth And The Fury / Westway To The World is the way to do these docs, the bad as well as the good it makes it a lot more interesting looking in from the outside. Going by Terri's introduction to the evening I think he would agree.
All these films are worth seeing at least once, so make the effort to do it if you get the chance, because they all have their moments and contain classic punk images and sounds in all it's glory, but Shell Shock Rock is the real gem and is a must see for any punk fan.
Joe Donnelly - Belfast - 27.3.03.