17th January 2003
Rock Cafe, Stourbridge, England
ADMISSION £10.00
First gig of the new year and one set to be a good 'un by all accounts. The last time I seen Penetration was 25 years ago, when the band were in their prime. All their reformed gigs I'd heard about had gained favourable responces. So a lot was riding on this gig for me personally, and in terms of expectations. Bands of this pedigree bring out the vet punks from the woodwork, like my old Wolverhampton Punks cronie, Kev Harris who's joined me for this rare sighting.
On with the logistics. Ain't been to Stourbridge, situated in the Wild West corner of Middle England for about 15 years! And that last blurry visit was as a pissed up wreck in the back of Contempts van. It ain't changed a lot as far as I can tell, as our 45 minute bus ride from Wolverhampton pulls into Stourbridge bus station. After a walk through the subway we are immediately begged by a local crackhead outside McDonalds. So I throw him 50p for directions to the gig. But first things first, we hit a few bars to get our bearings and spot a few Penetration fans along the way. I notice they attract not your hardcore punk types, but your more mature student reliving their punk roots! Well our last port of call was the Mitre, which had a massive selection of punk tunes on the jukebox. It was really nice of the local heavy mob in the corner who's 'stranger' stares were a decoy, coz they put a load of punk tunes on for our benefit no doubt. As the Members 'Sounds Of The Suburbs' was blaring out the juke, we drunk the last remnants of Kev's cans of Stella, slyly sneaked into our glasses while the barmaid was busy elsewhere and hit the road!
The Rock Cafe is situated on an industrial estate just on the outskirts of town. The tenner entrance fee was a fuckin shock!!!! I was expecting maybe £6 tops, so it called for some heavy blagging. I told the doorman I was on the guestlist, he said "whats your name?" So I told him "Peter Don't Care" much to his amusement. He produced a list with a handful of names crossed off...mine of course wasn't on there! Immediately plan 2 was put into action. I said, "ask the guitarist he knows me!" which was a bare faced lie. He then said "the band are back at the hotel" and referred me to the manager/promoter who was standing a few feet away talking to some yuppie character. The blonde spiky punk in question, turns out to be the geezer who does the 'punk aid' benefits, so he owed me one from the 100 club rip-off. He looked at me suspiciously as I handed him a Nihilsm On The Prowl flyer, and it looked like he was gonna fuck up our plans of FREE admission. After humming and ahhing he eventually told us to "hang on till the band arrived!". I said "ok, we might as well have a drink while we wait eh?" To which he reluctantly agreed.......We were in!
I scanned the gig room adjoining the bar/foyer and there was maybe a 100 plus crowd. Not as many as I anticipated, but not a bad turn out considering there was zilch publicity. A few punks were dotted around amogst the curious 30-something majority. The Rock Cafe is a neat intimate venue, which is better than anything Birmingham or Wolves has to offer right now. Just a pity it's off the beaten track. The merchandise stall was selling bland black t-shirts with the new Penetration logo on, but no CD's. The stage backdrop had a huge black sheet repeating the Penetration logo. But more importantly, the lager was £2.20 a throw, which was OK with me. I spot Becca Puke decked out in more badges than at a Blue Peter convention. She's busy selling her Puke zine to the bemused locals. Dave D.T.M. was also here representing the Brummy contingent, even though he's an Oldham lad! Also in attendance was Richie the customs & excise official by day (booo hiiisss) and bassplayer in Liverpool's M.D.M. by night. Hes travelled from Liverpool and follows Penetration around the country like a bespectacled sniffer dog looking for Heroin (sniff sniff). I'd say 50% of the audience were from outta town.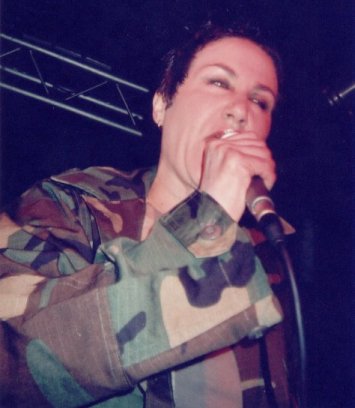 While me and Kev contemplate what lies ahead. We had to endure a fucking appalling support band of Nirvana groaners for 45 minutes. The singers Kurt Cobain strain made me wanna put a gun to his head to witness a real death rattle! But a murder charge wasn't convenient right this minute, so I settled for getting another pint in. I should've realised it being Stourbridge, home to those shitty grebo outfits like Pop Will Eat itself or Ned Atomic Dustbin, that this kinda thing goes with the territory. But I had hoped the promoter would've used a tiny bit more imagination and booked a decent punk support. I mean for fucks sake, there's at least 5 bands within a 25 mile radius to choose from! Maybe
Penetration
weren't taking no risks after all!!!? Just as the support act fucked off to a huge sigh of relief, and cheers from our corner. Who should walk past but the
Penetration
entourage fresh from the local Holiday Inn! Pauline decked out in what can only be described as jungle army fatigues, and sporting a short spiky haircut not unlike her '77 crop. She marches through the crowd to the backstage area, her gait is very regimental and she's in no mood to talk shit to tossers from Wolverhampton. With the support gear quickly deloused from the stage area, the crowd mood quickly gains momentum as dads, kids and and a smattering of middle aged women start congregating round the lip of the stage.
A loud cheer erupts from the audience as
Penetration
emerge from their backstage bunker and hit the stage running with
'Nostalgia'
.
Penetration
safe in the knowledge their kinda nostalgia never wains shattered any illusions of dissapointment. From here on in the Rock Cafe had become a baying mass of Ferryhill adulation for the next 13 numbers. Paulines charismatic vocals are as dramatically pitched today as they ever were. She's lost none of that allure that set her apart from the icey cool of Siouxsie or sublime power of Polystyrene. She's also proved to be one of the healthiest looking survivors from that bygone era, if not still carrying a certain aloofness and a bit of spread in her wake. All those years of slaving away to Virgin, dodgy managers and later on in countless mediocre outfits during the late 80's, may have made her bitter and suspicious, but it ain't took the sheen off her performance or range.
Penetration
today are a new force to be reckoned with. They do play it safe by giving us a strictly late 70's set, which I didn't see no-one crying about. But they show all the signs of being able to create new epics given half a chance. All the classics were delivered with confidence a given a new lease of life. From
the brooding sinister vibe of
'Silent Community'
to the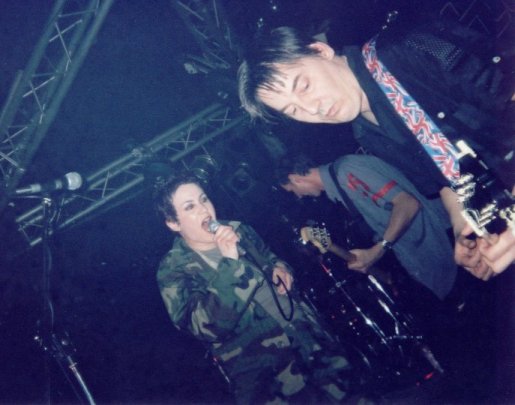 memorable
'Life's A Gamble'
with it's big chorus were impressive. In fact for me this was the most effective number of the set. That neat guitar riff and those soaring vocals were still ringing in my ears the next day.
Penetration
are a band who can and will deliver the goods! Not like so many slobby, stale punk reformists out there, who can only manage an embarressing reminder of their former glory. As a camouflaged Pauline prowls the stage from left to right like a cornered lioness, she's a cameramans dream/nightmare rolled into one. She don't stand still! She also gives every section of her fanbase an equal share to savour, but never totally connects with anyone. Gotta say the newer geezers in the band do a splendid job as the blue touchpaper igniting her sulphur. Both guitarists faired well, leaving the ghosts of Fred Pursers HM licks to just a faded bloated memory. While taking co-songwriter Gary Chaplins prototype rivvum buzzsaw, to new heights. The rhythym section, featuring Paulines beanpole husband, and other original member, Robert Blamire on bass, were faultless. Both he and the hard working drummer swapped super beats with the powerhouse for the duration. The grinning Mr Blamire who seemed to
be enjoying himself the most, leaves the spotlight to fall well and truly on his Mrs. Coz lets face it, she ain't just the Slave she's the star of the show! They still do a blinding version of Patti Smith's
'Free Money'
as the tambourine clad Pauline does her raindance routine around the drumriser. Unsuprisingly the classic '77 debut of
'Dont Dictate'
got the much sought after rabid crowd reaction. As mesmerised mohicans jumped around, young kids swooned and grown men relived their teenage years. Having tasted blood the band now went for the kill, by giving us easily (and to my suprise) the most popular number of the night, the mighty
'Danger Signs'
. As we progressed into that grand finale and complete with a full audience back up vocals like programmed robots ..
'Danger, Danger, Danger'
I thought that was it! But no they kept us dangling with one final number
'Come into The Open'
which was a bit of anti-climax following the previous two high active numbers. But we were all left like gurgling babys by this stage, happy and contented! Indulge in some
Penetration
NOW!!!
Peter Don't Care