Stiff Little Fingers
22nd December 2002
The Empire, Belfast, N. Ireland
I am writing this review the morning after the gig. I've just heard the sad news of the death of Joe Strummer ex Clash frontman and a punk icon of my generation. It's ironic that I am writing a review of Stiff Little Fingers a band whose original line up always cited the first Clash LP as a major influence on their decision to form a punk band in the early days of the punk revolution. Joe Strummer and the Clash's influence on the Northern Ireland / Belfast punks should not be underestimated and unlike the Sex Pistols and a few other major punk players they put their money were their mouth was and actually came to Belfast on a number of ocassions during the height of the troubles. They were the reason for the first large scale punk gathering at what is regarded as the night punk came out of the underground and went public in N.I, the Clash's cancelled Ulster hall Belfast gig on 20th Oct. 77. Joe Strummer was a true rock rebel and maverick to the end. I'm writing this tribute to Joe on behalf of the original N.I. / Belfast punks.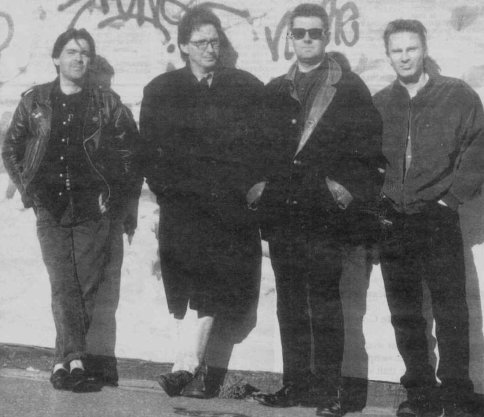 It's almost 25 years since the first time I saw Stiff Little Fingers live. I was 15 years old and they were one of the support bands for the Adverts unfortunatly for them the other support band was Belfast's finest punk band ever Rudi, and that was a real eyeopener for me it was the first of many encounters I'd have with the Rudi live experience over the coming years. SLF were a very good covers band at that stage and I would see them again live at various times as they progressed. The last time I had seen them live before last nights gig was a lifetime ago 23 years ago to the day to be exact, at the Ulster hall Belfast on the 21.12.02 at this point they were one of punks rising stars. But by then a lot of the original Belfast punks had been put off the band by the constant political references in their songs. I mean a lot of the N.I. bands mentioned the troubles in one or two of their songs but SLF made a career out of it and I think it cost them a large portion of their original Belfast punk audience who just did'nt want to be force fed a situation they were trying to live through and find an escape from through punk music. I was never a big SLF fan though mates of mine were, but they did have some great songs "Alternative Ulster" is a bona fide punk classic and along with Rudi's "Big Time" and the Undertones "Teenage Kicks" in my opinion, make up the top three all time N.I. punk singles. From later in their career they had released the 1982 "Listen" 45 which proved they could write great songs without an overtly political message.
So here we are on 22.12.02 and I'm here to witness what seems to be turning into the annual SLF christmas bash, and after hearing a caberet duo play the best cover of "teenage kicks" I've ever heard at my works christmas piss up at Jurys hotel in Belfast the night before, though I'm still suffering I'm ready for an evening of good old punk nostalgia. The Empire is like a second home to Jake Burns and the boys as they play here so often in one guise or another and there's a big crowd to support them. My first impression after the 23 year gap is when I saw the Damned here a few weeks ago they still looked glamorous and great, but Bruce and Jake looked their age, but it was plain to see they still had fire in their bellies and they play with plenty of aggression. Bruce Foxton along with Paul Simenon was a bit of a hero of mine in the early punk days, and he was a big influence on my attempts to play bass in my own band the Producers, this was my first time seeing him live as the Jam never played over here during the punk glory days and he's still a great showman. Jakes chainsaw cutting vocals are still as rough as they ever were, and with a few of their punk classics getting another welcome airing "Gotta gettaway", "Alternative Ulster" and "Suspect device" still bring a shiver to the spine, it's not hard to see why they are still a big draw and firm favourites on the retro punk festival / tour circuit. Jake Burns clearly loves playing to his hometown audience, and while a good percentage of the crowd never saw the original SLF at the legendary punk venues - the Harp or the Pound clubs in Belfast, they were happily entertained by this long standing line up of the band. It was as good a christmas knees up as I've ever been to, a noisy retro punk panto, I'll see ya next year.
Joe Donnelly, Belfast . 23.12.02.