INVITE....TO SUICIDE!
3 & 1/2 INCH FLOPPY

THE COFFIN BANGERS

HARDCORE

PRE- HALLOWEEN GIG

October 30th 2002,

Market Tavern,

Birmingham, UK.

8pm till late £3 entry




Sad Society are one of the few decent punk bands left in the barren punk outcrop of this sceptered isle of ours that I ain't never actually caught in action before. Since I first heard em back in The Suffragette days I was always impressed with their quality punk rock sound. And when they got a rare gig south of the border in Birmingham a few years later I was more than willing to check em out. As it happened their gig got scrapped at the last minute due to a support bands stinginess with the equipment so it forced the Edinburgh boys to cancel and move swiftly to the next town of the tour. Well since that fateful day back in the early hours of last century it all went pretty quiet north of the border, Sad Society wise. Then at the beginning of this year out the blue I got a demo tape sent in with 6 blistering tracks from a new revamped and inspired Sad Society. They have now once more sprung back into action with sporadic sightings in Scotland after a 4 year hiatus. The new line-up features only Deek the mainstay front man from the old days. I was knocked out by the power on the demo (see review for proof). Then it got even better, Becca Puke 50% of tonight's promotion squad and another champion of the band informs me they're playing a one off gig in Brum!!!!!! Which brings ups back up to date and tonight's show. As I was travelling over on the train for tonight's gig sucking from a can of Carling I still had visions of what happened at their last thwarted appearance in the 2nd city, which resulted in a totally wasted journey for me, so as soon as I hit the Market Tavern on this drizzly Wednesday night I was informed the gig was definitely gonna happen.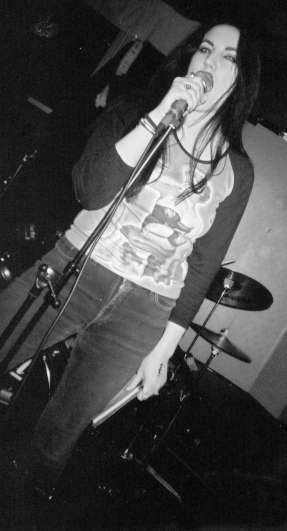 Hardcore
are a new Brummy band and they're doing their sound check upstairs.
Sad Society
have apparently survived their 7 hour drive south, and have gone for some fish 'n' chips round the corner. The other support,
The Coffin Bangers
are in the next cubicle to me in the bar and are apparently some of the leftovers from the long running Damnedest Brummy outfit
Bride Just Died
with a mix of other local luminaries. There's a great offer behind the bar tonight. For just £4 you get a big plate of curry 'n' chips plus 2 pints of lager!!!, which is very handy to know next time I'm in here for an alldayer. Becca Puke comes down from door duties to fill me on tonight's gig, her second promotion. She's armed with her empty ''DIY'' money box made from a margarine tub....she's such a professional! Dave from
DTM
arrives and entertains me with tales of debauchery and skullduggery in the
Death To Music
camp. Apparently they're hated with just as much venom by local outfits as the
Stench
were (snigger). Just then
Sad Society
come in from the cold and they discuss with Becca gig details. Deek like meself has now shaved off his beloved spikes but the shirt and army fatigues betray his punk roots. It's good to put a face to the music. He hands me another new CD demo they've just recorded, (which on later listening was just as impressive as the last one) especially with their new big sound.
Sad Society
retreat upstairs to plan tonight's campaign. The omens were looking good.
First band up tonight were Hardcore who are new to me, and by the amount of covers in their set they were a raw bunch of old punk vets. The description of em on the flyer said 'down to earth and abrasive' which was pretty spot on. They got a hard 'n' heavy soiled sound, similar to Discharge but more '77 in style than I anticipated, which turned out a bonus for me, not sure about the rest of the crowd though. Couldn't say I seen too much of em either as I was downstairs dwelling on the meaning of life with my old pal called Carling. So I missed the first half of the set. What I did catch later on sounded OK and it's a pity the cameraman wasn't concentrating tonight coz the fuckin pix never came out as planned either grrrrrrrrr.
The Coffin Bangers are on next and they had major sound problems from the start. They're another band who looked like they had formed within the last few weeks or just for tonight? Maybe it was the female singers nervous vampish outlook or the lyric book she clutched for security that gave the game away? Whatever the case, they would've been way more intriguing if we could've actually heard what she was crooning away too in the background! If I was her I'd have seriously screamed blue murder at whoever was doing the sound for em tonight coz it was obvious to all and Sundry there was a major vocal problem? The moody guitarist steeped in goffdom, with matching black mane seemed to be the only one in the band with volume control and lots of it! Although the drummer was doing OK knocking fuck out the drum kit after devouring the £4 curry offer downstairs earlier. They carried on though, despite the pitfalls and dished out a sorta Crampish/hardcore sound. Lets hope by next Halloween they'll let leash a more stereophonic bang!
3 1/2 Inch Floppy
were the most energetic band tonight, they played a frenzied blinder. These younger, hyper and definitely covered in carpet burned stoodents (yeah I know...give em 3 years and punk will be just another distant memory from the wild days at Aston Uni before becoming another Captain of Industry) are great punk rock entertainment. The Lead singer is the star of the piece decked out in customary black with an
Operation Ivy
T-shirt and matching baseball boots. He reminded me of an early hairy Stiv Bators in his stage presence, it was that kinda all out performance. The band really go for it too. Their noise behind him was ripping the stage equally trying to grab some of that attention from Mr Floppy who by the second number was definitely on something. Maybe it was pure energy and adrenaline rush as he took to the floor, ceiling tables and chandeliers if there were any. I only really noticed it tonight but this geezer has the biggest eyebrows in punk rock! You can forget your Noel Gallaghers of this world, this fuckers gonna give Groucho Marx a run for his money!
3 1/2 Inch Floppy
definitely improve with each performance so much so it's now got to the stage where I wanna hear what they sound like on record. No matter who I asked couldn't find no recordings available damn! If they can capture that adrenaline soaked rush on tape they're gonna be very good. They only seriously outlived their welcome by hogging the stage for about the last 3 encores. They'd already won the crowd over so why milk it? Maybe the drug of approval was too much to resist but the jumping around by the singer seemed to be just a touch too contrived once you've seen it 60 times. Still a very hard, young energetic act to follow. As they were ripping the place apart for one last time I couldn't help but think how are the road weary
Sad Society
who were looking on gonna follow that?
As the debris is cleared away and the carpet hoovered, the unassuming
Sad Society
nonchalantly plug in seemingly completely oblivious to what just went on. The local crowd who had just witnessed probably the highlight of the evening as far as they were concerned must've wondered like me how this unknown band from Scotland was gonna compete. But you know what, these fuckers from Scotland are a hardy breed and it was against expectation and the bookies odds that they were here to deliver and deliver good. As the floppy buzz was still circulating the crowd it was time to show the young pretenders what punk is all about. And as soon as the guitarist plugged in and confidently adjusted the amp volume control, you knew they were more than ready for it big style. By the first few numbers I knew they were more than capable of putting the headline status doubters to bed. Professional, tight and unphased was the definite first impression coming from the stage at this moment in time.
Sad Society
for the next 16 numbers proceeded to impress, entertain and above all make the crowd ask themselves "where the fuck did these come from?" They produce ultra-confident addictive anthemic punk rock brought to us with that distinctly Scotch disregard for subtleties or arselicking.
Deek Wilson the singer and veteran of the band maybe small in height, but he more than makes up for it in big stage presence, and great delivery. He don't need to crawl all over the floor to get his point across, he reads the songs well. The band themselves don't need to sit on a rocket to convey their power either, they just have it naturally. Songs like
'Crucify'
with it's big powerchords are benchmarks, along with the anti-American
'No More U.S. Laws'
from the latest demos feature strongly in first half of the set, along with older numbers like the poppy
'Don't Say'
from their 'Hand Relief' CD. This new more potent version of
Sad Society
have a guitarist in their ranks who is capable of blitzing a room with powerchords at the flick of a switch. They have a booming tartan clad rythym section that keeps the pulse throbbing for the duration. And finally a singer who knows how to deliver a tune. You want anthems?... you got em, you wanna room resounding in some upstairs boozer the wrong side of town then look no further than
Sad Society
. These boys don't dissapoint. Highlight of a set of many for me was the snotty
'Suits'
a blitzing agrro number that should make every cunt in authority very ill at ease it also comes with a fucking brilliant chorus. My only niggle about tonights performance was they never included the brilliantly atmospheric 'Suicide Party' to their set maybe next time eh lads? Promoters take note, this band deliver. They came, they saw, they conquered leaving Birmingham with an encore of the
Clash's
'
White Riot'
which had us all singing along to and a new gang of fans, no doubt!
Peter Don't Care