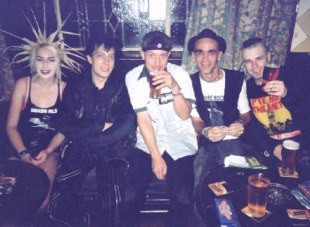 BIRMINGHAM Punks Picnic/Day 1
Friday Sept 6th 2002,
Market Tavern, Birmingham, UK.
8pm till late £4 entry
Bus Station Loonies (Plymouth funpunx)
Contempt (West Mids streetpunx)
Active Slaughter (London Anarchopunx)
German Band?
Eastfield (Brum Railpunx)
Flyboy (Rugby hardcorepunx)
Day 1 of this 3 day punk binge and I know I chose the best day. I only really came over to see one band in particular and that was Active Slaughter. Yeah I know I should support the local scene whoevers playing, but I've never played that game and I don't intend to start now!!! It's funny how all those 'supporting moaners' never turn up to these events? Besides that I gotta drink habit to support too, y'know. Anyway less of the bullshit onto the facts. This North London mob were the only band on the bill I've yet to see live in action. And despite being very good interview material, and with their new Anarcho anthems reaching new corners of the scene, I just had to check em out for myself. So with a good diverse bill of bands spanning all the niches of our punk rock universe I'd have been a fool if I'd stayed in some local bar and squandered my giro with drunken lunatics.
Like all good UK Punk picnics it was pissing down outside as I arrived in wet 'n' gloomy Digbeth. But I ain't here to sit on some grassy knoll, talking about the 80's, drinking cider...no sireee. This is grimy, back street, city centre punk rock life which is a lot more alluring for moi! Just as I order my first pint (STOP PRESS: GONE DOWN 5P TO £2.05), I spot Flipper, from Burton On Trent's resident nose merchants Poundaflesh. Good job I wasn't wearing my 6 inch stiletto's! He's about to trot off to Europe for his Pound of flesh so check out his site, it's a good un. I then spot another troop of punks slumping through the other bar door, and who should it be but Active Slaughter. So I go over and introduce myself. They've been in Brum a few hours and with time to kill decided on a brief rainy tour of the city landscape. Not too depressed at what they viewed and still intact, they relocate for a comfy seat in the corner of this traditional bar. With camera in pocket I took this opportunity to capture a band shot of em before my faculties beat a hasty retreat further on in the night. Considering the long drive up from the 'smoke' and the damp conditions they are in good spirits. The London paranoia is hard to shake off but hey it keeps em on their toes. The jukebox is playing yawning MOR sounds to the downcast locals, so I inquire behind the bar and find there are 37 FREE selections on offer, just awaiting a gang of punk hijackers to make their demands. This opportunity calls for action, so me and Jake and the blonde spiky bird from Cheltenham who got an Active Slaughter T-shirt on, converge to the jukebox to see what's on offer. No Crass plenty of GBH and gallons of other punk sounds from the last 25 years to add a snotty atmosphere to the proceedings.
So with the
Clash's
'Complete Control' ringing out we are set. As the drinks come and go we are joined by a variety of punks some from Europe and London, as well as some locals like Becca Puke (with a bag full of zines), Dave
D.T.M.
(with a bag full of putdowns), PK from
Dogshit Sandwich
and BIG Colin, a Birmingham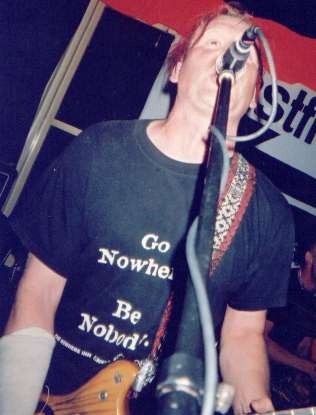 punk landmark. Colin says to me by the bar "fuckin hell not many locals here tonight, it's all Black Country!?" I have to agree, seems punk gigs these days your guaranteed a pot pourri of all creeds and denominations even cunts from Wolverhampton.
With that scary thought in mind Flyboy from Rugby have kicked off their set upstairs. Having vaguely (drunken blur) seen em before, I was quite happy to let it stay that way and devour more Carling from my current location. But Becca Puke and Dave DTM bribe me into going upstairs with a drink. Dunno why they were so eager?, as Flyboy from what I could gather by the passing derogatory comments from disgruntled punters, were a necessary interlude to keep the amps warm till Eastfield shunted on stage. I was beginning to join that realm of thought, but upon closer inspection and a relatively sober mind, they do have pretty good hardcore sound. And fair play to em, they can play their instruments unlike some I could mention. So not being the most visual band on the block, I bet they could make a fair racket on record. Well they give us 6 0r 7 more songs and are gone and made the wait not quite so enduring.
Eastfield
tonight were stoked up and "steamin and a rollin" to my ears. They are now a slimmed down trio with Chris Wheelchair (
Bus Station Loonies
) in the drum stool. Rehearsals for this band must be a nightmare considering their geographical locations? However with an 'away day' and a hunger for the stage, they still manage to create an entertaining British sound. The big bass player resplendent in red
Eastfield
T-shirt is major asset to their stage show. He was jumping around and going off the rails more times than a train at Hatfield, great enthusiasm, which surges into the audience. They are a poppy, humorous outfit but with an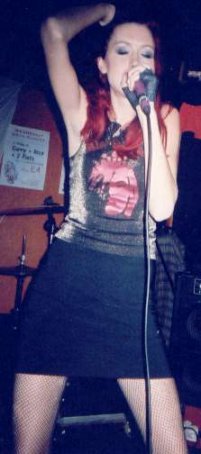 added grit that only livin in Birmingham could give you. Leading train spotter, the red headed Jessie, with his strumming wrist in plaster, is the engine of this locomotive. He sends these railroad punks down the tracks creating an energetic noise along the way...good band. On a side note, as I made my way home the following morning, who should I spot at Birmingham New St railway station but Jessie Eastfield and the said bassplayer, complete with guitar cases heading northward to exotic Barrow In Furness for another gig! Now thats what you call passion.
Next up were the 'Mystery' band of the evening and a last minute addition to the bill. Don't ask me what they're called coz I asked but no-one seemed to know? They originate from Germany I gather, and complete the hatrick of trios for tonight's bill. A drummer with headphones on, a guitarist with some great big riffs, and finally the stick insect of a lead singer who wrapped herself around the mike stand more times than a slippery boa constrictor in pole dancing club. There was no bass player and it sounded like backing tapes were included with synth sounds omitting in their Stoogy soundtrack. They definitely made an impact on tonight's crowd with their sub-euro Detroit sound. The red haired vamp reminiscent of a teenage Niagra Falls/Shirley Manson as she gyrates on the stage, had the male crowd wolf whistling all the way through and the females in attendance looking jealous. A young Destroy All Monsters springs to mind with this band, as the guitarist squeezes some great, sleazy power chords out his Gibson. This band were totally from another era in punk as we know it today, but it's good to see this kinda stuff still being done in today's punk environment. Definitely worth further investigation.
Good warm up for tonight stars, and I don't say stars lightly. Maybe stars is the wrong description for these London ragamuffins, coz
Active Slaughter
ain't on no star-trip, simple reason...they don't need to be. I'm probably partial to this latest gang of renegades, simply because on tonight's showing, they blew all the other bands outta sight! And what's more important, they blew all their earlier recorded material right outta the water!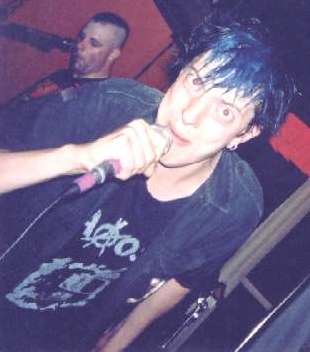 This is a band barely a year old, who within months have grown up a helluva lot and created a sound others take years to get. They've added to their already deep seated passion with a careering juggernaut of a live set! They've become more of a real threat in a live situation than their prototype recordings could ever do em justice. This bunch of punks are one of the few new UK punk bands who have got it!....whatever it is? They just got back from a mini tour of Finland, and you can tell by this new gigging regime they've undertook, that it's done em wonders. Can't wait to hear how this all-new tight powerful unit will sound on the forthcoming album, so keep your eyes peeled. I reckon
Active Slaughter
are gonna prove to be another major UK to brag about on the world stage once the albums out. And god don't we need one. Jake the singer with an electric blue flash in his black, messed up barnet is a classic front man from the days when protest wasn't confined to sects. He's got the face and got the attitude, as he spits out his verbal with an Ignorant brogue and a Jerwood attack. These angry slabs of disdain also contain rowdy singalong's, that will get you looting faster than you can say' MET!' New songs like 'Answers', 'Fatal Deception' and 'Macho Maggot' got the crowds attention from the off, as they soon raced through 12 numbers and 12 numbers only, coz that's all they ever needed! By now there's a buzz about the place, something none of the other bands had, you can feel it in the air. JJ's guitar riffs are big and arrogant as he ignites all those snidey lyrics, and he's definitely becoming a way more proffiecent axeman. Confidence runs high in this band, you can tell by the way they deliver the goods with ease, and now they've got the audience in their hot sweaty grasp they ain't about to let go. Joe the silent Yankee capped bass player supplies his driving bassruns as a roll up hangs from his lip, adding a 'street' scene to the anarcho rebellion. While at the back propelling the Active beat with his Trilbey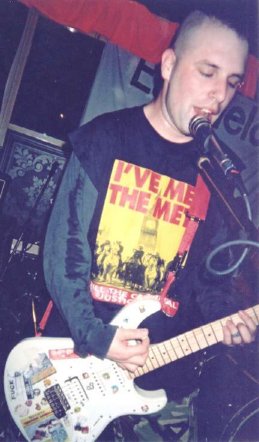 hat calling card, is veteran drummer boy and Anarcho warrior, Trev. Trev or Oebi to his crew has been beating the drums since the early 80's, but more recently in the other notable London combo,
Bug Cental
. The 2 covers in the set are well chosen, they come from
Bug Centrals
very own 'Emperors New Clothes' and
Crass's
snotty 'Securicor' (cheers for the dedication). What I like best about
Active Slaughter
is they're politically charged, very much so, but unlike a lotta of their more blinkered comtemporaries, they have a massive punk rock influence in their delivery and sound. This trait will ultimately give em the best of both worlds, and means they aint gotta dillute their message to reach a wider audience. They end the night on a high with 'Smash HLS' probably their most universal song of the se, with that infectious chorus of
"
Smash HLS
-
close the fuckin place down, Smash HLS - What about Porter Down, Animal Rights will never go underground"
followed by their own call to arms 'Active Slaughter. They leave the stage to cheers and I'm sure a roomfull of new devotees, coz this band cross the divide in more ways than one, miss them at your peril.
Apologies go out to Contempt and Bus Station Loonies as I was well wrecked by this time and I'm afraid I cant remember a damn thing, so maybe next time. I will say tonight's gig was a great stroke of genius by the promoter Rich Lard who actually gave bands who wouldn't normally play together a neat meeting ground. Till next year.
Peter Don't Care