Clown Princes Of Punk
GREEN DAY
Wednesday July 17th, Wembley Arena, London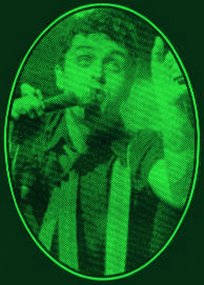 With it's choreographed explosions, plumes of fire and a two-piece brass section in fancy dress - one was a bumble bee, the other a large yellow duck - a Green Day concert is modern rock pantomime in the raw.
The Californian trio are relative veterans, having made their first record in 1990. But their influence on a younger generation of bubblegum rockers, including Wheatus and Blink 182, has seen their popularity soar in recent years, and thousands of fans overcame Wednesday night's Tube strike to witness this show, the first of two sold-out dates in London.
Wearing black drainpipe trousers and contorting his face into an array of silly expressions, singer and guitarist Billie Joe Armstrong is a cartoon-like frontman who placed the onus on having a good time. Despite their punky roots, Green Day are not averse to using tried-and-trusted crowd-pleasing tactics to entertain their fans: in addition to a call-and-response singalong, there was one interlude in which three members of the audience were invited onstage. The ease with which the three lucky fans were briefly allowed to assume the instrumental roles of Billie Joe, bassist Mike Dirnt and drummer Tre Cool underlined the essential simplicity of Green Day's hard, fast and loud formula. Underneath the repetitive thrashing, however, the trio are skilful musicians. Many of their songs hark back to the taut, ballad-free blueprint established by Seventies punk acts such as the Ramones. But there are plenty of lilting, Celtic-tinged melodies too, occasionally making Green Day sound like a speeded-up version of Shane MacGowan's Pogues. Early hits, including juvenile tracks such as 'Basket Case', were among the most well-received songs of the night. But it was the more mature numbers, 'Waiting' and 'Minority', both from 2000's Warning album, that provided a fitting finale, suggesting that even the most impertinent punks grow up one day.
(Daily Mail, Friday July 19th 2002)