GIG TRIVIA
Not a lot to report but the Moseley Arms is one hell of a boozer to find coming from the station. But find it I did. In fact there were punks from Manchester (not including that wanker who still hates The Suffragette), Wales, Italy, Bristol, Tamworth, Shrewsbury and most likely other corners of the UK. I think the old Bill made an appearance too? but I could be wrong? There was a great graffiti covered car there with 'PUNK'
sprayed on the bonnet, wish I had my camera. And thank god for the Rotunda aswell. (no, not the band but the building!). It's fucking true coz when they knock that down it will be a bad day for punks like meself. Why? you may ask, well to any self-respecting drunk punk who needs pointing to the city, that building stands out like a lighthouse across the smog!!!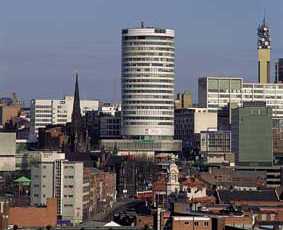 SUN, GRAVEL
& CARLING!
LAST DAY OF BRUM PUNKS PICNIC
Moseley Arms, Digbeth, Birmingham, UK.
Sunday September 3rd 2000 1pm- 11pm.
Well my apologies to the bands who I missed out but I can't remember seeing very many at all. And it was a truly mixed bag of styles, to be sure. I'd come hoping to catch the Drongos For Europe, who I hadn't seen since Digbeth Civic Hall when they were a regular support back in the misty times of UK 82. Aaah but it wasn't to be. I was told they ain't weathered the punk storm well by others, who had seen em since they reformed, so by the time they hit the stage my braincells were well and truly scrambled. But hey, with Carling on draft it had to be done.
I did manage to see Paul Carter the one-man strumming, car sleeping comedian cum punk covers performer. The last time I caught him was in a Derby boozer making his world debut when he had brown hair and glasses! So a few years on down the punk road and he's now a fully fledged peroxide, leather jacketed punk rocker! I must say he got the crowd giggling along as he belted out some punk rock classics amidst some in-between song banter. He did seem to be on for an awful long time and may have out stayed his welcome but the abuse and heckles were restrained to "Fuck Off!". I was too busy hitting the bar, sitting on the white plastic garden chairs talking rubbish to Splat and Family and rubbing my size ten Dr Martin boots into the yellow gravel as Mandy Pussy told me what she'd been up to. It was very hard to be really captivated by any of the bands on their own. And who the hell let those funky fucking indie types with bongoes into our blinkered punk rock set, that's what I wanna know? I must admit the turnout owever was spectacular on this bostin' sunny Sunday. I'd estimate a good few hundred punks were present including kids, baby's in pushchairs and that black scruffy old dog who was wondering around the joint like an old pro, took the biscuit. I do remember seeing Intention for the first time and thought fucking hell I know that singer. They belted out some fast intense hardcore which for me were the best band all day and they got a good responce, but those fucking horrible kaki shorts the singer was wearing needs some serious consideration, particularly if he ever wants to make a point...instead of a joke!!!!
But who am I to ridicule, as those young punkettes from Solihull pointed out in the bar. I seemed to spend most of my time in and out the bar hoping some new punk messiahs had took the small outdoor stage but it was only Sensa Yuma. Oh yeah I forgot to mention it all happened in the pub garden a sort of minature Milton Keynes bowl. I dunno about the free food!!! I never got round to eating any, but it was a freebie event and pretty good if all you wanted to do was take the family out with a live backdrop of sounds. So hopefully a few more punk bands on next time eh? As an eptitaph...The previous Friday and Saturday nights were a lot more in your face if the locals patter was to be believed, with the Bus Station Loonies seeming to be everyones faves from the accounts I gathered!!
Peter Don't Care