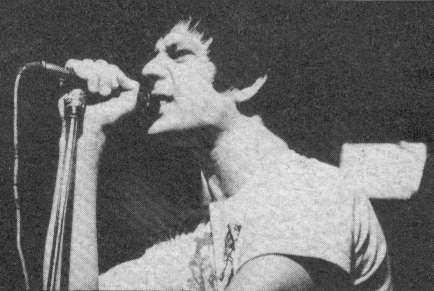 THE PREFECTS
G.E.O.R.G.E.O.U.S.
Little Civic, Wolverhampton, UK £3.00 28/11/01
This gig proved to be a first for a lot of things tonight. First gig in Wolves I've witnessed this millennium (sad but true). The first time I'd been in this hidden upstairs venue (which apart from the lager prices is looking good). First time I've been present for a live recording. And finally the first and last time to witness the Prefects! They're not a band who a lot of you will be familiar with no doubt? In fact the Prefects were a band who were pretty obscure outside the West Midlands. But over the years have become cult figures amongst the early Brummy punk scene and to original UK punk collectors. So with that in mind I wasn't expecting too much, and earlier reports of stale old punks just going through the motions dogged my preconceptions. But this was happening here on my own patch so had to see for myself.
After visiting the cheap 'n' cheerful Goose In The City bar. I made my way round to the Little Civic venue as the late Christmas shoppers give the Wolverhampton streets an early seasonal feel. I order a pint in the downstairs bar which is pretty empty as I scan for a PA stack or equipment, but nothing in sight? I'm beginning to feel like its a no show. but the barmaid tells me the gigs is on, but upstairs! Ohhhhh so that explains things coz I didn't even know an upstairs venue existed here? With nothing much happening downstairs I go upstairs to check out this new venue. As you walk in it's dark and the walls are plastered with gig posters. There's a smattering of people standing around drinking in the small bar area. And I notice a table with flyers and Nightingale CD's on which I avoid, as I can smell it's got 'PAY HERE' written all over it. The main gig room opens up into a compact looking village hall type of setting. The intimate Little Civic 3 ft high stage area have barriers erected just like it's bigger brother down the road and a beefy looking PA. I ask the sound man on the desk the score about the live recording, which is confirmed. It was then I was approached by the eagle eyed promoter Mark Jones. Mark who I'd never met before but have been in touch via e-mail was also the organiser responsible for the successful September event marking the
25th year celebration
of the first London Punk festival. An event which brought a broad range of the punk elite to our City for a week. It was here
the Prefects
made a low profile comeback after 22 years which id missed. But I was now rectifying that misdemeanour. Well enough background info and back to reality. Mark politely asks for my £3.00 entrance fee. And like all chancers and free loaders I tried to blag my way in with a favourable review promise. But I could tell that wasn't gonna pull much weight with my small webzine reputation. But ya can't blame a punk for trying! And with a possible low turnout I paid my fee like a good liccle boy. I asked him when
the Prefects
were due on stage? He looked agitated as all promoters do with unpredictable bands and said,
"they've gone to a pub!!!, but were due on about 9.30 ish!"
Well with that info and free to come and go, I decided to go back downstairs. As I stood by the bar with my plastic glass nearly empty and an hour to kill, I was tempted to relocate back to the Goose which was a lot more accommodating and a lot cheaper. I was just about to drink up when Mark returns. Had he pondered whether the review joke was an open and shut case maybe? Well whatever his motives were he places a can of cold Stella in my right hand!!! Bribery, guilt?...whatever you call it? He certainly knows how to gain favour with Nihilism On The Prowls uncorrupted reviewing policy (snigger). So I ask about the September punk fest. and he fills me in on some juicy tales of prostitutes, Penny Rimbaud and the arty Caroline Coon, before rushing back upstairs to mind the fort. Seems like it's premature throwing out time downstairs or it's clever managerial skills? Coz just as I'm emptying the last drops of Stella (courtesy of MJ promotions) the downstairs bar shuts!!! And I can here the dodgy named support band
G.E.O.R.G.E.O.U.S.
from the marshes of Balsall Heath, take the stage. It's started to rain outside so I go up and check em out.
G.E.O.R.G.E.O.U.S. a name not too enticing if your a punk or a signwriter play straight, indie rock which is pretty much as inspiring as my bank balance. They looked way too uncomfortable as they were squashed on the tiny stage. This stage was built for a 4 piece only, any more and it look like a stage invasion. But If like G.E.O.R.G.E.O.U.S. you've got 6 members to feed (and all with instruments shuffling for position) it's a pretty comical sight.They were a rag tag bunch of minstrels with keyboards, trombone and sax as well as the usual guitars, bass and drums. But they did have a couple of good numbers from the mainly unrequited love songs and pissed off odes on show. The duel/male female vocals worked well. But this definitely ain't my idea of punk. Their best number which stood out from a mediocre set made good use of an electric violin which bought to mind Bethnal or early Ultravox But that was as georgeous as it was gonna get for me.
The Prefects
arrived late or should I say main man Robert Lloyd got here late. He'd been busy throwing Guinness down his neck in the Moon Under Water (another cheap bar). When really he'd have had more fun in the cheaper and closer Goose In The City. But hey Cannock strangers ain't got local scouts like me to tell em these handy facts. He seemed a jovial chap as I bumped into him just as he entered the venue. Not too drunk just merry. He looks the spittin image of Vic Reeves (British Comedy star) in his Buddy Holly specs and threadbare Oxfam demeanor. And anyone who writes their set lists out on Coral betting slips is OK in my book.
As we wait for the late arrivals to scribble their set lists in a cramped dressing room. The crowd by now had doubled in size to a healthy hundred or so to give the place some atmosphere but there was still room for a load more. They mainly consisted of friends and aquantences of the bands, plus some of Mr Lloyds (more successful indie combo the Nightingales) followers. I even spotted a Robert Lloyd lookalike tee hee. Didn't spot one punk in attendance from today's scene however. I think I was the only one there who'd have heard of bands like
Bug Central
,
US Bombs
etc. And I doubt very much
The Prefects
would ever have been penciled in for HITS somehow!
I still didn't know what to expect when The Prefects finally arrived on stage with minimal fuss. But they sure made an impact with their ultra fast, opening dose called 'VD'. A song whose entire lyrics consisted of 'Help me please help me I'm so weedy I've got VD please help me I'm so weedy I've got VD" . A suprise opener for me and I bet a few others too. Because they came over for the most part of their 12 song set as laid-back inner city bearers of bad news with their bleak and often industrialized monotonous sound. But on numbers like 'VD' it proved their early roots could really rip it up when they really wanted too. So the signs were good for a diverse set. Lead singer Rob lurches onto the mike stand giving us a snapshot of his former past. And with a lyric stand as a nudge gives him an air of quirkyness you found only in the very early experimental punk era. His memory is legendary for its absence. But he's backed solidly by that jangly guitar sound that give's em their cheap appeal. An appeal which was reminiscent in early Fall or Subway Sect, both of whom they played with back in the grey old days. They're a tight unit with only Mr Lloyd losing his way now and again much to the guitarists dismay. But that was part of the crack for us as an audience. If he performed word perfect tales, I think we'd all be very worried or bored. I couldn't readily spot any major flaws in their set as they burst into their sarcastically optimistic (by the Prefects standards at least) 'Things In General' from their debut 45. I can say live on stage tonight they produced the sound faithfully caught on John Peels session. 25 years experience does have it's rewards, as Mr Lloyd tells us of his "Action packed, real life dramas!" I spot amongst the crowd Joe Crow who played guitar in the Prefects himself many moons ago. And it was Joe who I actually got a copy of the rare 'Going Through The Motions/Things in General' 45, from back in 1980. He shared a few long lost Prefect tales which had some comical twists. And straight on cue we watched em playing their doom laden 'Going Through The Motions' . A song which I reckon was pretty fucking good in the entertainment racket for it's monotony alone. Funeral music to hum too. And after all these are Brummies, and you've gotta have a certain warped sensa yuma if you live round these parts which that song captures brilliantly. The surreal 'Darwin's Waiting Room' was up next which was new to me but caught my attention right away. And strange as it sounds it was actually written by Mr Crow himself. But Rob Lloyd no doubt took full responsibility. Must be pretty surreal in itself watching a band perform a song you wrote 20 odd years ago being performed by a band you played in some 20 odd years later!!! 'Barbarellas' was up next and got a big cheer from the audience and lots of movement in front of stage. Stranger too how the punkier numbers got the best reaction from the straight crowd. But lets not forget there were a few ex-punks and punkettes from the original Brummy scene here tonight, which was good to see. And they all had enthusiastic tales of Barbarella's and Rebbecca's clubs from the few I spoke too by the bar. Mr Lloyd greeted the audience with his well aimed Midland drawl between numbers. And he'd won his audience over easily without really trying. I think he enjoyed himself tonight and the band did too eventually. The later half of the set included a 70's incon' Escort Girls' and the bands legendary standard 'Bristol Road Leads To Dachau' which was good to hear. The Prefects sensa yuma is hard to detect but you can find it if you look hard enough. And as the Stella was finally kicking in, as I'm sure the Guinness was for Mr Lloyd. All i remember is it was still a memorable performance and we were a captivated audience right up to the parting shot of 'Happy Ever After'.
It was filmed for posterity and of course recorded live which I'll definitely be looking forward to hearing, just to confirm my early prognosis. I even shouted a few words of encouragement between numbers so if you listen hard enough you just might here em tee hee. I left the venue happy with the fact I actually got to see a band from yore who turned out to be for 45 minutes at least a very interesting prospect and worthy of their place in punk folklore. That ain't no bullshit either bribe or no bribe, that's a fact!
Peter Don't Care