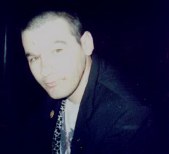 PUNK AID 2001 PRESENT
100 CLUB REVISITED OR
48 THRILLS, CHILLS 'N' SPILLS
Punk Aid 2001
25th Anniversary of the 100 Club punk festival 1976
Tuesday 18th/ 19th/ 20th September
Only made this gig through the skin of my teeth, a giro and Paul from Bristol's faith in the Wolverhampton Wanderer. I gotta be honest the bands or charity didn't really drag me from my Wolvo confines (hum bug). It's hard to be enthusiastic when The Tubes, London, Wayne County and an outside chance of the Professionals doing a quick set was killed in it's tracks. I was only here for purely selfish gratification. So with gig/train tickets up front and a bed for the night how could I miss out on a sesh outside the Goose In The City on the prelude to another war!

4 cans of Carling later and I get off the train at Euston. It's 1.30 Tuesday afternoon as I make my way to Bakers Street tube where I was supposed to meet my Bristol drinking buddies for this 3 day drinking marathon. Paul from Bristol who's a regular to these all-dayers since he was christened on the Filthy Lucre tour of '96 has bought one of his village mates with him. Ian 'Coughing and spluttering' Ashman the acne scarred, polka dot pyjama attired factory worker who was once a guitarist in early 80's punks
the Breakdowns
(me neither?). Well they're half hour late as I contemplate whether to hit the local Witherspoon's bar near Baker street tube, our ground zero meeting point. Was it worth missing em? It certainly looked the best option as a few 'rent boy' looks were thrown in my direction by Middle Eastern fundamentalists. But as the
Snivelling Shits
once pointed out in their 77 hit
'Only 13'
. Well I wasn't only 13 so had some chance to repel unwanted advances. Just as I was about to head in the bar to sway the boredom I finally spotted Paul's peroxide Mohican and Bristol Rovers (football shirt) by the entrance. We swapped insults as Ian looked on warily and I suggested we headed straight into pub. I get the first round in as we christened our meeting properly. Carling £1.75 a pint not bad for London the Bristol boys were on John Smiths. After a handful of pints and telling each other lies we found our bearings. Next move was to find the quickest way to dump our bags. We eventually find the hotel which was only 5 minutes walk away in the other direction. So we drop the bags sort out tickets and head for Oxford Street...
Sham 69 - "All foreign feet down Oxford Street, faces from places I've never been, all the shops and restaurants, ask for money that I haven't got".
... yeah Jimmy too true.

We arrive in the pissing rain by taxi which was a rip-off (tenner) and spot a 25 gang of destitute, somber looking punks huddled outside the venue on the pavement drinking beer and talking in strange accents. We exchange polite nods of heads and enter Century House heading down the stairs to the bowels of the 100 club. Straight away one of my unsolved Pistols myths is made obvious. The 100 Club staircase and it's stark white and office decor looks fuck all like the picture to your left that Mr Rotten is supposedly standing on. 25 years on and It's another 3 ft wide and obviously the wrong venue bahh. Denmark Street I fucking knew it!!! Well with that '76 myth shattered. On the horizon was another legendary figure from punks early beginnings that was exactly as I imagined? For who should be standing mid flight round the corner by the ticket desk but a certain Mark Perry otherwise known as Mark P. of Sniffin Glue/A.T.V. fame! We could've heard him half way back to Baker Street if we'd listened hard enough. His amplified Deptford nasal tones wafted in the air. He was giving an interview or should I say lecture to some young girl on the meaning of punk. She couldn't get a word in edgeways and the strain of holding a microphone to Mr Perry's none stop guru barrage was showing ha! Mr Perry looks and sounds the same as '76, except maybe carrying a bit more weight. Well a golden opportunity to be a rude cunt was on the cards. So I interrupted him mid-flow between the Kings Road and the Roxy and asked stupidly when the gig starts. His look of horror turns to glee as I lied to him by telling him he was a big influence on my zine career! Not a major lie I might add. He gives me a wry look as he said thanks and proceeded to gives us a minor speech on how the reasons Punk started and how it ain't changed in 25 years. We can hear a band sound checking in the gig room further below. So we ever so slyly extract ourselves away and let him carry on with his punk salvo to the reporter. Much to her dread no doubt? Don't ask me who was sound checking but it was a good excuse to check out the bar and the club. It was here we found out that 3 of tonight's bands had pulled for various reasons. Including headliners the UK Subs, who were apparently stranded in Brazil (snigger). The Special Duties who were still stranded in 1977? And Menace were also pulled due to a death in the family of a band member. So with the thought of 4 bands left for £12 quid and no refund, it was looking a very average night (hum bug). Still only 7 o'clock and with the bar shut our presence wasn't exactly wanted by someone in authority and was told to leave. So we headed back upstairs. And Mark P. was still going full pelt HA!

Upon our entrance back into drizzly Oxford Street we needed a drink or two to drown our sorrows. Amongst the punks outside who we asked about the whereabouts of any punk pubs? We drew a blank?! All we got was blank stares all around? I then spotted an American punk by his accent. And who should it be but Pablo from California. I'd been in contact with him over the last year or so via e-mail. He runs the punk clothing emporium Man Made Hell from his Oakland bedroom when he ain't touring Europe. He was with a couple of American punkettes. Suddenly my thoughts of coming to London to see 4 very mediocre bands wasn't really as bad as coming all the way from California or is it Sheffield these days Pab? I was hoping to go for a drink with him to discuss his thoughts on the UK but unfortunately we lost him and his entourage somewhere in Wardour street? We were now heading for some fictitious punk hangout which we never found. What I did find however was an A-Bomb in Wardour Street! Or more to the point some drunken yuppie who wanted to punch my lights out as we passed his manor. He ignorantly thought I was Glaswegian tee hee, must've been my brogue. Dunno if that's a crime these days but he caught me with a sly dig in the face as we passed in the street. As we ended up slugging it out and rolling around the Wardour street rubbish bin bags deeja vu set in. Here I was exchanging blows with a complete stranger and the visions of plod coming any minute didn't help matters. Must admit I didn't fancy a night in the Soho cells. As all this was running through my mind we were then pulled apart by a security guard and the yuppies friends. I was informed by the guard that I was on camera. So after telling to the cunt to fuck off we both went our seperate ways. Fucking yuppies eh! Give em some Tomazipan and they'll fight the world. I thought I'd left all that behind in Wolves, apparently not. Well after sustaining a few minor cuts from his ring I dusted my already dishevelled appearance down. And we continued to our next pub which just happened to be the one the yuppie had just vacated. My instincts were on alert as we ordered our drinks. But it was in fact Paul's turn to feel some oppression. They wouldn't serve him till he covered up his Bristol Rovers football top tut tut. So I had to lend him my as yet unripped jacket for half hour. After testing out a few more pubs along the way and one with the Pistols on the jukebox it was time to witness some 21st century punk action.

Tuesday 18th September

UK Subs,

Menace,

One Way System,

Special Duties,

Warriors,

Only Alternative,

Argy Bargy.

As we hit the 100 Club for the second time tonight I was pretty steamed up by now. And I certainly wasn't getting any redemption from the bands on stage. But there was a healthy punk turnout. I was more entertained by who was here than the bands. Coz the £2.50 watered down Carlsberg was a drinkers worst nightmare. Those spotted ligging were Roadrage singer Mad Dog who was fronting One Way System for the night. And Gaz another RoadRager who could supply those Pistols riffs when he wasn't stoned and wasting his time with the Albion (don't blame yer dad!). I seen Lazza Ogden's (well known in then Leicester slums) number one homey, the Derby Punx Picnic promoter and Mansfield rent boy Sandy Richardson. He had the audacity to introduce me to an even bigger promoter Sir Darren Russell of HITS fame, which really impressed me (not). How come all the punk promoters hang out together and look very sly and devious and pleased with themselves? Seems there was a strong East Midlands presence here tonight. The bands were still as bad as the last time I looked. No real culprits but just being background music was enough. And the thought of even more bald middle aged chancers trying to relive their youth as I headed to see the vicar was never gonna be awe inspiring. Anyway maybe I should've concentrated more on which door was the toilet, coz instead of turning right into the Jon I took the wrong door and ending up in alleyway at the back of the 100 club with the exit door firmly locked behind me. Jeeeezzzz the drink sure has it's pitfalls. As I take a piss up the door after my screams and boots were ignored. I come to the conclusion I'm lost..."how the fuck did I get in this situation?" It's pitch black but for a distant street light. It takes me the best part of an hour to get my bearings and back in Oxford Street after staggering around like a blind man feeling for walls or doors and climbing onto bins to make my escape. The things we do for punk rock eh? Finally get back in the venue again 3rd time tonight. By this time I'm on first name terms with Ron Watts on the door but have lost my drinking buddies. Might not seem such a bad idea losing a couple of Bristol Rovers fans to you reading this but they were holding the room key!!! I stagger around the dark corners of the 'undred club but to no avail. The remnants of my last dodgy pint was descending alarmingly as the bar is shut. I spot a Charlie Casey bass player from Menace who tells me apologetically why they pulled out . Also spot Milton Keynes DJ for the night the peroxide Anne Marie web mistress with Hardcore punk sounds. I mutter something about where's the Pistols on her site lists, and she gives me the daggers for being such a cheeky uncouth northerner who probably only discovered punk last month ha!. It's time to go me thinks. As I hit the cold dark streets of London that lyric from the Maniacs 'Live at the Vortex' LP 'You Don't Break My Heart' kept running around my head "up around the corner all around the bend, all alone in London and I ain't got a friend' ahhhhh. I knew the street name so thank fuck for taxis and this time it cost a fiver instead of a tenner!!!
Woken up this morning by a bout of Ian's coughing and spluttering. After dropping a brick I check my mush in the bathroom mirror to discover I got a couple of scratches from the Yuppie grrrrrr! Me and Ian try and fill ourselves with the paltry continental breakfast amongst the other fresh looking contractors and Middle East guests. It's another day and another beer. We head out at noon. This time it's only pissing down for the first hour. Our plan of action today was to hit the pubs in Tottenham Court Road!!! We heard they had a load of bars. A good move for me even though it was a minor trek. Ian was feeling the strain of his 'phlegm and the mucus membranes' and our monstrous drinking sessions. He kept disappearing for food (remember this is the man who wears polka dot pyjamas in bed...snigger). He wants to go shopping!!! Shopping we curse!!! We wanna hit the pubs. I knew shopping definitely wasn't in my script.So sorry Ian but bars are calling. However with more pubs meant my finances were dwindling with an average £2.40/50 price tag. Well as I'm thinking how long can funds hold out I retire to the bathroom of this bar were in. As I'm taking a leak this geezer in the next cubicle who looks like a shoplifter (don't ask!) says to me..."Is your name Pete?" I say yeah puzzled? And he goes "are you from Wolverhampton?" By this time I recognize his accent but I'm still waiting for the punch line....it turns out he only happens to be some geezer who drinks in bar about a mile up the road from where I live. Small world or what? He was up here with an accomplice on business (nudge nudge say no more) for the day. And talking of ill gotten gains, as the afternoon wore on my money was running very low at this point. By now I'd come to the conclusion I was gonna have to go home on maybe the next train or very soon at least. Fair play to Paul here, coz he played a blinder and gimme a much appreciated 'sub' which kept me in the game for another night!!! Things were looking up!!!!! Ian had gone on a walkabout which was bad timing on his account. Coz we found a nice happy hour just off Oxford Street at £1.50 a pint of Carling. I tell you kids it don't get much better than this in Central London. So we spoiled ourselves and had 4 in here to celebrate. By now it was time to head for some 'scram' before tonight's lineup which all played I tink?
Wednesday 19th September

999, The Troggs, Spizzenergi, Tenpole Tudor, TV Smith, Los Paraliticos El Sanatorium, Slutch.




It was a bigger crowd tonight and the omens were good. First band I caught was
TV Smith
.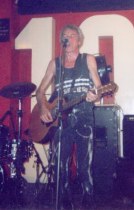 I've always rated
TV Smith
since
the Adverts
days. And seen him a few times over the years in various lineups. He always managed to put on a good performance come what may. Tonight was no different despite looking very nervous on stage armed with just his acoustic. He was twitching around like a schoolboy outside the headmasters office. His newer material namely
'Generation Y'
in acoustic light just don't sound as good as the old numbers. But the crowd loved him. 'Tomahawk Cruise' was especially greeted coz of the current conflict. 'Gary Gilmores Eyes' was thrown in early on but with great energy. They're all classics anyway. He said in his deadpan tone
"Im 45 next week and this is 'No Time To Be 21"
which got a great response. Before ending with my all time favourite 'Bored Teenagers' and 'One Chord Wonders' for old times sake. Shame his voice sounded shot. Maybe he had the same flu bug that was sitting in Ian's nasal passage, head and throat? Gaye Advert was there for moral support. She looks straight now but it was great to meet her. There will definitely be no
Adverts
reformation on the cards, which maybe is a good thing. It's always good to remember a band at their peak I reckon. Well I had my ligging head on tonight and why not I doubt ill get a chance in 25 years time. Even more faces spotted around the Joint were Mark P. again on his stall selling something? Was too drunk to comprehend. And I Never did see him play? Jo Guest a page 3 model who I'd never heard of till JJ from London punks website enlightened me.
She was punked up for the occasion and looked very nice indeed. Said alright to Arturo Bassick
ex-Lurkers
now
999
bass player. Last time I spoke to him was in Brum in the late 80's, good geezer. Seen Alan Parker 'Sids Way/Satelitte' auther down the far end of the the bar lapping up the sweat. And it was tright on cue
Tenpole Tudor and band
up next. I gotta say he looks the spit he did in the Swindle. He's got one of those faces. First time on seeing him tonight I gotta say his less popular stuff sounded ok all said and done. He was decked out in an old faded Swords Of A Thousand Men t-shirt that had seen better days but the performance was live and energetic. He definitely wasn't coasting eiher and gave a really good quirky performance. Everyone went mad when 'Swords Of A Thousand Men' was performed with hands in the air. Gotta be his best song ever. Sadly that was the encore. I think everyone expected or wanted 'Who Killed Bambi' but we certainly wern't gonna get it as Ten Pole headed off through the crowd sweat drenched to the dressing room.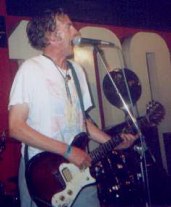 I fucking missed Spizz Energi? Don't ask why coz I cant remember, one of those blackout periods y'know. Damn I wanted to hear 'Where's Captain Kirk' and '6000 crazy' I'm ashamed of myself. Next up were old crooners The Troggs (yawn) who surprisingly went down well with the Mohican brigade and younger punks. It's surprising how one song can be a lifetime career. All I can say is 'Wild Thing' was dispatched with perfection not bad for a bunch of really old cunts. Headliners tonight were 999. The last time I seen these in Dudley JB's they were pretty fucking lame. But I dunno what happened tonight, maybe someone put some speed into Nick Cash's pint coz he was all over the place. If it wasn't for his Danny Devito frame and bald head you'd think it was 1977 all over again. They blasted out all the stage faves 'Nasty Nasty', 'I'm Alive', 'Emergency' and 'Feeling Alright With The Crew'. I think Nick Cash was pleased and I know the crowd were. Great sweaty energetic end to tonight's proceedings.
I had to wave bye bye to London today prematurely (for financial reasons) but I can't complain I had a good 48 hours. And luckily I left the camera with Paul so he could finish off the shots and he also took up the review reigns on the final days play......
Thursday 20th September

Chelsea, Mikey Dread+The Scientist, Alternative TV,

Brian James Gang, Emergency, Red Flag 77, The Anoraks.




Today was sound also, after I met my mate we had a laugh. Me and Ian were walking up Oxford Street, and he was moaning the whole way, till eventually I gave him the key and he went back to the hotel for some sleep, not sure if he put his pyjamas back on (Ha!)!). Met up with Martin, and went in to Witherspoons. He was drinking the Guest Beer which was even cheaper, 2 pints for £3.24, cheaper than being home. So we had a skin full in there, didn't see the point of moving on, cuz the price was so much better. Ian showed up about 6 and had a couple then went in to the 100 Club and watched the first band.
The Anoraks
who I ain't never heard of, but they were quite good they had a bird on drums and she did 'Identity'.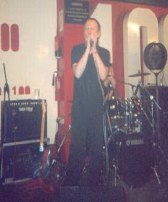 Next band I remember was
Alternative T.V
. with Mark Sniff G singing, they were alright. Jo Guest was there again so had another chat with her. Walked past Mark Lamaar and waved my fist at him when he was DJ' ing and said
"Come on Mark give it some Bollocks"
the cunt never even looked up. Alan Parker was there again with Paul Burgess, so chatted with them a while, also that guy from the coach to Paris with the Hat and Clockwork Orange outfit was there he remembered me and we got on sound, George I think his name was. Reckons we should meet up again some time, who knows????...Got his number just in case. Gene October was at the bar so I said alright to him and he seemed alright. Parker said that Paul Cook wouldn't piss on a place like this let alone turn up, and the only
Pistol
ever to turn up was Matlock cuz he headlined last year. He was right for once though Cooky never showed.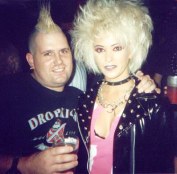 Just before
Chelsea
were due on I wandered in to that room out the back just as October was snorting something along the table and finishing it with his tongue (sure it wasn't some rentboy?). Whatever it was it affected him straight away, he was abusing everyone in there calling us all cunts and worthless bits of shit, in between songs. Like he was some big star. Towards the end he did "I fought the law" and prompted a crowd sing along, and then followed it with yet another "your all a bunch of cunts, get fucked the lot of you", and went in to 'Pretty Vacant', this went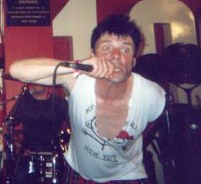 down well and the stage got stormed for a sing along. He finished with 'Right To Work', and then wanted to do more but the band weren't up for it and they fucked off.....The bar was still open so I got a couple more beers in (jeeeezzzz). I dont quite know how, but I ended up chatting with Mike Peters (
The Alarm
), and he was telling me how things changed for him when he saw the
Pistols
in Chester in ' 76, and then how he was on TOTP, and played Wembley and BLAH BLAH BLAH, he went on and on and on.....Yeh Yeh Yeh Mike I'll see you round some time. I had a last word with Jo Guest and we were on our way. By the door October was stood with a fag (not another one) in his hand so I offered him a light, and he went berserk "I spose you're with this lot of cunts, are you, well fuck you", so a bouncer came over and I thought sod this and just walked off. He was down there saying "you cant chuck me out I did a fucking show for you here tonight, do you know who I am?" (yawn)....Outside the rest of his band were waiting by a taxi, he came out quickly and saw me there but never said nothing, probably forgot what he said already he was so out of it. Went down Mcdonalds for last orders saw Peters again and James Stephenson (
Chelsea
) and then wandered off back to the hotel......Got up in the morning and went home..... Felt like shit ever since.
Peter Don't Care and Paul Killbe
Cheers to Paul for taking all the pix. And Ian for giving me the flu. No responsibility is held whatsoever for my purchasing of a disposable camera and the subsequent shitty quality images coz I'm a cheapskate ok!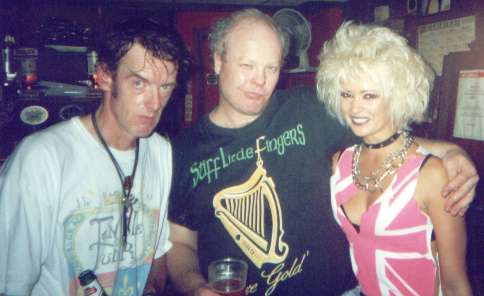 Tenpole Tudor, Ian and Jo Guest...
notice Ian's practiced 'light' hand grip on Jo's shoulder (snigger) you can't kid us you dirty old man!